Italian Manicures Are Trending. Here's How To Get The Look
European-inspired manicures have long held a place in the nail art hall of fame. Now along with the iconic French manicure, the Italian manicure is becoming a go-to choice amongst fashion influencers and beauty gurus across the world. Unlike the French manicure, which consists of a band of usually white nail polish across the tip of the nail, the Italian manicure isn't so much a style as it is a technique. You can achieve an Italian manicure with a range of styles, colors, and nail lengths.
Advertisement
Often used on shorter nails and fingers to create an elongated look, the Italian manicure involves a thin gap between the nail wall and the nail polish (via My Journal). This gives the impression that the nail beds are longer and narrower than they are. In particular, this look has become increasingly popular with those who'd love to have long nails, but have to keep their nails short due to work or lifestyle commitments. As the Italian manicure is making the rounds on social media, most nail artists will have no problem pulling off this look for you. But if you want to save a few dollars, you can also give yourself the manicure by following a few simple steps.
How to create an Italian manicure
The Italian manicure was popularized by London-based nail artist Alexandra Teleki, who shares her stunning designs under the Instagram handle @thehotblend. Teleki filmed a short tutorial for the Italian manicure, which she shared on TikTok, outlining her specific technique for elongating the nails with this style.
Advertisement
When giving yourself an Italian manicure at home, it's best to use a traditional nail polish that can be easily removed, rather than more permanent options, such as gel polish or nail dipping powder (via The Limited Times). To achieve the look, you'll need a small nail art brush, which you will dip into nail polish remover. Begin with a base coat of your chosen polish. Then take your nail brush, dipped in remover, and clean the edges to create a gap between the nail polish and your nail wall. Create a slightly larger gap than you would if you were just regularly painting and cleaning up your nails. Mirra magazine explains that it's important to get as close to the nail wall as you can without touching the skin. Subtlety is key!
Advertisement
Far from a dramatic trend, the Italian manicure is often chosen because it gives the impression of longer nails. If that's your goal, there are a few other techniques you can apply to make short nails and fingers appear more slender.
How to make short fingers look longer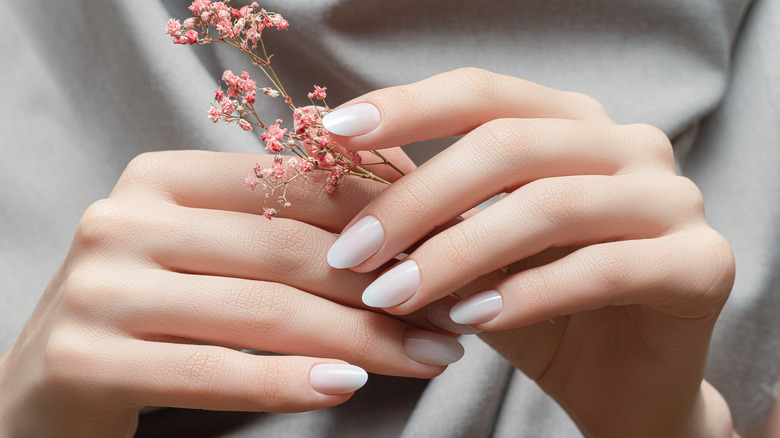 Dev_Maryna/Shutterstock
Sadly, we can't grow our fingers or our nail beds. However, we do have several illusions at our disposal to elongate our hands overall, even without growing long nails. Miss Kyra recommends pushing your cuticles back before every manicure and opting for nude or neutral shades of nail polish, as vibrant shades tend to create the illusion of shorter nails. As a rule of thumb, the closer the polish is to your natural skin color, the longer your nails will look. The Nail Pro explains that taking good care of your hands will make all nails look good, whether they're short or long. Keep your hands moisturized, your nails buffed, and your polish smooth, and your nails will look flawless no matter their length.
Advertisement
The shape of your nails can also have a significant effect on how long your fingers look. Nail polish brand Opi advises that round nails are the most flattering shape for short fingers and wide nail beds. Almond nails are also great for lengthening and slimming the fingers. Growing longer nails, or applying acrylic nails, will naturally make your fingers appear longer. But if you want to keep your nails short, you can still file them into almond or round shapes to elongate them. Combining an Italian manicure with these easy strategies will create the impression of long, slender fingers and nails you'll want to show off.