Why The Shacket Will Be Your New Favorite Fashion Accessory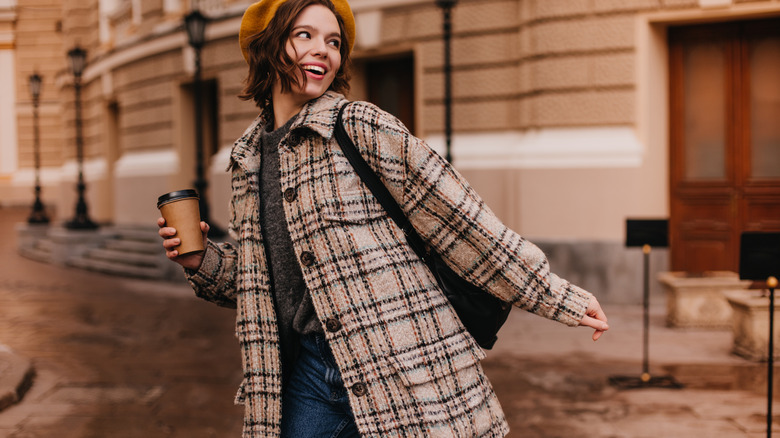 Look Studio/Shutterstock
As temperatures begin to cool down and you feel the chilly weather coming in, you may already be planning what your fall and winter wardrobe is going to look like. Accommodating your outfits to each changing season is just one of the many fun aspects of playing around with fashion. Each season's transition offers the opportunity to try something new. As the cooler weather comes in, you begin to see more fashion centered around warmth, especially in the jacket department.
During the changing of the season, you may struggle between choosing a jacket that is just perfect for that morning chill, but then it might be too stuffy later in the afternoon. Or, you may struggle to choose a jacket that just isn't thin enough for the warmer days but is too thin for the colder part of the day. Yes, it can feel as confusing as it sounds because the weather can be unpredictable. That's where the perfectly convenient combination of a jacket and a shirt comes in. Enter the shacket.
What is a shacket?
A shacket is a boxy, shirt-like jacket. However, it is known as a shacket because it is thinner than a jacket but thicker than a shirt. It is also often referred to as an overshirt because it works well with layering. In fact, layering is encouraged — and a big part of its purpose. Additionally, shackets come in many shapes, styles, and materials, offering even more versatility for any and every outfit. They can come in a more fitted form or something a little more oversized. They are especially popular in a wool plaid, flannel, or a looser fit during the colder months (via Stitch Fix).
"Overshirts tend to be made from thicker fabrics, with slightly looser fits and more jacket-like details than you'd find on a regular shirt—such as two chest pockets or bigger buttons," Shaunie Brett, the style director for outfit ideas website Thread, explains. "You can wear them with almost anything—under a coat in winter or over a t-shirt in spring, summer, and autumn. They're as versatile as jeans, and go with anything jeans would."
Endless styling choices
The beauty of the shacket is its multipurpose use of comfort and style in one. Even though they are used mostly during colder seasons, a shacket offers adaptability for any time of the year. This is because it is a perfect piece for layering. You can wear a shacket over just about anything. Plus, anyone can rock this look.
If you have a go-to outfit, the shacket will work well over it. One of the most common comfort go-tos for many people is a t-shirt, jeans or trousers, and a pair of sneakers (via Soxy). Style your shacket over this look for a comfortable, cozy everyday feel. You can also dress up the shacket by wearing it with a dress and your favorite boots and accessories. Because of its versatile material, you may also find a two-piece matching set of a shacket and a skirt. Wear the set with a turtleneck or woven top, your favorite boots or heels, and layered jewelry for an elevated chic look. For extra cold days, you can wear a t-shirt with sweats and sneakers, paired with a beanie and the shacket layered under a thicker coat for ultimate warmth. As you can probably tell by now, the styling possibilities of a shacket are almost endless, making them one of our favorite wardrobe staples.