Charcuterie Boards Are Being Replaced By An Unexpected Entertaining Dish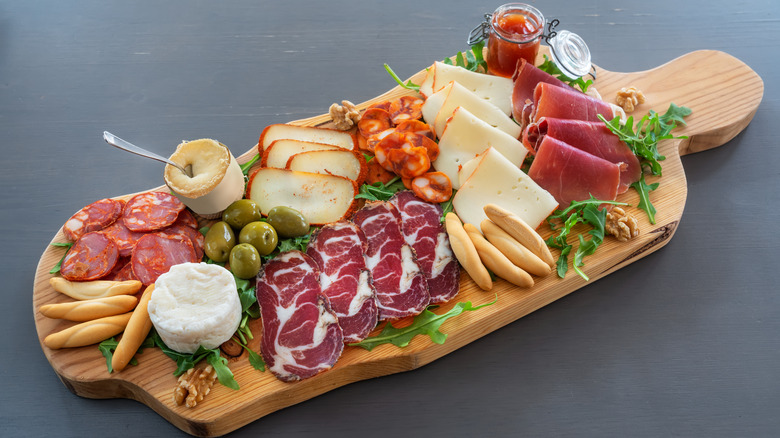 Sergio Sergo/Shutterstock
Move over, charcuterie; there's a new player in town. Much like the fast-moving tides of fashion, foodie trends sometimes seem to sweep in out of nowhere, capturing our hearts and social feeds in an instant. In recent years, we've witnessed plenty of fad dishes rise and fall in the public eye, from the ubiquity of avocado toast and bacon-flavored everything to 2021's viral feta pasta. Now, classically elegant charcuterie boards are facing some competition of their own.
Advertisement
Traditionally, charcuterie — taken from a French word for deli-like meat shops, and pronounced "shar-coo-ta-ree" — is something like a free-form appetizer (via The Pioneer Woman). It's a popular choice for an hors d'oeuvres table, as nibbles before a plated dinner party, or even as a shared snack with a few friends and glasses of wine. Charcuterie boards can include various components, often featuring sliced meats, artisanal cheeses, olives, veggies, pickles, nuts, fruit, honey, and sweet or savory spreads — all of which can be mixed and matched with whatever breads or crackers are available. Besides being full of delicious snackables, the appeal of charcuterie boards lies in their combination of sumptuousness and novelty. Essentially, charcuterie is like the choose-your-own-adventure of chic party foods, which may explain the recent popularity of craveable charcuterie content on Instagram and charcuterie-board-inspired grazing tables.
Advertisement
All that said, it would take something pretty unique to give charcuterie a run for its money. But recent trends on TikTok suggest that a contender has arrived, all centered around a surprisingly humble condiment.
Enter the butter board
Many of us can't imagine anything better than the simple pairing of good bread and rich butter. So, when food influencer Justine Doiron (@justine_snacks) debuted her trend-setting butter board video on TikTok, the world took notice. In the video, Doiron explains that a butter board is just what it sounds like: a serving board heaped with butter, which is in turn topped with a variety of flavorsome extras. Doiron, for example, creates her butter board with lemon zest, flaky salt, edible flowers, honey, coriander, and red onion, which is then served as a complement to sliced bread.
Advertisement
Doiron credits her butter board inspiration to a concept by chef Josh McFadden. "(I) used to do them for farm dinners where you'd have a bunch of different breads and spreads on the table," McFadden says to USA Today. "It was an opportunity to present butter and add fun, seasonal ingredients to it that made the butter more than the sum of its parts."
Of course, this idea isn't unprecedented. Butter boards share a lot in common with the idea behind compound butter, which is simply butter spiked with flavorings like honey or herbs (via Epicurean Butter). You often see compound butter at steakhouses or served with a basket of complimentary restaurant bread. But butter boards bring an added element of playfulness and interaction, letting smooth butter act as a canvas for whatever garnishes a chef or party host can dream up. And, happily, butter boards are simple to put together for any occasion.
Advertisement
Easy ideas for making your own butter board at home
If you want to try your hand at creating a butter board for your next get-together, there are plenty of flavor combinations to explore. Of course, the key is to begin with high-quality butter for maximum flavor and unctuousness. First, spread the softened butter across your desired serving vessel. While wooden boards are popular, they have sparked debate over whether it's safe to use wood utensils with protein and dairy products. While CNET avers that wooden boards are fine to use with butter, you can also consider adding a barrier of parchment paper or using a less porous surface, like slate or ceramic.
Advertisement
Once your butter is artfully spread, it's all about toppings. For a sweet flavor profile, consider adding a shake of cinnamon, slices of fresh fig, or drizzles of honey or fruit compote. For an herbaceous note, bring in woodsy rosemary, cozy thyme, fresh chives, or even floral lavender. Spice lovers, try garnishing your butter board with thinly sliced chiles or a dusting of kicky paprika. And don't forget the mouthwatering savory components — roasted garlic, caramelized onions, briny olives, and sundried tomatoes are just a few mix-ins that will add delicious complexity to your display.
Remember: while these garnishes offer a good place to start, they're merely the tip of the iceberg. Butter boards offer an endless playground to exercise your culinary creativity, so don't be afraid to test out new combinations. The most important thing is the cheery, communal vibe of enjoying a butter board with loved ones. "It's a fun recipe because anyone can do it; it's really accessible," chef McFadden tells The Washington Post. "It's connecting people, and that's super cool, especially at a time when the world is so weird."
Advertisement