How Does Period Underwear Work?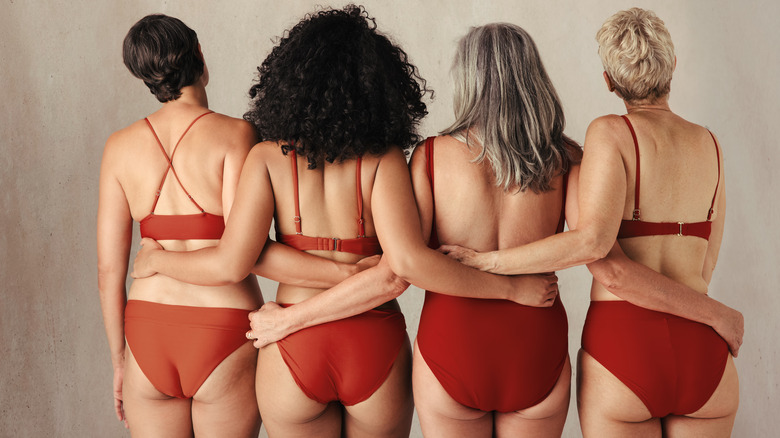 Jacob Lund/Shutterstock
Whether you are facing the tampon shortage, constantly staining your clothes, or simply want to opt for a change of materials in your period wear, you might want to consider period underwear. This invention dates back to a 1967 patent for what was called a "protective petticoat" made of moisture-proof material. In 1988, a company patented "menstruation underpants" made of two layers of cloth lined with flexible plastic film. Later in 1995, another company patented an undergarment with a leak-proof liner. Today, many undergarment companies have yet again brought period underwear into the conversation in a much more advanced manner (via Racked).
This style of undergarment uses wicking, leak-proof technologies offering underwear that may help with leaking or even some that will replace a pad or a tampon altogether. They offer convenience and peace of mind for anyone looking for extra protection, more reliable protection, or simply a more comfortable experience during that time of the month. Many companies who make this kind of period underwear today are part of an industry looking to help create a better experience during one's period, as they become a part of the conversation aiming to make period talk less taboo.
How it works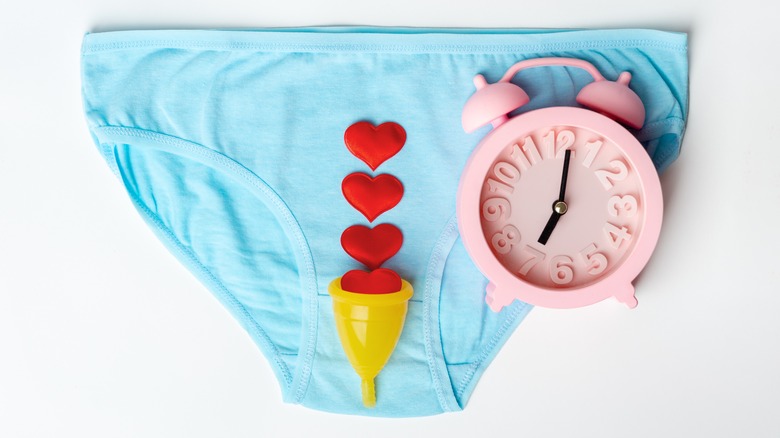 Alena Ivochkina/Shutterstock
Period underwear has exploded in popularity for the comfort and convenience it has to offer. Depending on what type of period underwear you buy, you may be able to stop using a cup, tampon, or pad completely. The best thing about period underwear is that it usually doesn't feel any different than regular underwear, but of course, it provides extra absorption. Head of lingerie design at M&S, Soozie Jenkinson tells The Guardian that period underwear is usually made of a cotton or polycotton blend that contains three layers of ultra absorption in the gusset, or crotch area, of the underwear. The top layer, which touches the skin, draws moisture away for a dry direct feel, the middle layer absorbs the blood, and the outer layer provides anti-leak technology.
"Just like each woman, period underwear types are unique and serve different purposes," OBGYN and pH-D feminine health adviser Ruth Arumala, D.O., tells Glamour. "Some create an extra barrier of protection from leakage; others take the place of other feminine hygiene products." Companies like Thinx, Knix, and Modibodi offer the convenience of using period underwear alone. Dr. Arumala tells Glamour that it is often rare to use any extra protection like a pad or panty-liner with period underwear, but when it is used, people opt to wear a tampon or a cup.
The benefits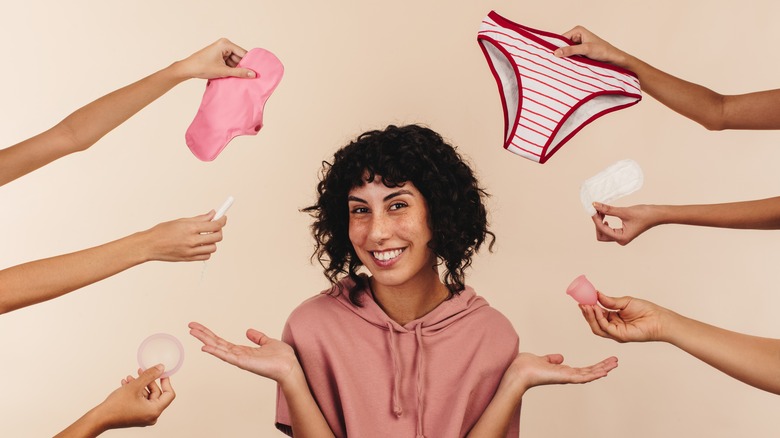 JLco Julia Amaral/Shutterstock
Wearing period underwear is supposed to take the place of wearing inconvenient or thick materials. On top of the physical pain it brings, the need for a plethora of products is never fun to deal with. "Even the thickest and most absorbent pairs I tried, which are designed like shorts, didn't feel like a diaper. They felt kind of like a supportive pair of yoga shorts, which means there's even more protection against blood leaking through the edges," writer and reviewer Medea Giordano wrote for Wired, adding that they do sometimes feel bulky under clothes. "But I'd take thick shorts and peace of mind over a bulky pad anytime."
Other benefits include its reusability. Period underwear is, in fact, pretty easy to wash and reuse for up to two to five years. All it takes is a quick soak before throwing it in the washer. Because of this, you could also save money and help the environment by reducing the need to buy disposable menstrual products. Within their lifetime, the average woman spends up to $18,000 on period products and sends anywhere from 5,000 to 15,000 to the trash that ends up in the landfill or the ocean. Additionally, you may also reduce your exposure to PFAs, or per- and polyfluoroalkyl substances, toxic ingredients that can be harmful with the potential to lead to cancer or decreased fertility (via Grove).
"Women aren't ashamed of their bodies, but we want to handle our periods in ways that don't impinge on our lives," author of "The Modern Period: Menstruation in Twentieth-Century America," Dr. Lara Freidenfelds tells The Guardian. The goal of period underwear is to provide users with the freedom to choose and experience the most comfort during their period on top of its ease of use.