Chrome Beauty Is Having A Huge Moment This Fall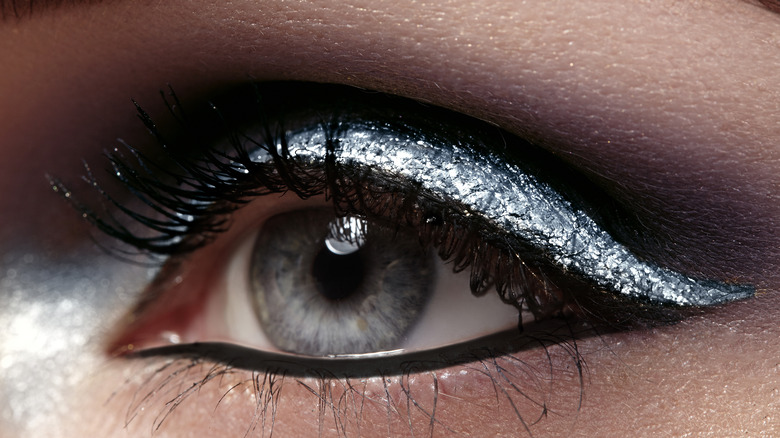 marinafrost/Shutterstock
The evolution of beauty trends has gone through many phases. From natural, glowy to colorful rainbow looks, there's always something new in beauty. While this season's beauty trend is nothing new, the popularity behind it is surprising. Usually, chrome beauty is attached to the grunge '90s era, where bold looks were required. However, the comeback of chrome beauty can be seen from the runways to the red carpet.
Advertisement
While the arrival of chrome beauty was slow, there's no denying the trend is here to stay. Before chrome beauty, we saw different beauty trends that involved the same concept of shimmer, futuristic details, and metallics. Makeup artist and Beia founder, Brittany Lo, explains to CNN Underscored, "Similar to the chrome or glazed donut craze we are currently experiencing with nails thanks to Hailey Bieber, we will see the hint of metallic extend into makeup and hair as well."
Whether you take chrome beauty in full force or opt for a subtle hint, any variation is perfect for the fall season.
Everything you need to know about chrome beauty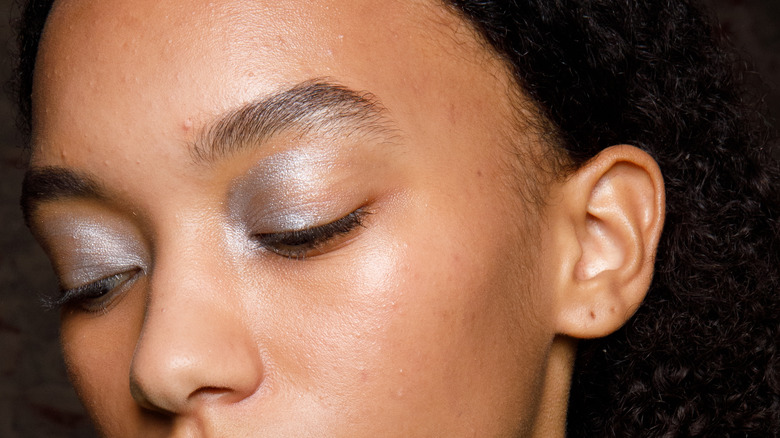 Rosdiana Ciaravolo/Getty Images
There's no denying that there's nothing subtle about chrome beauty.
Before this season, whenever someone mentioned chrome beauty, the first thought immediately went to nails. Nails have always been the most subtle way to incorporate metallics in a casual everyday form. However, this season is all about going above and beyond. Thanks to the '90s comeback in fashion, chrome is moving from nails to the face. Makeup artist Elisa Flowers tells Allure, "We are definitely seeing a lot of nods [in pop culture] to '90s fashion, hair, and makeup these days, [with series] such as the television series Pam & Tommy or Euphoria. It's fun to borrow influences from earlier times in history and make them fresh."
Advertisement
Besides these influences we see from Hollywood, multiple brands are utilizing and taking advantage of chrome's popularity. Part of the reason why chrome beauty has taken off is that these brands are embracing futuristic and metallic styles. Director of product development and product testing at ORLY, Collen Foxworthy, tells Byrdie, "In 2022, we're seeing a lot of conversation around the advancement of space exploration and virtual reality. People are captivated by things like new images from the James Webb Space Telescope. We're seeing that platinum, space age-y, technology-based aesthetic."
So while chrome is not new in the beauty world, these new-age references and influences have inspired this comeback.
Advertisement
How to wear chrome beauty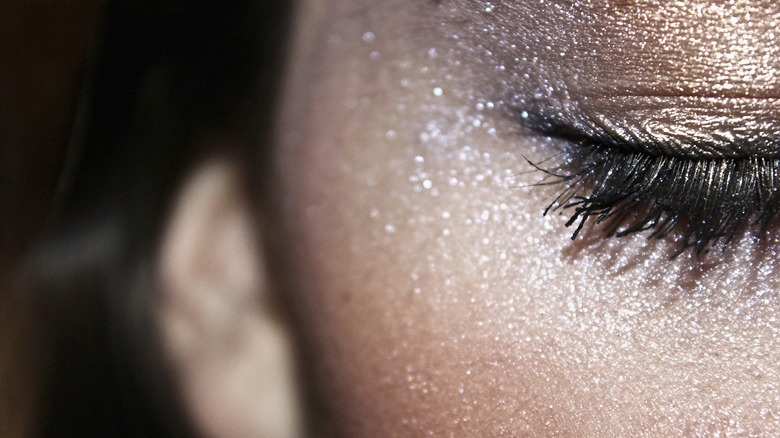 samantha kumitch/Shutterstock
When it comes to chrome, there are multiple ways that you can incorporate it into your looks.
If you want something more subtle, you can opt for chrome glitter and hints of silver in your eyeshadow look. At the Diesel Fall 2022 Ready-to-Wear show, we saw how the brand incorporated chrome beauty on the runway. While the show was themed around UFOs and extraterrestrials, their use of chrome was anything but out of the ordinary. With just small hints of silver, you can capture the chrome trend in your daily life.
Advertisement
However, if you feel like going above and beyond with chrome beauty, there are options. One example of how you can go head first into chrome comes from Beyonce herself. Recently, the singer shared a look from her new album 'Renaissance' on Instagram, which exuded everything disco and fun. However, the most eye-popping aspect came from her chrome lipstick. Although not for everyone, chrome lipstick is one eye-catching way to incorporate this beauty trend flawlessly.