Craft Stores Are Struggling To Reach Pandemic Highs Influenced By Home-Bound Crafters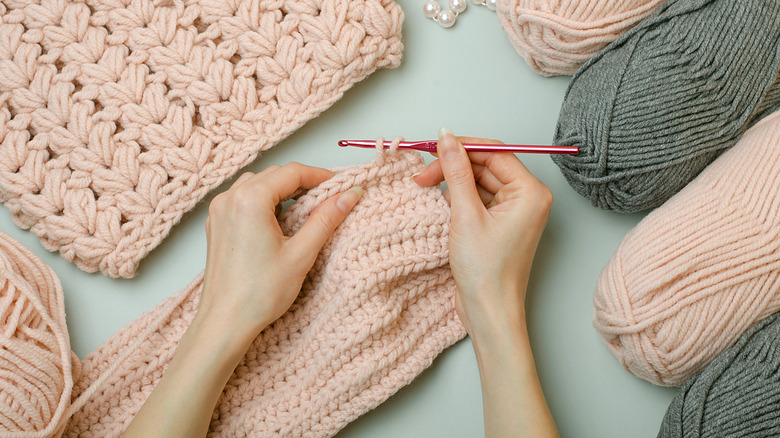 Margarett24/Shutterstock
During the height of economic shutdowns, many people found ways to beat boredom by developing new hobbies and ventures. One branch of retail that enjoyed a pleasant boost to business? Craft stores, like Jo-Ann Fabrics and Michaels, experienced a surge in sales thanks to millions of crafters, candy-makers, and bakers, to name a few. Jo-Ann even implemented a program to distribute free materials to customers, who sewed and donated face masks to healthcare workers in need during shortages (via USA Today).
However, since shutdowns ended, craft stores seem to be feeling the fading interest of formerly enthralled crafters. According to foot traffic data from SafeGraph, Jo-Ann and Michaels have seen a staggering drop in visitors since the beginning of this year. While it doesn't measure actual sales, foot traffic is defined by the amount of time each customer spends inside of a store, from the moment they walk inside to the time they exit. Based on recent trends, it appears that many creators have put things on hold for now, in contrast with their pandemic-era productivity. Are craft enthusiasts really giving up on stores like Jo-Ann Fabrics and Michaels, or are other factors at play?
How craft stores fared since initial economic shutdowns
In early 2020, when many nonessential retail establishments shuttered, Jo-Ann Fabrics and Michaels saw a rapid decline in foot traffic. Whereas pre-pandemic activity levels averaged above 100,000 visitors for Jo-Ann and 200,000 for Michaels, both stores struggled to maintain 50,000 by April 2020. "About 90% of our physical stores were closed when the pandemic hit and we had to turn the whole company into e-commerce in 90 days," Michaels CEO Ashley Buchanan told Forbes. Things picked up when brick-and-mortar stores reopened for business during the summer of 2020, and the craft emporiums enjoyed foot traffic that exceeded pre-pandemic figures. Michaels, for instance, received nearly 300,000 visitors in December 2020.
In March 2021, shortly after Michaels went private, Jo-Ann re-entered the market as a publicly traded company for the first time since 2011 (via MarketWatch). Both companies experienced a slight surge in foot traffic that month, totaling just over 100,000 for Jo-Ann and roughly 210,000 visitors to Michael's. As 2021 drew to a close, Jo-Ann encountered some setbacks – the company struggled to obtain vessel space for its holiday season cargo, with then-CFO Matt Susz citing shipping fees as "astronomical" (via Supply Chain Dive). Still, Jo-Ann and Michaels demonstrated steady foot traffic throughout the year, with a significant peak in visitors during the holiday season. Unfortunately, both stores would face challenges the following year.
What's next for Jo-Ann Fabrics and Michaels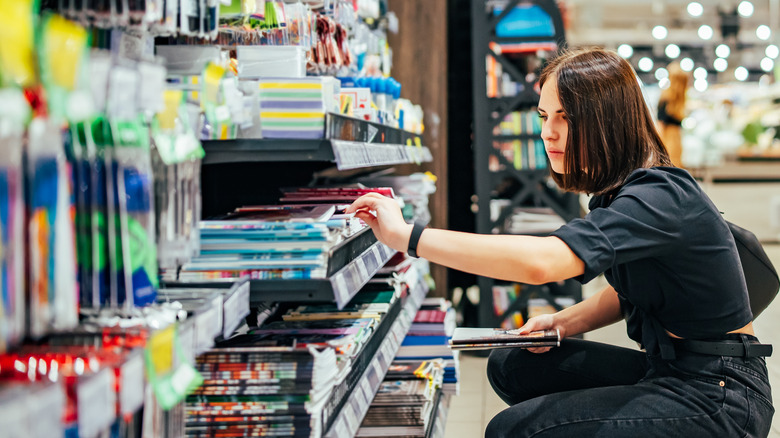 siamionau pavel/Shutterstock
Foot traffic fell significantly at the start of 2022, with both stores averaging their lowest numbers in the nearly two years since reopening. Jo-Ann suffered further, as its CFO Matt Susz passed away suddenly in June of that year, and company share prices dipped by 2.3% (via Nasdaq). By July, Jo-Ann and Michaels would experience foot traffic patterns echoing those of the retail shutdown era. Jo-Ann stores saw roughly 50,000 customers, whereas Michaels received just over 100,000, similar to their averages in early 2020. The lack of foot traffic in retail craft stores might be due to changing consumer interests, with pandemic shutdowns seemingly a thing of the past.
Visitor numbers to Jo-Ann and Michaels have improved slightly in recent months, but will these stores see foot traffic reminiscent of previous holiday averages? A defining factor that could influence customer shopping habits this winter is inflation. According to a survey by Bankrate, 40% of respondents said that inflation would change how they spend their money this holiday season.
Furthermore, in a recent report by consulting firm Creditntell, Jo-Ann was named as a company at-risk of bankruptcy, alongside troubled chains like Party City and GameStop (via Retail Dive). "[Specialty retailers] tend to get impacted earlier from the economic downturns, but we also tend to recover much faster," Jo-Ann President Wade Miquelon said on a recent earnings call (via The Motley Fool). While company leaders remain optimistic, the fate of craft retailers this winter lies in the hands of their most important stakeholders: their customers.