The Body Part Aside From Your Face That You Should Be Slugging Daily
Rido/Shutterstock
We may receive a commission on purchases made from links.
By now, you have probably heard the term "slugging." While slugging is considered the secret of K-Pop idols, the term first originated on a 2014 Reddit post, and for those new to this viral TikTok beauty hack, it doesn't have anything to do with a slug. K-beauty has given us an array of skincare products like BB creams and the intensive 10-step skincare routine. The proof of their popularity is giant Korean beauty brands like Peach and Lily and Glow Recipe, which often make appearances in the best skincare product lists.
On slugging, New York City-based dermatologist Adarsh Vijay Mudgil tells Cosmopolitan, "Slugging, which comes from the K-beauty world and then went viral on Reddit, involves putting a thin layer of Vaseline on your face to help prevent water loss." Occlusives like Vaseline leave your skin glistening and slimy like a slug while preventing maximum transepidermal water loss, which can be a blessing for dry skin, and you wake up with super soft baby skin. 
This genius hack might not be the best for all skin types; as board-certified plastic surgeon Dr. Alexis Parcells tells Elle, "Slugging itself is not comedogenic (acne-causing), but if you have clogged pores or retained makeup, you could create an infection or outbreak by trapping these particles under the occlusive." Now, there's slugging for your hair and your hands, but here's one body part that will benefit from the daily love of slugging where you may not have thought to do it.
Don't skip slugging this body part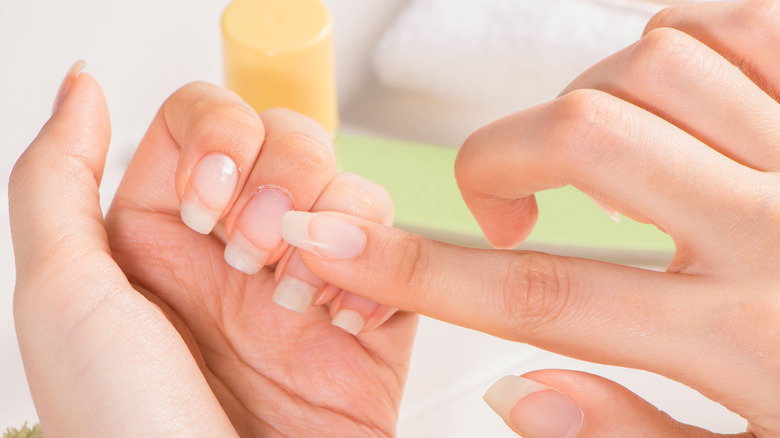 Natali Sam/Shutterstock
Our face gets the most love from all the skincare products to keep it healthy and youthful. However, there's one body part you should be slugging daily: your nails In a recent TikTok video, Dr. Charles Puza (@drcharlesmd) explains, "We all know acrylates [ingredients found in nail products] can damage nails. Slugging the nail cuticle can strengthen nails and protect them from water damage." In the video, Dr. Puza is seen slugging his nails with petroleum jelly and saying, "It should be done daily," as it can make your nails stronger and less brittle.
If you're wondering if it's really necessary, it apparently is. Award-winning nail artist and technician Metta Francis of Nails by Mets tells Refinery29, "Using both cuticle oil and hand cream basically creates a super hydrating and moisturizing infusion that will absorb into the skin and nails to hydrate and relieve any dryness." Metta adds that the oil helps to prevent moisture loss and keeps the nails hydrated.
Whether you're a fan of just on-trend nail polish of the season or go a little extra with gel, dip powder, or acrylics, the options are endless for beautiful nails. However, your nails can get weak and brittle without proper nail care and breaks between fun colors. Therefore, nail slugging is an easy tip to keep your nails happy and healthy.
Best products for nail slugging
Nail slugging is an excellent addition to your skincare routine for strong nails, soft cuticles, and healthy hands. Anastasia Totty, a LeChat Nails educator, is a fan of nail slugging, telling Byrdie, "Cuticle oil, like my favorite LeChat CBD Cuticle Oil — which contains Vitamin E, full spectrum CBD, and jojoba and avocado oils — is made to penetrate into the nail plate which makes good for nail growth and healthy cuticles." It's a total savior for nails and cuticles.
CND SolarOil Nail & Cuticle Care is perfect because this conditioning treatment deeply penetrates the skin and nails to help soften cuticles and promote stronger nail growth. What's more, the product has over 24 thousand reviews on Amazon and an impressive 4.6-star rating. One reviewer even writes, "My cuticles have always been dry, and I've tried lots of things to moisturize them and nothing really worked. I thought I'd give this a try and within two days I could see and feel a huge difference! I apply around the cuticle every other day and have beautiful salon-quality nails without going to the salon!!"
You can also try Orly Cuticle & Nail Treatment Oil, which is formulated with orange blossom and wild cherry extracts, to moisturize and heal your nails and cuticles. It has 4.5 stars on Amazon, with one review saying, "This is a wonderfully fragrant cuticle oil that has really improved the dryness and peeling of my cuticles. My nails are also stronger."