How To Make Sure You're Buying The Highest Quality Jeans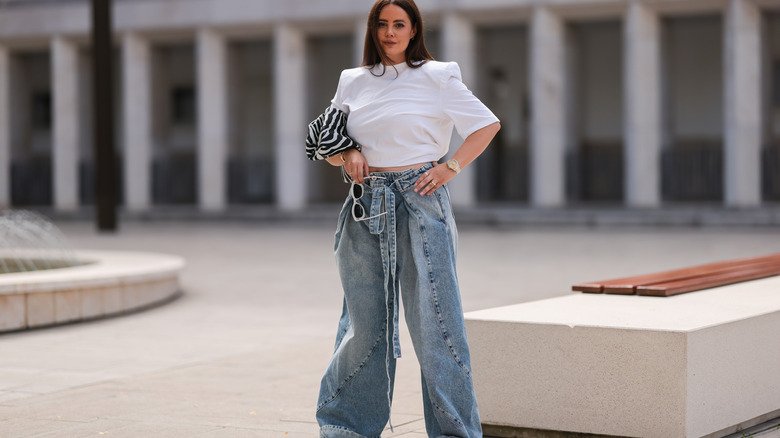 Jeremy Moeller/Getty Images
Having started out as heavy and durable work pants for laborers, according to Gear Patrol, denim jeans have now become a classic fashion staple. The garment most widely recognized today was patented in 1873 by tailor Jacob Davis and Levi Strauss, who was the owner of a wholesale fabric house in San Francisco at the time (via Vogue). Jeans are known for their versatility, as they can be styled in multiple ways, and many people search high and low for a quality pair that will not only offer the most comfortable fit but also last for years. Of course, finding this diamond in the rough may be a trial-and-error process, but there are primary factors to consider that will help narrow your search.
Advertisement
And while denim is available at all price points, quality jeans tend to be more expensive, though that isn't always the sole indicator of a lasting pair. Still, when it comes to durability, style, and comfort, investing in a high-quality pair of jeans may be worth it.
Material and construction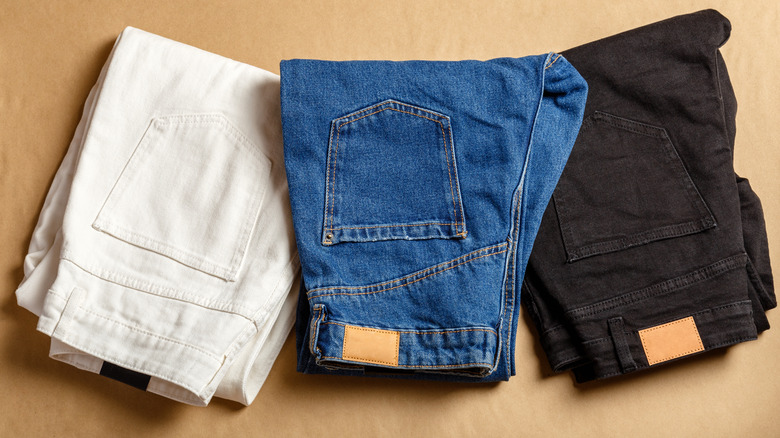 beton studio/Shutterstock
When looking for the perfect pair of jeans, its materials, from the fabric to the stitching thread, will play an important factor. The first real indicator of quality is in the heaviness of the denim. Generally, the thicker and heavier the denim is, the better quality it will be (via Denimhunters). A jean's weight is usually measured in ounces, but this can vary by brand. Lower-quality denim is considered lightweight and weighs in at just under 12 ounces. Medium-weight denim sits at about 12 to 16 ounces, and heavy-weight denim is above 16 ounces. 
Advertisement
Next, take a closer look at how your jeans are pieced together. According to MakeYourOwnJeans.com, you want to see uniform stitching, with no loose or exposed threads. Another indicator of premium denim is the quality of the buttons or other embellishments. Plastic buttons and aluminum zippers are signs of cheap construction.
Fit and comfort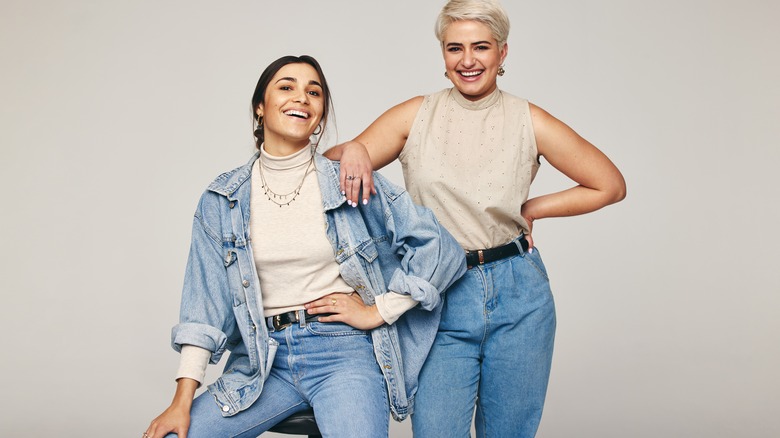 Jacob Lund/Shutterstock
One of the most important factors to consider when looking for a quality pair of jeans is fit. "When you try on jeans, sit down in them too, make sure they feel comfortable," Sarah Harris, deputy editor and fashion features director for British Vogue, told Vogue. "But remember, most jeans give a little after a few wears, so do consider this when trying for size." 
Advertisement
Next, consider the amount of stretch a pair of jeans has. Top brands produce jeans with a range of 1% to 4% elastane, to offer just the right balance of flexibility, contouring, and comfort (via liveabout dotcom).
The specific style of jeans is the last factor to consider. Using your measurements, think about whether low-rise or high-waisted styles would work better for you. Consider the length, also. Are you petite and need a shorter pair? Or do you have legs for days and need more length? At the end of the day, a high-quality pair of jeans should work well for your individual body type and make you look and feel fabulous.