How To Make Your Mani And Pedi Last Even Longer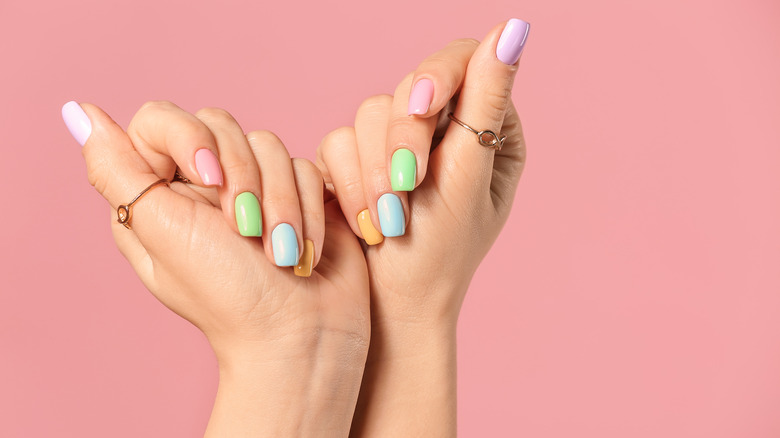 Pixel-Shot/Shutterstock
Few would deny that having your nails freshly painted looks and feels phenomenal. But the short-lived nature of traditional manicures and pedicures is a deal-breaker for many.
According to L'Oréal Paris, regular nail polish — the kind that is most often used for manicures and pedicures — only lasts for "a few days" before it starts to chip. You can delay this by opting for harder-wearing solutions, such as gel polish, which can give you an extra week of wear. Alternatively, there are even longer-term products available on the market, such as dipping powder, which can last up to a month (via LeSalon). However, there are tradeoffs with this option. Dipping powders are more difficult to remove and some can contain toxic ingredients that are harmful to the natural nail.
While it's not likely that you could ever make manis and pedis with regular nail polish last up to a month without chipping, there are a few things you can do to prolong their wear past those first few days.
How to prolong the life of your mani and pedi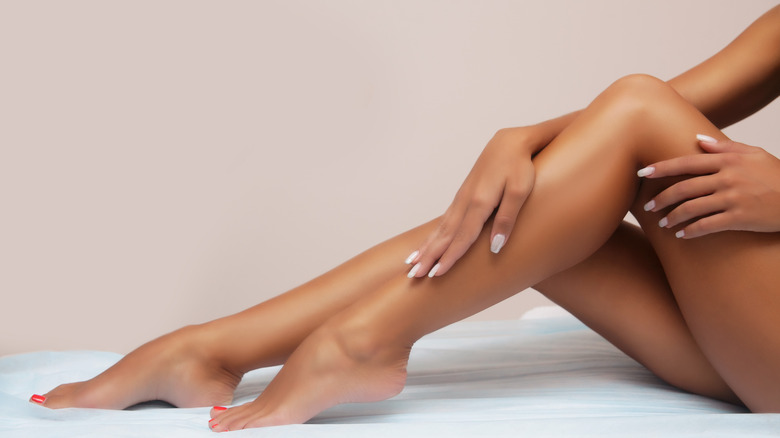 Alina Troeva/Shutterstock
Before you apply your nail polish, make sure you clean your nails with a nail polish remover, even if you're not wearing old polish. Excess oil on your nails will make your polish chip more quickly, so removing it first is key to longer-lasting manis and pedis (via Sundays). Next, always make sure to apply a base coat. Get The Gloss describes this as a crucial step in prolonging your nail polish longevity. You also want to properly remove your cuticles by gently pushing them back because overgrown cuticles can cause nail polish to lift over time.
When it comes to the color you choose, opting for a lighter shade of nail polish won't make your mani or pedi last longer, but it can make chips and cracks less noticeable.
According to Nooora Beauty Concierge, never forget to finish your mani or pedi with a top coat of clear polish, which will form a protective barrier over your color. Once your manicure and pedicure are complete, there are a few more things you can do over the next few days to make them last as long as possible.
Maintaining your mani and pedi over time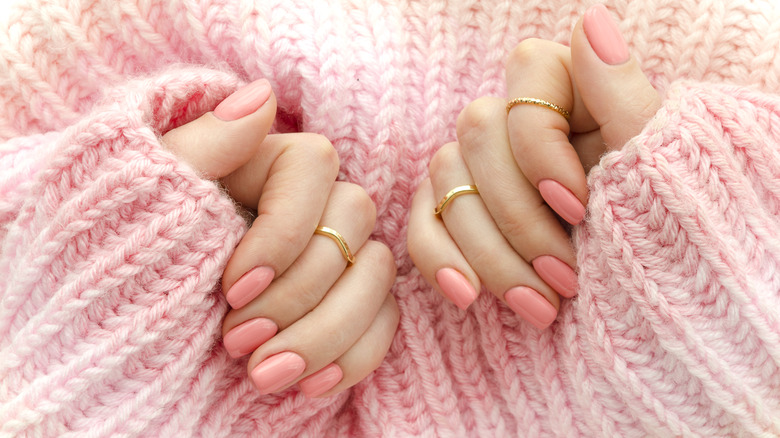 woodpencil/Shutterstock
Nail polish isn't designed to withstand daily life, so to make your mani and pedi last, you'll have to take special care. Keep applying a layer of top coat every three days to delay chipping and keep your nails shiny (via Nooora Beauty Concierge). Secret Spa also recommends staying away from chlorine and keeping your nails out of direct sunlight for extended periods of time, as these practices can dull shine and fade color, respectively. Keeping your hands and feet moisturized by applying daily lotion is also key, as softer, hydrated nails are less prone to chipping.
When it comes to pedicures in particular, Namaste Nail Sanctuary explains that it's important to let your toenail color set for at least 24 hours, and avoid moisture for the first 12 hours. During this timeframe, the polish is still hardening, making it much more likely to chip or smudge. You can further protect your nails by wearing socks or gloves as you go about your day, particularly when completing household chores like washing dishes (via It's a Mother Thing).
While you can't make manis and pedis look fresh forever, with these steps you can prolong their wear for as long as possible.