The Oversized Pant Trend That's About To Be Everywhere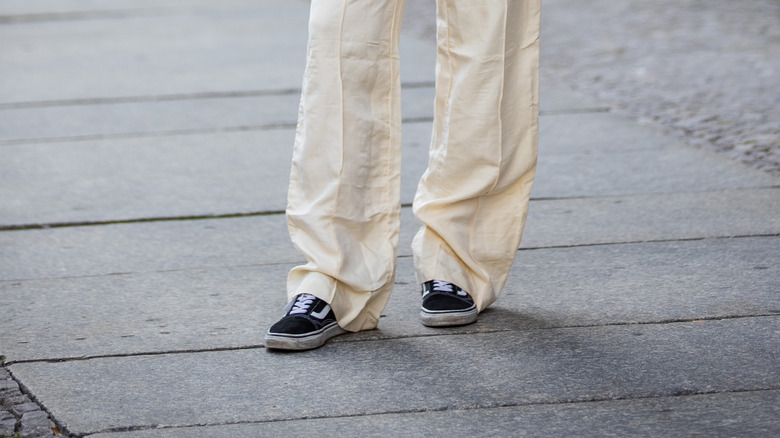 Christian Vierig/Getty Images
In your lifetime, you've probably seen many pants trends come and go, and then come back again. Any Millennial can probably remember a time in their lives when skinny jeans were the pants to wear. They were all the rage and came in all the colors. Skin-tight jeans have probably been a part of your look for a while. But as new generations begin making their mark, you may have seen the return of loose, high-waisted pants. This can come in the form of jeans — we see you Gen Z, and your penchant for mom jeans (per Washington Post)! They can also be slacks, cargo pants, or trousers. They definitely can be paired with just about anything and are guaranteed to be a cute look. However, a good hem, especially one that doesn't drag all on the floor, has always been a must for this style. After all, a nice hemmed pant allows your shoes to shine as well.
Advertisement
But high-waisted pants are an ever-evolving garment, and that's what makes them so versatile. In what seems to be an effortless, chic approach, the puddle pant has made its entrance. It is a style that lives up to its name with an oversized feel. The long, slouchy pant's hemline "puddles" or pools around the foot and the ankle, creating a loose fabric that drags on the floor — the "perfect antidote" to skinny jeans (via Vogue).
The baggy style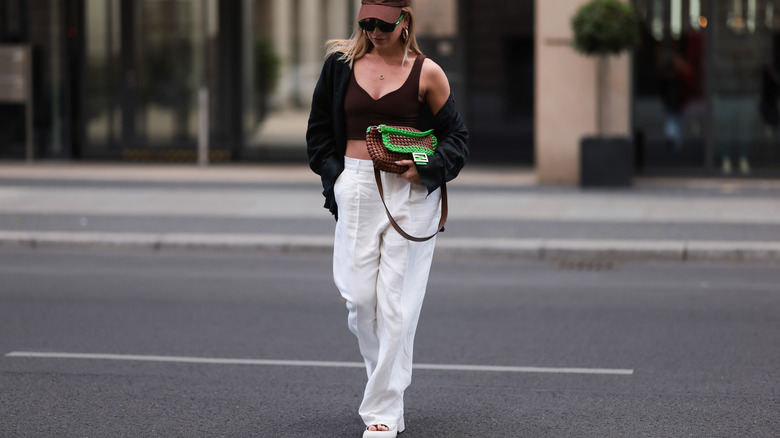 Jeremy Moeller/Getty Images
A baggy look is also currently in style, and it is something you can see when it comes down to the oversized t-shirt trend. Clearly, this baggy silhouette aligns perfectly with the trending style of the oversized puddle pant. It is a look that has gained some traction on the runway and with celebrities sporting the style. Zoë Kravitz has donned the look with a bit of an edgy touch. Bella Hadid has taken a Y2K approach, wearing the look with a low-waist jean over a bikini for the beach. Designers who have partaken in the baggy, oversized trend have also begun tapping into this style of pants. You can see it in the designs by Demna for Balenciaga, Amy Smilovic for Tibi, and the late Virgil Abloh for Off White (via Vogue).
Advertisement
Glamour credits the rise of lounge wear during the pandemic for this trend. "With the rise of loungewear all day, every day, these pants graduated from something only fashun people wore to the pants of the people," says writer Shanna Shipin. Quarantine life led more people to wear baggy tees, baggy pants, or baggy shorts, usually paired with a comfortable shoe. The puddle pants are often worn with comfort in mind. Their oversized, loose fit prioritizes a relaxed feel. As it puddles on the bottom, it is also paired best with a sneaker or a flat kind of shoe to keep the comfort train going.
Versatility and style in one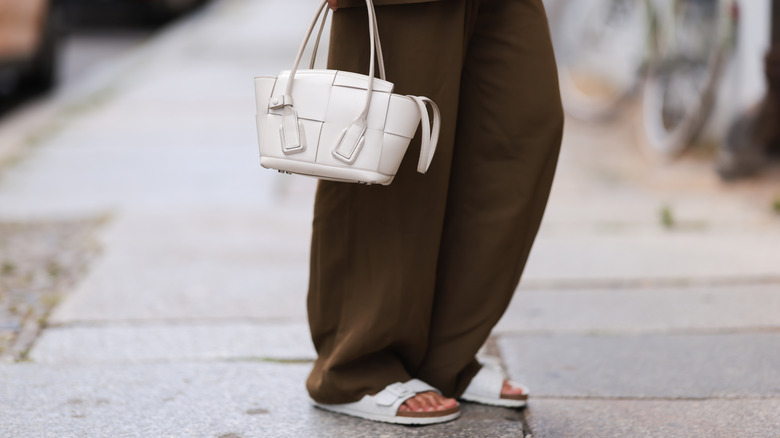 Jeremy Moeller/Getty Images
This trend is one that can be dressed up or down without sacrificing either comfort or style. Whether you are going to work, grocery shopping, a night out, or even a night in, there's a puddle pant for every occasion. Those on the more petite side will rejoice, as they have probably been rocking this look for a long time. Allyson Payer, a writer for Who What Wear, says that as someone who is 5 feet 4 inches tall, she was willing to give this trend a chance. "I'm used to spending a good amount of time and money at the tailor or shopping for pants with an inseam of 28" or less," she wrote. "But now the year is 2022 and cropped pants are feeling like more and more of a distant memory." For those who want to minimize the fabric dragging, she suggests wearing them with a pair of heels to add a little bit more distance between the ground and the pants.
Advertisement
If you're in the market for a puddle pant, it might feel like you have endless possibilities. You can find them made in many materials and styles such as denim, linen, leather, suit, yoga, and so many more. You can narrow down your search by determining what kind of fit and feel you want. Tap into the trend and have fun with it. Find comfort and fashion in one, especially with an effortlessly stylish look like this one.