Can You Wear Concealer Without Foundation?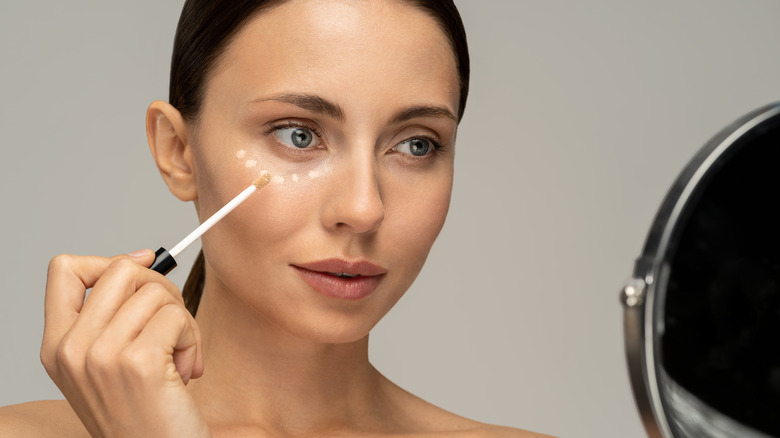 DimaBerlin/Shutterstock
The decision to put on foundation can feel like a commitment with strings attached. It comes with stipulations and requires sponges, setting, and touch-ups. But what about the days you want coverage without complications and cakiness? The development of tinted moisturizers and BB creams was one of the biggest wins the beauty world could have established. We were no longer required to slather on a second skin layer of oily foundation to blur out imperfections. Lightweight and hydrating, tinted creams promise coverage, a natural glow, and the illusion that you're wearing no makeup at all (via Nordstrom). But what if you want to give all of your pores a break? Is it possible to strip back the makeup even more but still cover imperfections?
It's easy to leave your concealer in your drawer until it's time to do full glam. It's the go-to girl for highlighting and illuminating dark circles under the eye. It's come a long way since its birth in the 1940s when it was created to hide blemishes (via Cosmetics and Skin). It's time we remember concealer's original purpose and let it do its job. With the #cleangirlaesthetic dominating the beauty world online, wearing concealer without foundation is the simplest way to rock the no-makeup makeup look.
Pick the right shade
Because in recent years, it's gained popularity for its role in highlighting and contouring, most of us only have concealer in a shade or two lighter than our natural skin tone. If your plan for the day is to wear only concealer as your coverage, the product must be a perfect or near-perfect shade that matches your skin. Fenty Beauty offers the most extensive line of concealers on the market, with over 50 shades seeking to provide an impeccable match to any skin tone. In addition to the diverse line of hues, they also offer three different formulas, each with a separate concealer purpose.
The Pro Filt'r Instant Retouch is the recommended concealer for hiding blemishes with a soft-matte blend and medium coverage. A little goes a long way when applying these products. Concealer differs from foundation in that it's generally thicker in texture as it's designed to hide blemishes, dark spots, and imperfections (via Neutrogena). Plan only to use a little at a time to get the most out of them.
Prep the skin and blend evenly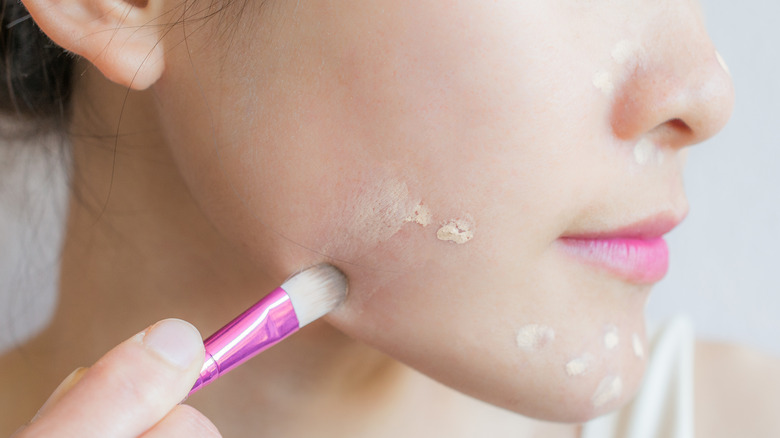 Boyloso/Shutterstock
As tempting as it is just to throw on concealer and go, rule number one in skin care is to keep the skin moisturized. Before whipping out the makeup, do your skin a favor and prep it first. If your goal is to flaunt a bare face that is still dewy and as glowy as possible, try a moisturizer that adds a pearlescence to the skin. MAC Cosmetics' Strobe Cream is a cult favorite for hydrating skin while also providing luminous vitamin-infused moisture to the skin.
Once you've applied your moisturizer, go in with a primer so your concealer can have a proper base to build off and grip the skin better. Now that the skin is fully prepped, target the areas of the face that need concealing. This may be redness, blemishes, or discoloration. You only need a small pea size that can be applied with a small brush or your finger. Makeup experts at L'Oréal suggest blending with your fingers because the product has a chance to "blend with your body's warmth and chemistry." Once you've blended the product, set it with a powder to seal the deal.