Here Is The Definitive Reigning Color Of Fall Fashion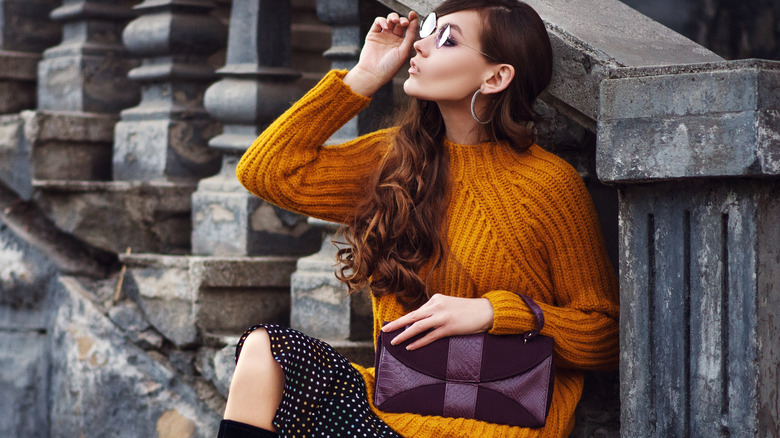 Victoria Chudinova/Shutterstock
Some colors never go out of style during fall. Browns, warm tones, and black will always stand the autumn test of time. However, every season of 2022 has brought out some shockingly flashy shades we never would have predicted in 2021, and fall is primed to follow suit. With Barbiecore pink having become TikTok's star color of the summer, fashion commentators at USA Today suggest that wearing powerful statement colors makes women feel more empowered than the muted tones we previously championed. Now as we march towards a fast-approaching end of the year, other electric colors are becoming designer favorites.
Advertisement
The fashion world watched with awe as Versace's Spring 2023 show blasted Prince with violet lights draping monochromatic black, pink, and purple stylings. Bella Hadid walked as a purple bride, and Coach brought us purple patchwork. Suddenly, purple is everywhere. Deemed the shade of royalty, the fashion gods have clearly chosen variations of this color as the new fall hue.
Fall fashion welcomes purple with a pop
In the past, fall purples have mainly remained in muted color families like burgundies, plums, or mauves. 2022 color stories, however, are all about playing with powerful hues that incite a serotonin boost. Predicted as one of the 2022 fashion trends by Pinterest Business, dopamine dressing, or the act of intentionally dressing with statement-making colors, is thought to boost your mood, confidence, and feel-good flair (via Verywell Mind). Other trending searches on Pinterest included vibrant and color-blocking outfits, exemplifying the collective urge to wear graphic, intensely pigmented colors with an electric feel.
Advertisement
Purples that pack a punch are quickly becoming as coveted as summer's Barbie pink. Highly saturated purples that feel charged, dynamic, and exciting have become sought-after fashion declarations, even appearing as a growing color fad for eye-catching watches (via The New York Times). So whether it's a chic accessory, vibrant sweater, leather jacket, or knit dress, picking purple as a shade to celebrate and layer with is a trend we expect to see more of this season.  
Very Peri was voted color of the year
At the onset of the new year, Pantone gave us a cultural reset by announcing the color of the year was a new creation: Very Peri. A hue that feels like the offspring of periwinkle blue and violet purple, Very Peri was uniquely designed to capture the complexity and strangeness of these times. Whether done consciously or unintentionally, the fashion world seems to be embracing the color. Varying shades have landed on the runways recently, appearing in collections from Valentino, Givenchy, and more. The delicate but crisp shade can be seen styled from top to bottom on fashion stylist and content creator Anaïs Van Oekel, pictured above. 
Advertisement
Near the same color family, the striking shade Meadow Violet is predicted as a fall color by trend forecasters at Glowsly. Packing more pigment than its sister Very Peri, this color has been seen on new fall handbags by Carolina Herrera and menswear by Raf Simmons. With plenty of hues to play with and so many major fashion houses on board, it's safe to say that newfound and imaginative shades of purple are the leading stars this fall.