22 Black Eyeshadow Looks Anyone Can Master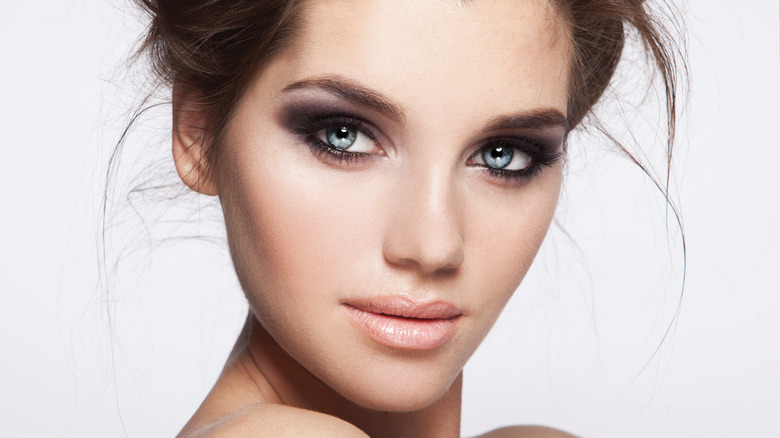 One bird/Shutterstock
Whether on the catwalks or in the streets, black eyeshadow is sexy and glamorous, mysterious and captivating, chic and elegant. Undoubtedly, it's one of the most timeless shades in the beauty world as it goes with all styles, all eye colors, and all face shapes.
Try it matte, try it smoky, you can even go full-on goth. No matter how you wear it, black can make a real statement on the eyelids. Nearly every palette has a black eyeshadow, so grab your nearest one and get your brushes ready. Before you get started though, there's a bit of prep to take care of first. "It's good to set your eyeshadow by starting with a primer," celebrity makeup artist Desirae Cherman told Today. "This helps to not only hold the shadow in place, but also preps the eyelid, getting rid of discoloration."
Now you're ready to start applying your makeup. Here are 22 different ways to create beautiful and easy-to-achieve black eyeshadow looks.
The classic smoky eye look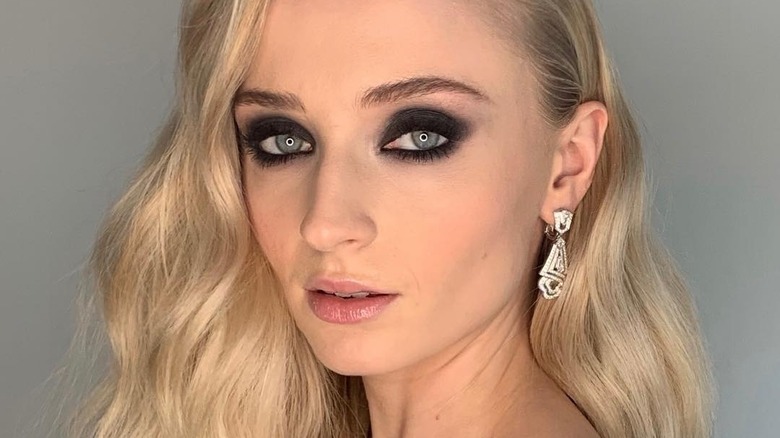 Instagram
Among the most in-vogue makeup techniques is the smoky eye. Nothing is sultrier than this classic look that intensifies any eye color. To achieve this result, take your best black eyeshadow and blend it all around your eye so that it is darker at the lashline and gradually fades. It will take a little patience and persistence to get this perfect smoky effect, but it will be worth it.
The heavy metal look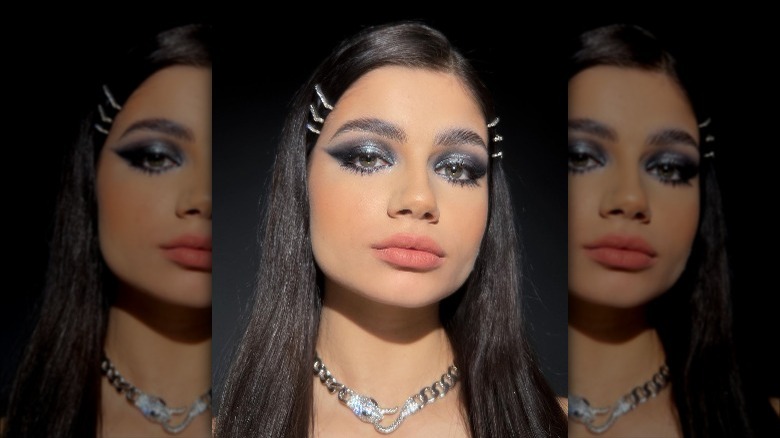 Instagram
Heavy metal is back in the spotlight, but this time it's on your lids! The mirrored effect this look gives off will make your eyelids shine. Start by applying your gray metallic shimmer eyeshadow, then add black liner at your lashline and black eyeshadow at the outer corners of your eyes. Pro tip: dampen your flat brush with makeup setting spray for more color payout and lasting radiance (per Viva).
The reverse eyeliner look completed with eyeshadow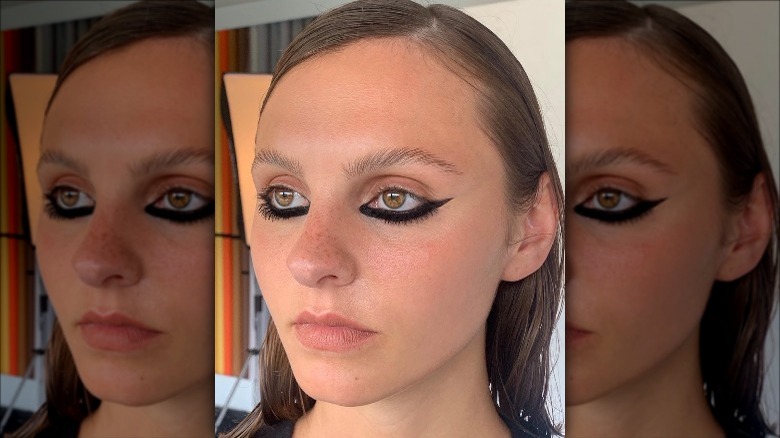 Instagram
If you are looking for high-impact originality, this look is for you. According to Ipsy, the reverse liner trend was born on TikTok and has quickly grown to be a favorite look of many celebrities and influencers. In fact, Zendaya, Rihanna, and Kim Kardashian have all rocked the look on the red carpet. To recreate it, kohl or black eyeshadow is all you need. Apply it on the lower lash line only and extend it out to create a wing.
The winged eyeliner look touched up with eyeshadow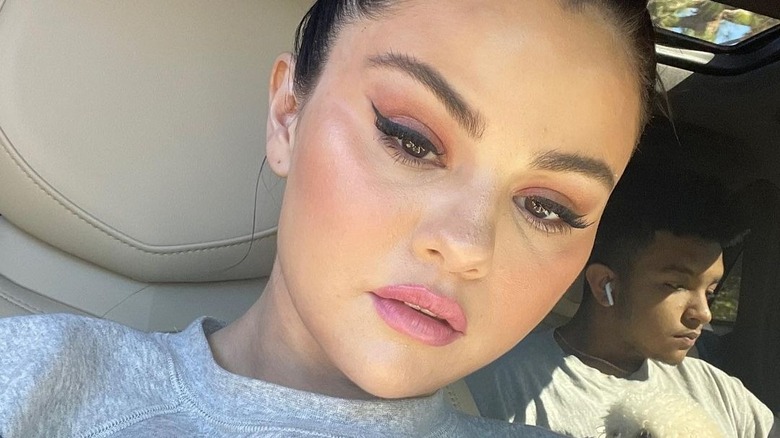 Instagram
According to Good Housekeeping, eyeliner is a timeless staple from ancient Egypt and Mesopotamia. While it fell out of fashion for many years, it become popular once again in the 1920s. It has since adorned the eyes of many celebrities, such as Selena Gomez, who often rocks the winged liner look. To get it yourself, use kohl or an eyeliner pencil to line your upper lid from the inner corner of the eye to the outer corner, moving slightly upwards at the end to get that perfect wing. Then, use black eyeshadow to deepen the color and smudge it out.
The ombré look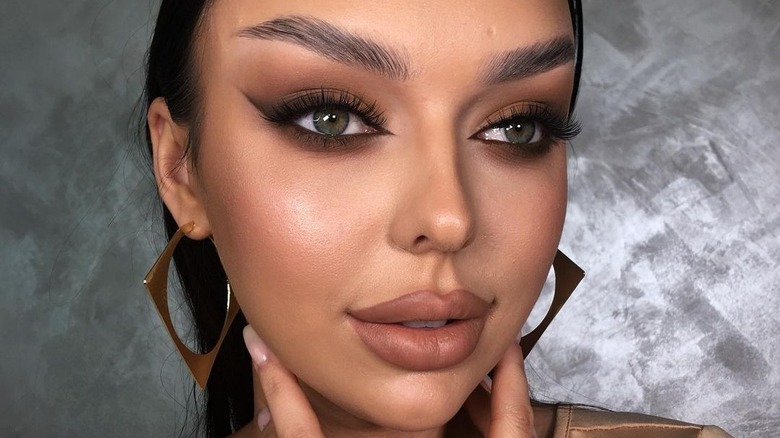 Instagram
The ombré is surely one of the most used techniques in the makeup world. And if you can achieve it, you will look like a real makeup pro. Before you start your perfect gradient, you need to be sure you are well-equipped; you'll need at least one blending brush to blur the shadows perfectly together and three eyeshadows: a light one, a "transition shadow" (via L'Oréal Paris), and a darker one. Start with the lightest and work your way to the darkest.
The '60s-inspired look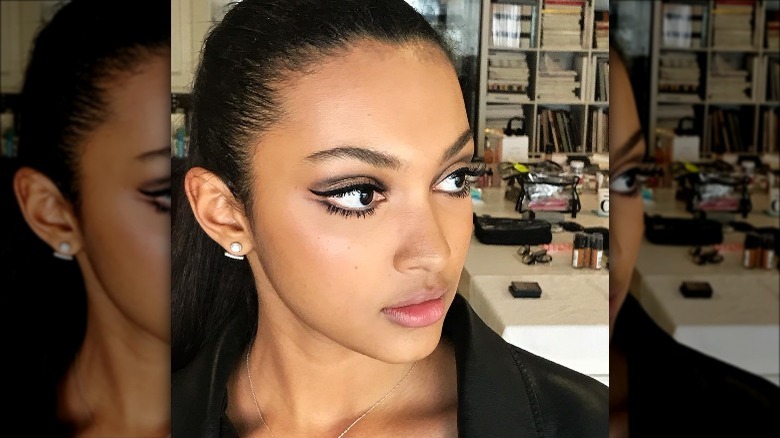 Instagram
So many eye-catching mod makeup looks from the '60s have become iconic today. Model Zoë Griffith is wearing three of them at once: Twiggy-style lashes, double eyeliner, and light black eyeshadow. The play between the light shadow and graphic liner that defines this look is *chef's kiss*.
The cut-crease look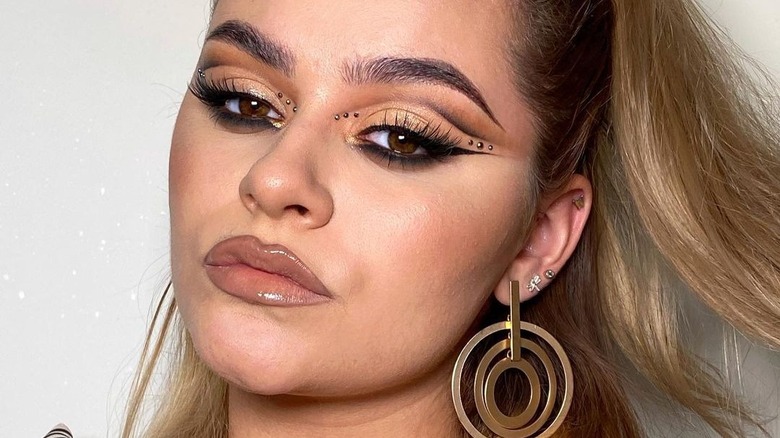 Instagram
Cut-crease eye makeup will define your eyelid crease and therefore make your eyes look bigger. We promise it's easier to pull off than you think. Start by blending black eyeshadow on your lids, then clean it up and define your cut-crease. For the most precise look, you will need concealer and a detail brush to create this unique shape. Finally, add eyeliner, and voila!
The smoky eye with glitter look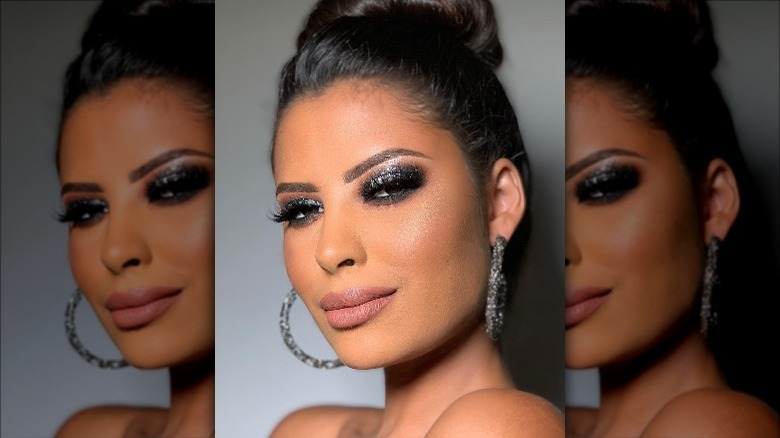 Instagram
Don't move! The most glamorous, sparkly makeup you can simply recreate has been found, and it will keep you shining from dusk until dawn. To recreate it, start by doing a classic smoky eye as your base, then add glitter — yes, glitter — at the end. Blend it out as much as possible to catch light from every angle.
The bold smudged look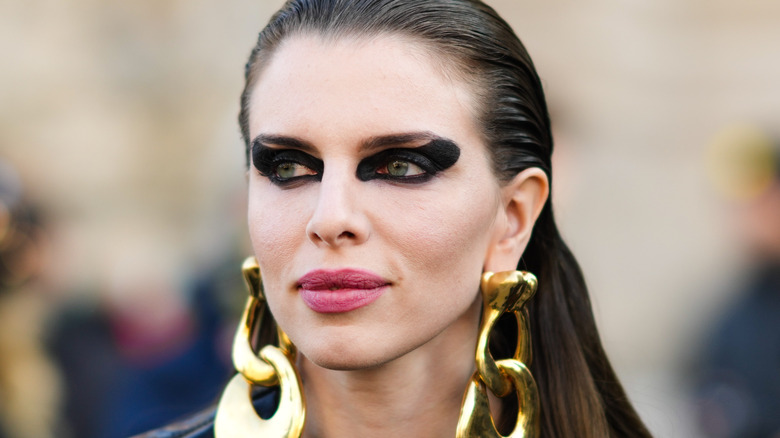 Edward Berthelot/Getty Images
Italian-American actress and model Julia fox made smudge makeup her trademark during the Schiaparelli show at the Paris Haute Couture last February, The New York Times reported. Her graphic eyeliner definitely caught people's attention. If you want to copy her look, it's very simple: draw whatever abstract shape you want and fill it with a matte and opaque black eyeshadow.
The winged ombré look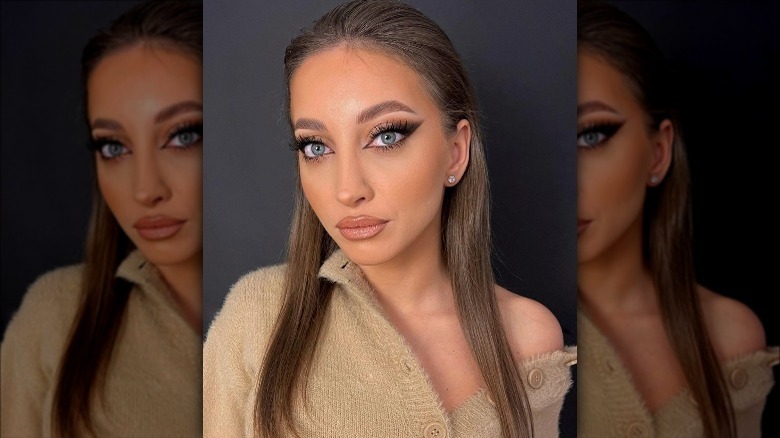 Instagram
In the world of makeup, anything is possible. That's why an ombré eyeshadow look can also be achieved with just eyeliner and black eyeshadow. To find the perfect eyeliner angle for your face shape, turn to the trick used by makeup artists and TikTok beauty gurus alike: line a piece of tape from the outer corner of your eye to the tip of your eyebrow. Then, add black shadow for extra dimension.
The bold cat eye look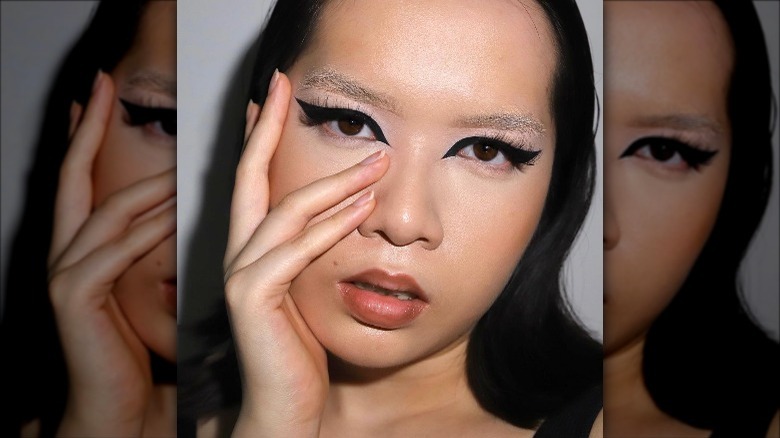 Instagram
With its very intense vibe, the bold cat eye is made to stand out. Get the look by taking an ultra-black eyeshadow pencil and drawing a wide, bold line all over your eyelid. Finish with two sharp angles in the inner and outer corners of your eye.
The glossy wet look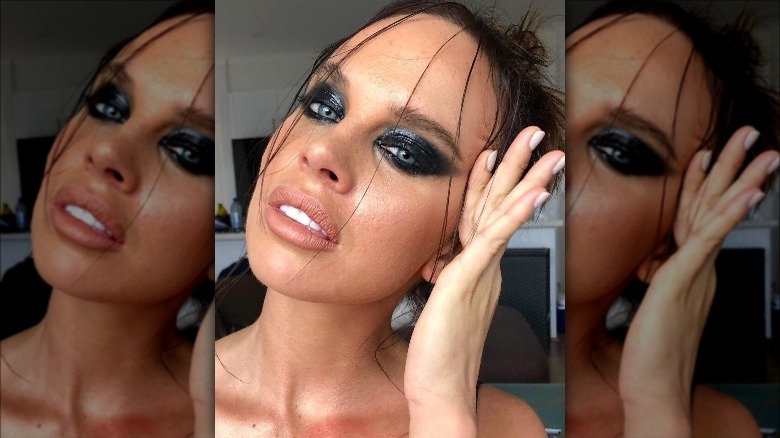 Instagram
Want to look like you've been through a rainstorm but your makeup didn't budge an inch? That is achievable thanks to the wet eyeshadow look. According to Makeup.com, this glossy effect can be achieved by adding a little bit of clear gloss to your black eyeshadow.
The fishtail look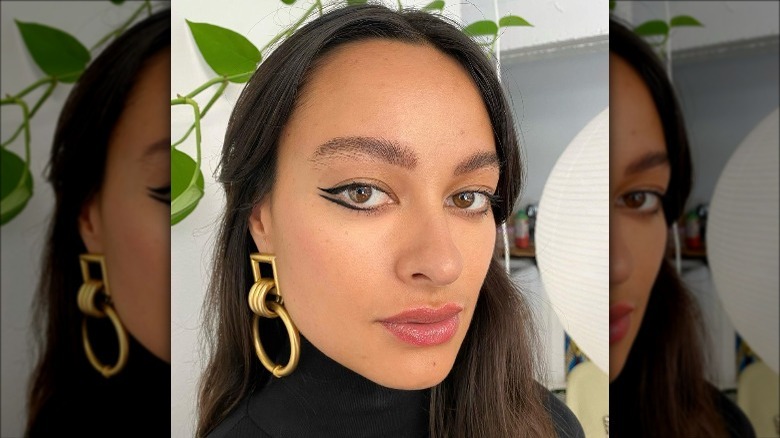 Instagram
If you're looking for a twist on the winged liner look that is minimalistic in nature, we've found the eyeshadow trend to try out as soon as possible. To achieve the fishtail look, simply create a short wing on the top lash line and a reversed one on the bottom with a thin brush and black eyeshadow.
The smoky undereye look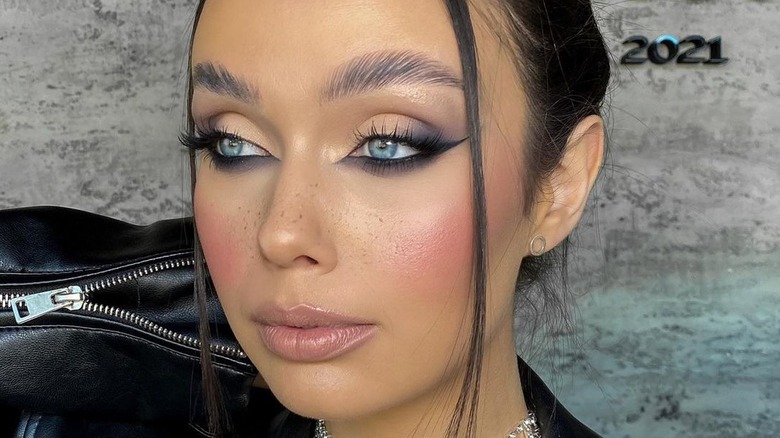 Instagram
No, those aren't dark circles you got from the lack of sleep you've been having lately, but a real makeup trend. The smoky undereye look is intense and surprising, and is perfect for a trendy night out. To get the look, use a black pencil to line your lower lash line and then smudge it out with a blending brush.
The everyday look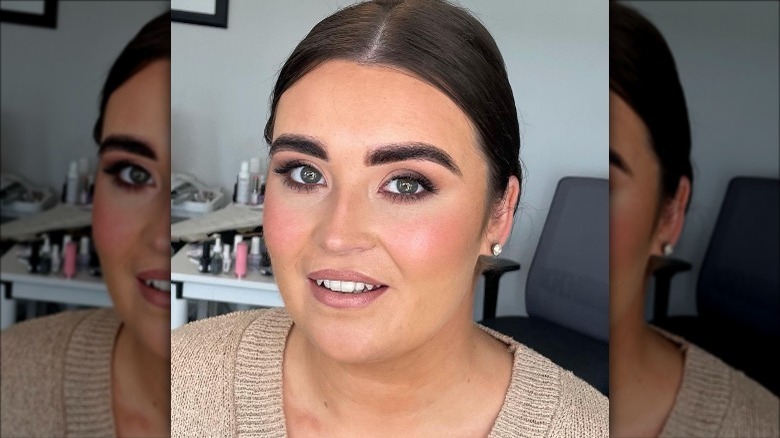 Instagram
For those looking for a more natural, everyday look, it is possible to use black subtly. Before applying, tap off excess shadow to get a barely-there look. If it's still a little too dark for you, you can always mix your black eyeshadow with a brown one. Finish off by adding a touch of light shadow in the inner corner, which will make your eyes look even bigger, according to Ipsy.
The off-the-runway look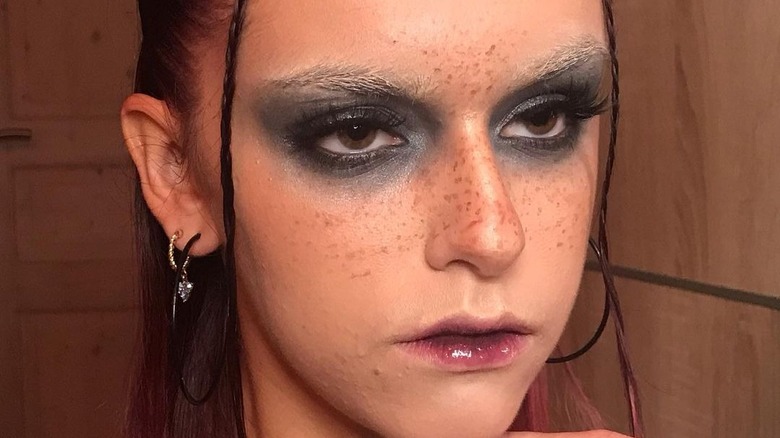 Instagram
The most daring looks are often first seen on catwalks and are great inspiration for those who are not afraid to be unique. Extend your eyeshadow all the way into the eyebrows for this look. First, apply your black eyeshadow and then blend a lighter color, such as gray, up to your brow bone and beyond (via Shilpa Ahuja). This off-the-runway makeup look creates a real statement.
The black and gold look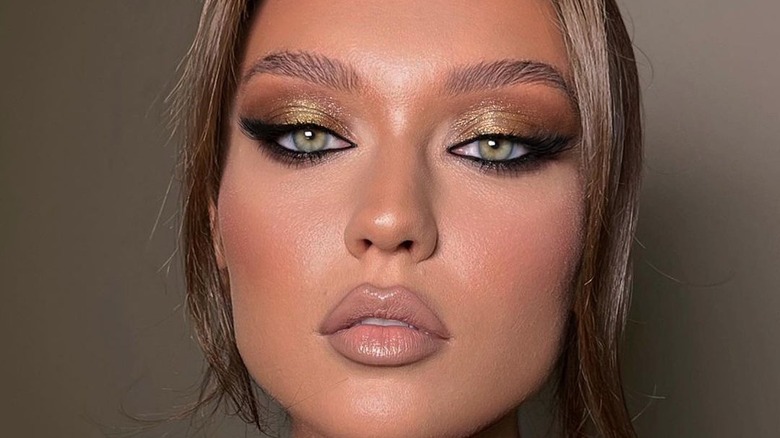 Instagram
Have you ever wondered why there is usually a black and a gold eyeshadow in a makeup palette? It's because those two basic glamorous colors pair perfectly together. The ultra-luxe look is a sure winner for any skin tone and will make your eyes shine brighter than the sun.
The pop of color look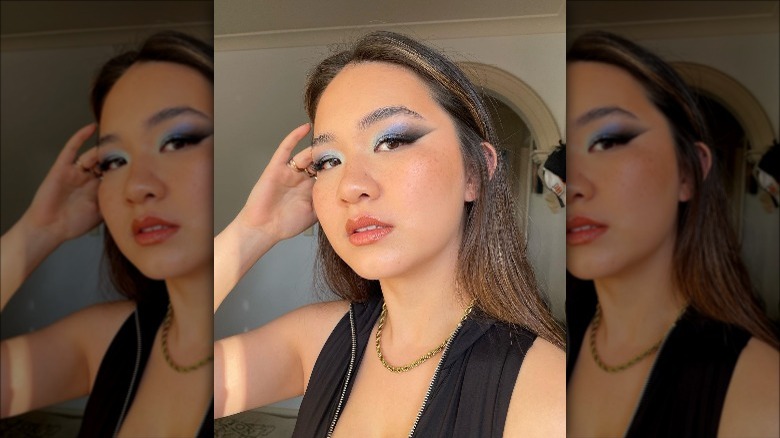 Instagram
Don't be afraid to add a little color to your black makeup! Everything goes with black. Gold, pink, green... any color! And each will give off a different vibe. Blue, for instance, has a very-supernatural galaxy feel. Be even more creative by adding your own personal touch, such as glitter.
The Black Swan-inspired look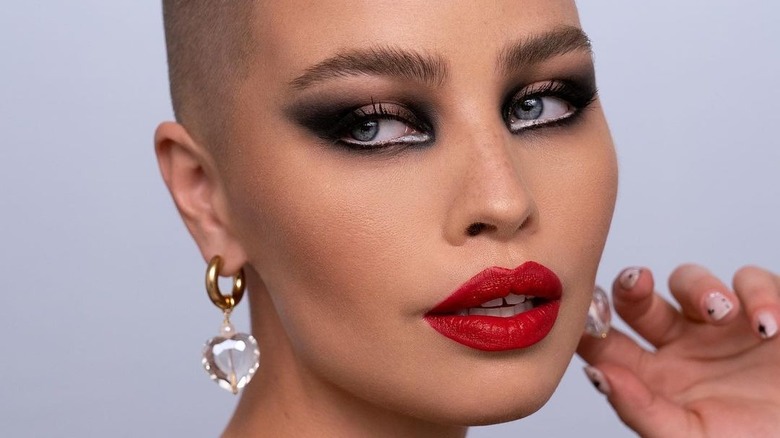 Instagram
Light and shadow, yin and yang, black and white. This is the energy that emanates from this makeup look that is very Black Swan-inspired. The trick to this look is to fill in the lower inner lash line using a white pencil and paint the rest of the eyelid in black. Then bring the shadowy color toward the outer tip of the eyebrow to create a haunting, dramatic effect.
The siren look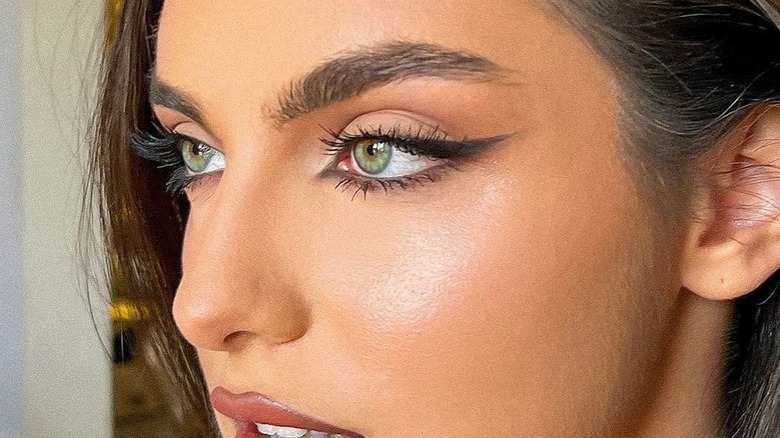 Instagram
The trend of siren eyes has developed rapidly on TikTok. Essentially an over-exaggerated cat eye, this look makes the eyes completely irresistible. To recreate it, simply create a cat eye with black eyeshadow but extend the wing out toward your temple to create more drama than a typical cat eye (via Brit + Co). Don't forget to add a bit of shadow to your inner tear duct to further lengthen the eye.
The negative space look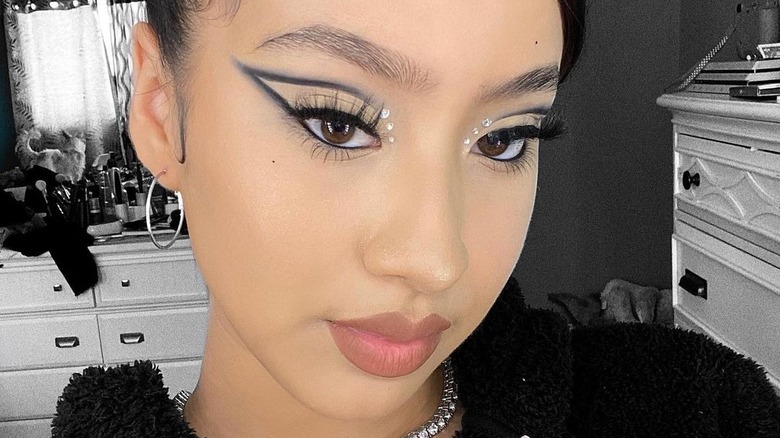 Instagram
Eyeliner looks with negative space are becoming more and more trendy and involve not putting color — in this case, black — on certain parts of the lid. This look is most commonly seen with winged eyeliner coming to a sharp point and no, or very light, eyeshadow in between. You do, however, use some black eyeshadow to smoke out the look, but if you go overboard a bit, you can clean up any wiggly lines with concealer.
The gothic look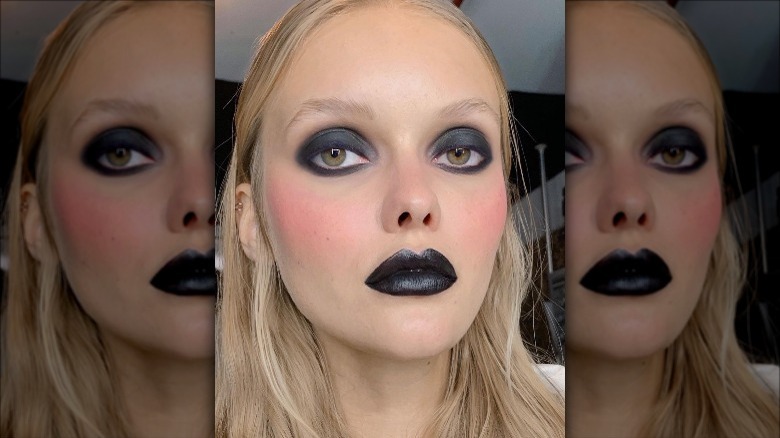 Instagram
According to Self, the color black is adored by goths for "reveling in melancholy, and celebrating the macabre." If a bold look is your cup of tea, you can try a gothic makeup style by applying a matte black eyeshadow all around your eyes to give the illusion of depth. Skip the mascara, but add another touch of darkness with a swipe of black lipstick.