Will Your Concealer Also Work As An Eyeshadow Primer?
DimaBerlin/Shutterstock
We all love a good makeup hack or trick that saves us time. This statement is especially true if said hack also means we don't have to purchase another makeup product. That is why in recent years, multi-use makeup products have been on the rise. Instead of purchasing a separate product for everything, why not buy one item that works in multiple places? One of the first products to take advantage of this trend was the Ilia Multi-Stick Cream Blush + Highlighter + Lip Tint. This product currently holds a 4.3-star rating from over 1,000 reviews on Sephora, with many reviewers raving about how practical it is to use on a busy day. With the success of multi-tasking products, wouldn't you want to apply this to all of your makeup products?
One makeup hack that uses this same premise and is starting to gain popularity is using your concealer as your eyeshadow primer. The purpose of eyeshadow primer is to create an even base on your eyelids where you can apply your eyeshadow on top. The primer is supposed to help your eyeshadows pop and stay on for longer. Like a face primer, the eyeshadow primer helps with uneven texture and discoloration if you need a little help on that front. If you are already using concealer, it makes sense you would just want to continue that onto your eyelids. However, like any trend, you may want to take another look before partaking in this one.
Can you use concealer on your eyelids?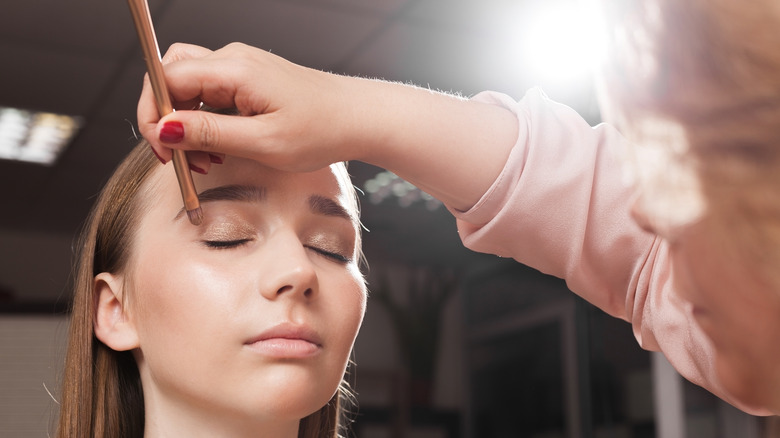 OlegMemo/Shutterstock
Even though this trend would save you time and money, the consensus is that it isn't worth ruining your eyeshadow look. Celebrity makeup artist Billie Gene tells Makeup.com that while it may be a popular new trend, you should avoid using concealer on your eyelids. Gene explains that the coloring on your concealer is so pigmented that it could cause your eyeshadow color to lose its pigment or distort its color. Apart from this, concealer can move around your eyelids and lose its grip. Bellatory adds that one of the reasons why eye primer is essential is because it helps with oil control. Like the rest of your face, eyelids and eyeshadow products also have oils. When you don't have oil control, your eyeshadow will typically fall out and won't last long. 
When you apply your concealer, you tend to follow up with a setting powder or setting spray. This step stops your concealer from slipping with your natural skin oils and oils you produce throughout the day. So, while this makeup hack seems like it would be a time and money saver, you're risking creased eyeshadow and low-pigmented color in the end.
How to prime your eyelids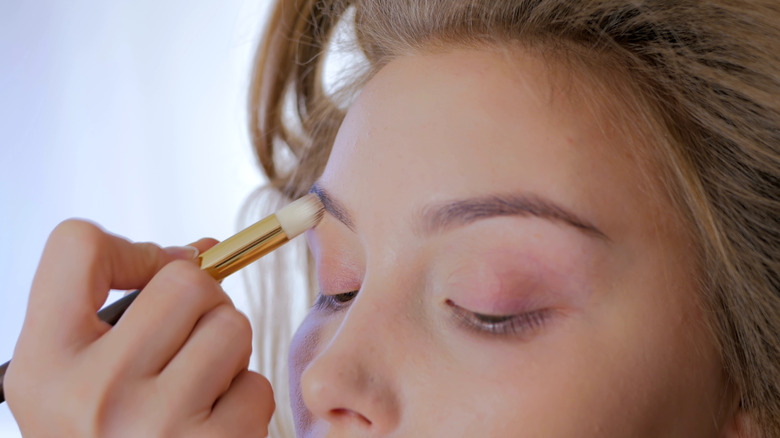 Zyabich/Shutterstock
While it would be easy to swipe concealer and go, there are other ways to prime your eyelids and ensure you get the eye look you want. The easiest and most practical way to prime your eyelids is by using an eyeshadow primer. These primers are made for this area of the skin and can hold your eyeshadow in place all day. One of the most popular eyeshadow primers on the market is Urban Decay's Eyeshadow Primer Potion. This product has a 4.6-star rating with over 8,000 reviews on Sephora. One of the highest-rated eyeshadow primers on offered by the beauty retailer, this product has reviewers loving its long-lasting ability and how it makes any eyeshadow color pop.
If you ever find yourself without an eyeshadow primer, some alternatives can also help. LiveGlam recommends using a light neutral cream eyeshadow color as a primer alternative. Contrary to concealers, these eyeshadows go on your eyelids and stay on the eyes. You can also use a setting spray or mist if you want to use a product that will hold your eyeshadow throughout the day. So, while this trend may not be the best solution for an eyeshadow primer, there are plenty of ways you can make sure your eye makeup works all day long.