Do Face Slimming Masks Actually Do Anything?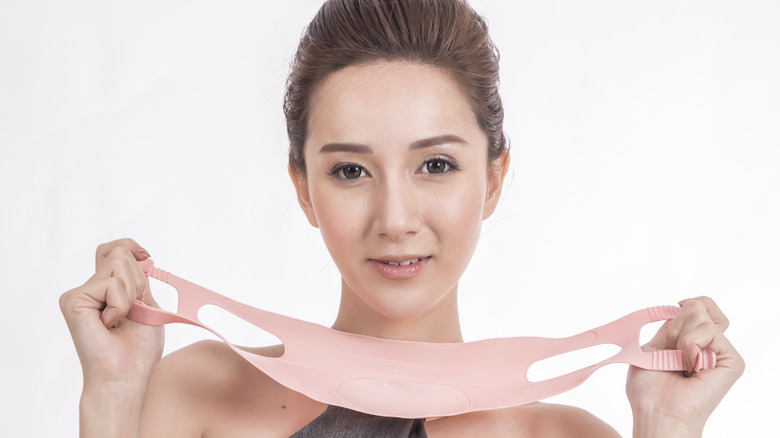 Supavadee butradee/Shutterstock
The Korean beauty world is known for constantly churning out tricks and gadgets to help us achieve that perfectly chiseled and cleared skin face. Not only do they have us putting snail slime on our skin, but now they have us sleeping with jaw-snatching face masks. Yes, in Korea and now all over the eastern and western world, women are wearing face slimming masks that go from ear to ear, lifting back double chins. Soaked in a variety of different oils, serums, and juicy formulas, these k-beauty chin reducers are quickly becoming some of the most intriguing and bizarre-looking products on the market (via Sio Beauty). 
Think of them as gel-lined beauty chin straps without the football helmet. Is there anything we won't try for the perfect snatched jaw? With such a simple promise and claim to lift saggy skin by simply wearing an overnight mask, the world wants to know: Do they actually work?
The reviews are mixed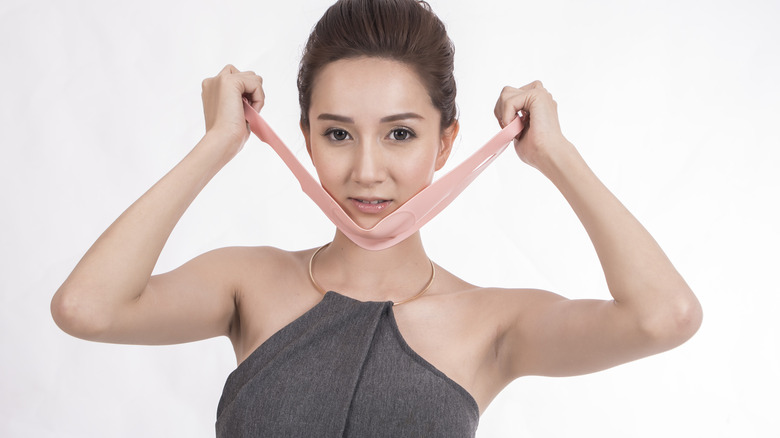 Supavadee butradee/Shutterstock
Also dubbed "face bras" — we, too, are screaming internally — slimming masks are receiving mixed reviews in the beauty world. For example, plastic surgeon experts at Sagar Patel Aesthetics in Beverly Hills say not to expect long-term results as the straps only temporarily prevent blood flow, causing the illusion of a slimmer face. But when beauty mogul Huda Kattan announced the release of her chin-lifting mask on Instagram, fans went wild, with Wishful reviewers swearing it works. According to Huda Beauty, the chin lift works in 20 to 30 minutes and lasts up to three hours. The idea is that if you continuously wear it over time, you'll gradually train the skin to be lifted and snatched.
Huda's cute lime green mask reaches over the ears giving the chin a snug lift and smooths across the neck coated with peptides and peppermint meant to tighten and firm skin. What's more, Cosmopolitan beauty editors took to YouTube to review the mask, and even though they saw some effects, they didn't seem particularly thrilled about the product. Many said they saw some lifting initially, but then their faces would return to their natural shapes not long after. Any benefits seemed short-lived.
We say it works but is not a double-chin solution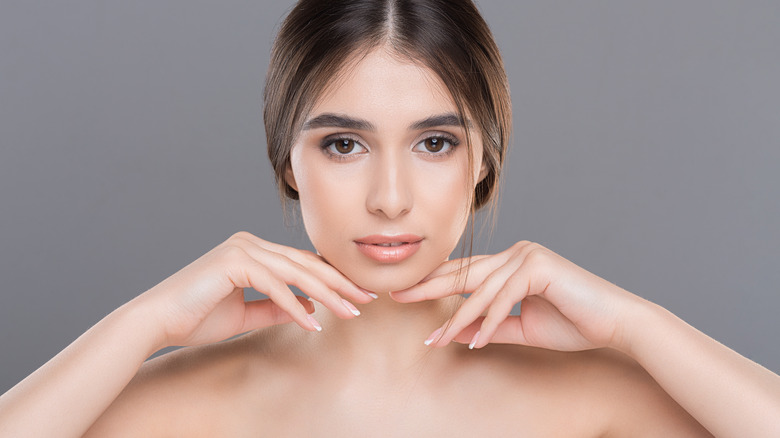 Prostock-studio/Shutterstock
Some influencers have decidedly incorporated chin masks into their entire beauty routine. For example, beauty expert Leigh Campbell sported her Skin Physics V-Shape Vitality Masks on Instagram, saying, "When masking is life." Here, Campbell proves that at least some women in the industry have fully bought into the acclaimed lifting power that these masks offer. Ultimately, these masks have the potential to provide some smoothing, tightening, and lifting, given the reviews of both beauty experts and gurus. Just don't expect the results of a Kybella injection, which is proven to dissolve fat.
The body is moldable and can be easily contoured. So, with repeated lifting and smoothing, we do believe the slimming masks can work some magic. They just might not be long-lasting and permanent. We suggest wearing these a few days before a big event or days leading up to a photo shoot for some slight trimming. However, you can't expect it to snatch inches from you.