Does Reverse Hair Washing Really Do Anything?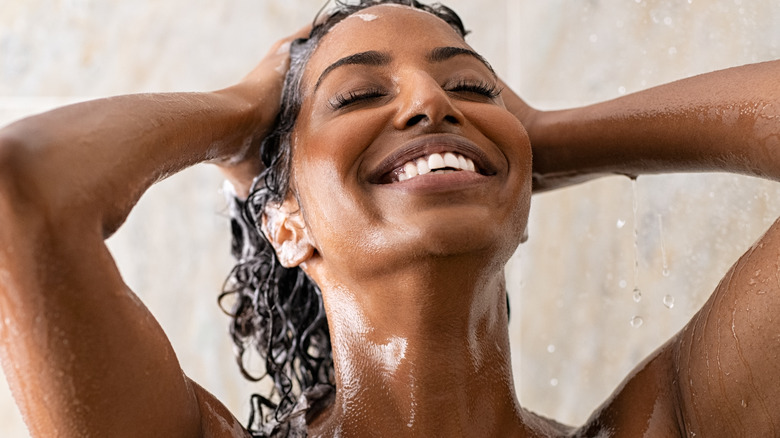 Rido/Shutterstock
Thanks to social media, there's always a new fashion, beauty, or skincare trend making waves. Usually, these trends are new methods or routines that seem to go against the norm. One of the newest trends breaking against the mold is reverse hair washing. This new hair trend may seem odd to those who have always followed a strict shower routine, but it promises amazing results.
While this trend may seem futile, it has gained a lot of popularity and promises to bring your hair back to life. The hair trend is so popular that the hashtag #reversehairwashing currently has over 100,000 views on TikTok and is only growing more each day. Despite the popularity of the trend, there are questions surrounding how effective reverse hair washing is in giving you shiny, bouncy hair. Considering the norm has proven effective on all hair types, it's only valid to question whether another shower hair routine can deliver better results.
What is reverse hair washing?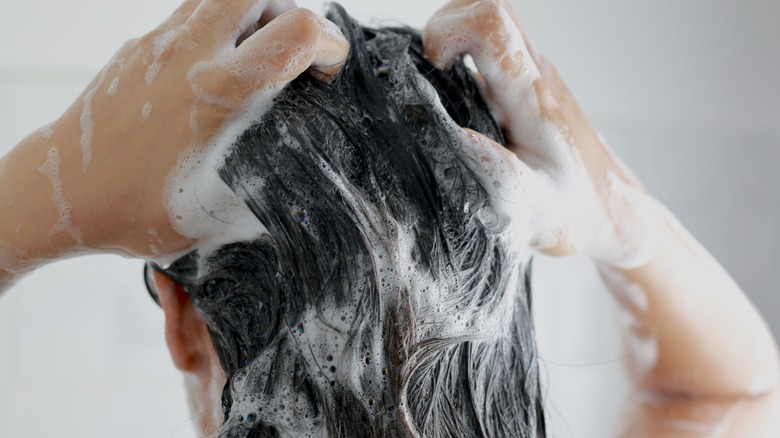 fongbeerredhot/Shutterstock
As opposed to many TikTok trends you find today, the reverse hair washing trend doesn't involve anything out of the ordinary. Reverse hair washing is simply the act of using your conditioner before your shampoo. On this, dermatologist Audrey Kunin tells Ipsy, "It helps deeply condition hair without weighing it down." The idea behind reverse hair washing is that by applying your conditioner first, your hair is getting more of the nutrients and hydration directly rather than being blocked by your shampoo.
Hair.com adds that following your conditioner with shampoo also removes some of the buildup and excess product that you may have applied. Fans of reverse hair washing say that by using shampoo second, you also prevent your conditioner from weighing your hair down and becoming flat once it dries. As well, the shampoo can remove some of the greasiness of your conditioner from your scalp. After your shower, you should be left with more volume and shine.
At the end of the day, the premise behind reverse hair washing is using conditioner first to give you everything you want and using shampoo second to get rid of everything that you don't. Whether this method works for you or not will mostly come down to the type of hair that you have.
Is reverse hair washing effective?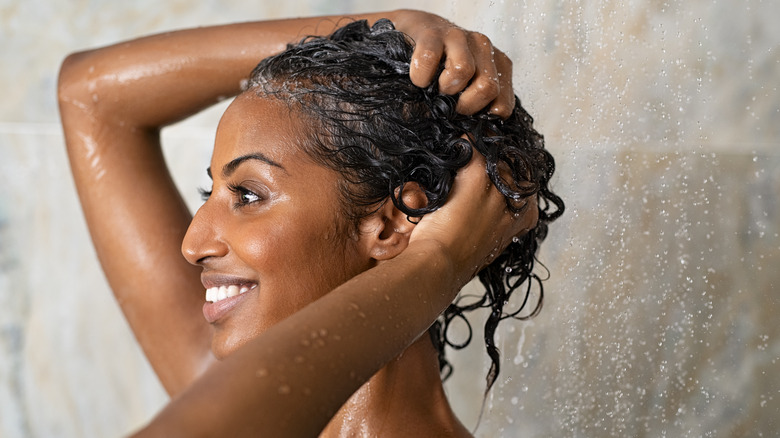 Rido/Shutterstock
Unfortunately, like many trends, reverse hair washing isn't the best option for everyone. In fact, cosmetic chemist Tonya Lane tells Coveteur, "The whole point of reverse washing is to reduce product buildup and heavy feeling hair that can occur during the conditioning process. Finer hair textures can benefit from the lack of buildup by reverse washing since technically there will be less product on the hair," before adding, "However, this technique can lead to dry and damaged hair if a conditioning product is not applied afterwards — whether that's in the form of a traditional conditioner or leave-in conditioner." So while those with finer or damaged hair can see benefits from reverse hair washing, you still need to follow up with another conditioning product.
If you want to give this hair trend a try, there are some ways that you can make it more effective for you. Schwarzkopf recommends only using your conditioner on your ends and length, avoiding the scalp. This ensures that you aren't making your scalp oily with your conditioner. As well, avoid using too much shampoo as this will only dry out your ends and defeat the purpose of your conditioner. If you're keen on trying this method out, try reverse hair washing only a few times a week to see if there is any difference in your hair.