What Is The Milk-Bath Manicure Trend?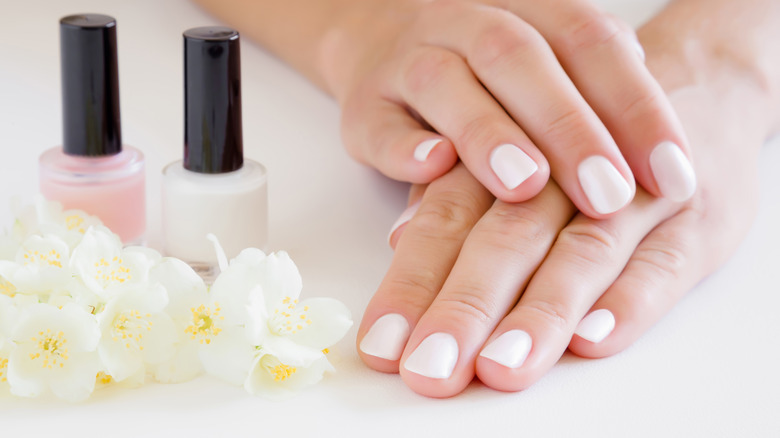 FotoDuets/Shutterstock
By now, we've all heard about cottagecore, the simple-life aesthetic that was driven by TikTok to prominence in 2019 (via The Vou). Much like its ultra-feminine cousin, fairycore, this aesthetic is rooted in everything natural, dreamy, and magical. And while cottagecore and fairycore may just seem like ways to dress up, many fashion and beauty trends have emerged from these styles. One of the newest cottage-inspired beauty trends comes in the form of milk-bath manicures. These sweet takes on nail art are a foolproof way to encapsulate everything dreamy and romantic.
Despite its name, this trend doesn't involve actually bathing your hands in milk. Instead, it is the art of bringing the vision of a milk bath to your fingertips. With over 52,000 posts under the hashtag #milkbathnails on Instagram, this look has become a new favorite among manicure lovers. It's a strong contrast to previous nail trends that included vibrant colors and jewels. Whether you believe in fairytales or not, the milk-bath manicure fad is a perfect way to add a bit of magic to your nails.
What does a milk-bath manicure look like?
A milk-bath manicure is ultimately simple, despite the elegance and beauty of its design. As manicurist Elle Gerstein tells Popsugar, "Milk-bath nails are acrylic nails where colorful dried flowers are embedded into a milky color acrylic." This is certainly one very popular take on the milk-bath style. That said, there are different variations of this which instead include painted flowers or don't add flowers at all, focusing more on the creamy sheen.
Although the base color of a milk-bath manicure usually consists of a creamy milky color, this can also differ depending on your preference. Some prefer to go with a pastel color, or, as in one design by @missnemrac88, you can go with a clear base and place emphasis on the dried flowers. Whether you choose clear or milky, flowers or no flowers, the milk-bath manicure is a chic and elegant nail art trend that is meant to exude something mystical and dreamy. So, keep in mind that you want to choose colors and accents that reflect the overall luxury of a milk bath.
How to get milk-bath nails
While the easiest way to get a milk-bath manicure is to head to your local salon, it's entirely possible to do this at home as well. One of the most popular ways of getting this trend is by dip powder. To get started, OPI suggests having set aside your dried flowers before beginning. After applying a layer of base coat, dip your nails into your desired dip powder. Dust off the excess powder, apply another layer of base coat, and immediately add your dried flowers on top of the wet base with tweezers. Make sure the flowers are pressed down before applying a third layer of base coat. Afterward, you will dip your nails into the setting powder, remove any excess, and add the powder activator. After this step, you can buff and file your nails to your desired shape. Once you have your shape, add another coat of powder activator before waiting a few minutes and adding top coat.
Almond Nails adds that a milk-bath manicure can also be achieved with acrylic and gel nails. While this process is lengthy, taking around an hour per hand, over time it costs significantly less to do at home than making regular trips to a nail salon. Still, Almond Nails adds that this process can cost anywhere between $100-$200 if it's your first time creating acrylics at home, as you'll need to acquire some specialized equipment.
In the end, it's up to you whether to DIY your milk-bath manicure or leave it to the professionals. But if you have the patience and the tools, this nail trend is completely doable at home and will have your nails on trend for this season.