Are Headphones The Latest Street-Style Accessory?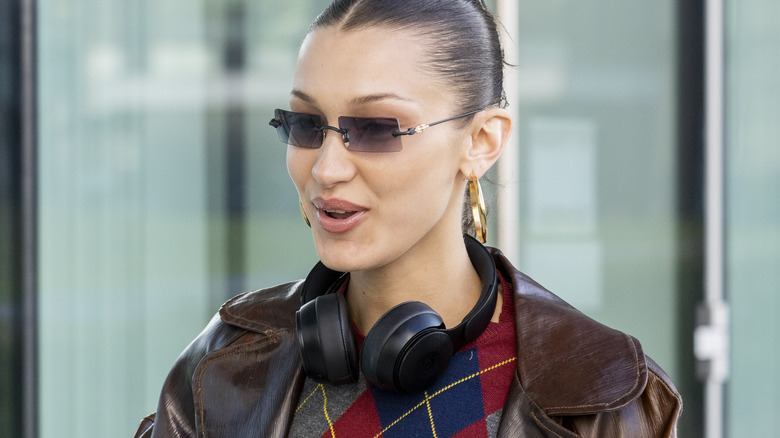 Arnold Jerocki/Getty Images
If you've ever owned a pair of ear cuff headphones, you know the magical power that comes over you as you strut the street with music blasting the soundtrack to your life. Giant headphones are becoming more than just an auditory experience, though. They're starting to feel like the cherry-on-top to a good outfit. Ever since Apple released the AirPods Max, which come with spatial audio and dynamic head tracking, more #ootds and look-books seem to be incorporating the colorful headwear. In fact, fashion influencer Olivia Hirst joked on TikTok that she puts on her headphones and calls it a "fit."
If you are a TikTok scroller, you're bound to have seen one of the many brands advertising their uncanny knockoff versions of the AirPods Max for more than a tenth of the price. It's not just Apple headphones becoming a fashion accessory, however. The jumbo headpieces have been a favorite street-style accessory since the '90s, making every girl the mysterious fashion angel walking down the street. It's no surprise, then, as Y2K is reigning supreme that the ear accessory is becoming the latest statement piece.
Apple's AirPods Max have taken over #fashiontok
Known for her British Y2K street style, influencer Olivia Hirst is just one of the influencers leading the way in claiming the AirPods Max as an accessory. In one caption on Instagram, she described them as her "new personality trait" as the headphones steal the spotlight from the designer bags and shoes in every picture. The sleek chrome clouds seem to give the same appeal as say the wrap-around, futuristic shades that are trending this fall. 
The influencer girlies aren't the only ones rocking the new "don't talk to me" aesthetic. Lifestyle influencer Blonde Chile on TikTok is just one example of male content creators that are using metallic-colored earpieces as trendy accessories. Larger influencers like Chayse Byrd, who has over one million followers, are filming unboxings of the headphones similarly to traditional fashion hauls, giving their takes on the stylish tech products. Somehow, Apple has received a massive seal of approval from #fashiontok, and it doesn't look like it's budging any time soon! In fact, it may be part of a larger movement.
They're part of the Y2K resurgence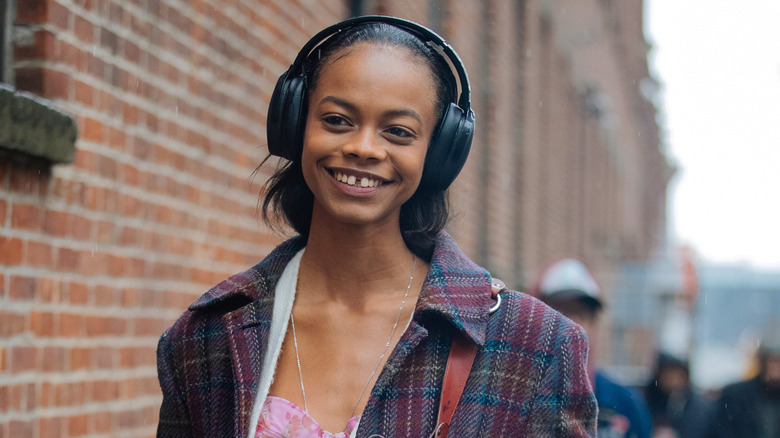 Melodie Jeng/Getty Images
It may be odd to think of headphones as being a participant in fashion trends, but if you consider the massive sway from small wired earbuds to earmuff-like headsets, they definitely do play a part in our fashion evolution. Fashion historian Rachel Weingarten told Teen Vogue that "fashion always fluctuates" and swings like a pendulum. It's no surprise that the nostalgia of the late '90s and early 2000s, an era unscathed by smartphone overstimulation and consumption, has resurfaced as the new fashion paradigm. Weingarten adds, "We see the resurgence of vinyl, so it makes sense that we'd see the silhouette of earphones popular in that era." 
With polaroids, low-rise jeans, and tinted sunglasses making a comeback, it's no wonder that the jumbo-sized headphones of the '80s and '90s are also making a resurgence. It's not just the exclusive and very pricey Apple AirPods Max becoming the new fashion statement; influencers are also sharing their thrift finds on TikTok that give just as timeless, if not more unique, of an appeal.