How To Cut And Style Your Own Curtain Bangs At Home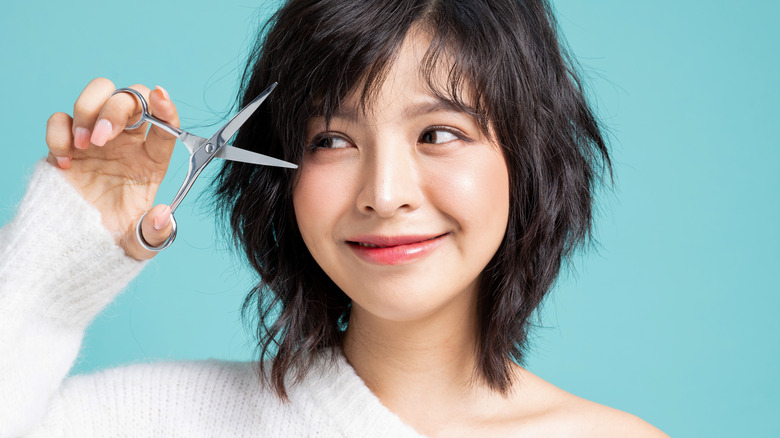 Pixpan_creative/Shutterstock
Getting bangs can feel like a drastic change, especially if you've never had them, but if you're looking for a subtle yet noticeable change, they could be for you. Curtain bangs were all the rage in the '70s with stars like Farrah Fawcett flaunting this shaggy, feathery look (via Lifestyle Asia). Now they're resurfacing as the face-framing, go-to style for girlies needing a hair revamp. According to hair experts at Mane Addicts, anyone can rock the look, despite hair type, color, or texture. It's already been seen on several different celebrities with varying hair types, including Zooey Deschanel, Halle Berry, and curly-haired Zendaya.
Advertisement
Curtain bangs may seem like a big chop in comparison to the full length of your hair. But cutting face-framing bangs can be done by anyone who has an eye for basic hairstyling. If you've ever curled your hair or performed an at-home box dye, you probably have what it takes to cut and style curtain bangs.
How to get curtain bangs' feathery slant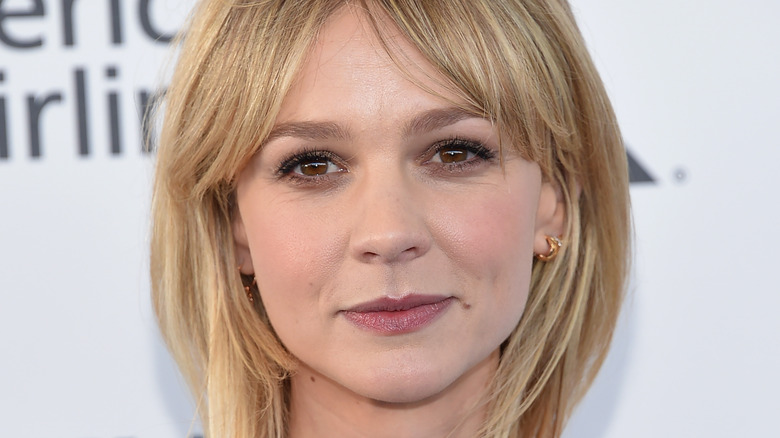 DFree/Shutterstock
According to the hair experts at Hair.com by L'Oréal, curtain bangs feature a middle part with swooping, wispy bangs that frame either side of the face. Hairstylist and YouTube influencer Silvia Reis also discusses the style on her channel, ellebangs. She describes curtain bangs as having a "beautiful sweep" that shows a substantial amount of "slant" as opposed to a regular fringe, which usually lacks an angle and is cut horizontally. For the curtain look, she recommends having the shortest part of the bang skimming below the brow, especially if you haven't had bangs in a while (or ever). This is a safe area to begin and enhances any face shape. You can start cutting your bangs here by grabbing two centerpieces of hair, one from each side of the part, and trimming under the brow where you want your bangs to fall.
Advertisement
Once you've established the shortest length of your bang under the brows, you can begin forming the slant or angled cut of the bang. Allow your scissors to cut your hair at an outward, downward angle, giving as much slant and length as you'd like to keep. After blunt cutting the hair, go in and deep point cut. Deep-cutting is pointing the top of the scissors directly into the bottom of the hairs. This technique creates a feathery soft appearance that will give an elevated texture to the bangs (via Prosper U Pro). Use this along the angled slant to soften any blunt edges.
Styling curtain bangs for any hair type and face shape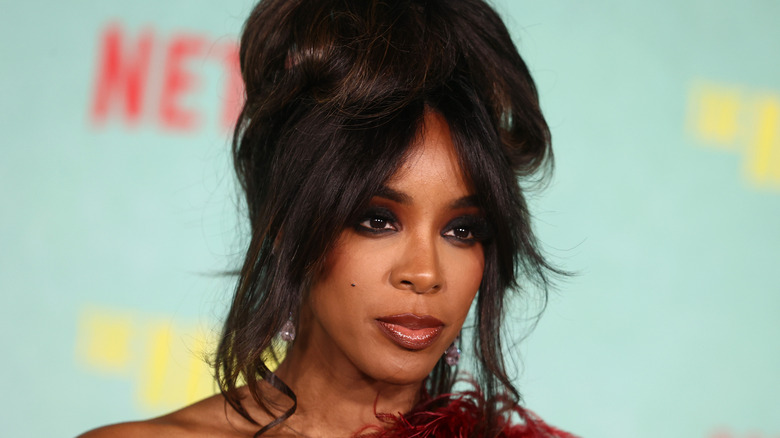 Rich Fury/Getty Images
Trend forecasters at The Trend Spotter say these throwback bangs have made a comeback because they look good on virtually any face and any hair type. Those with curly hair can rock the shaggy fringe look and those with long straight hair can use them to highlight their cheekbones while bringing attention to the eyes. Even people with short hair can use curtain bangs to emphasize a bob or fashion-forward mullet for a chic, unique approach. 
Advertisement
Curtain bangs are also fairly low-maintenance and, when they are cut well, look great without any styling. But they can also be played with for maximum volume. Speaking to Vogue, celebrity hairstylist Xavier Velasquez recommends using a medium to large round brush to give them shape. "Blow the whole section forward to maximize volume and then blow the ends back and out to sweep the apples of the cheek," he says. Whether styled or allowed to air dry, cute curtain bangs can be worn with the hair both up or down to frame your face with a natural fringe.