The Success Of Taylor Swift's New Album Midnights Was Written In The Stars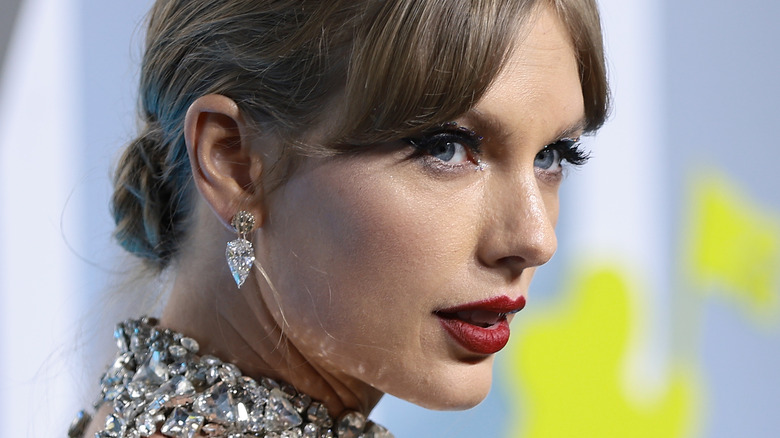 Dimitrios Kambouris/Getty Images
By now, you've seen the madness that 11-time Grammy winner Taylor Swift has caused with the announcement and release of her 10th studio album, "Midnights," which released on Friday, October 21. The album tells the story of "13 sleepless nights scattered throughout" the singer's life  (via Instagram) and features "a collection of music written in the middle of the night, a journey through terrors and sweet dreams," per Audacy. The album announcement and roll–out has been a wild ride full of cryptic TikTok videos, hidden easter eggs, and surprise announcements that have kept people up all night. And one of the most popular theories surrounding her latest era is that Swift has a personal astrologer — and that the timing of her "Midnights" release was written in the stars.
Advertisement
For anyone doubting Swift's astrological aptitude, it's important to note she has a history of talking about her zodiac sign, including in her feud with Katy Perry (via Parade). Not only that but her obsession with the number 13 is a clear indication of her numerology obsession. Astrology also helps explain why she has a reputation for only releasing albums in late October or early November (hint: it's both superstition and Grammy–related), per Newsweek. And with the timing of the "Midnights" release occurring alongside major astrological events, it's safe to assume everyone's favorite superstar might be using the stars to her advantage. Now, let's dive into what we know about the astrology of the "Midnights" era.
Advertisement
What we can learn from Taylor Swift's birth chart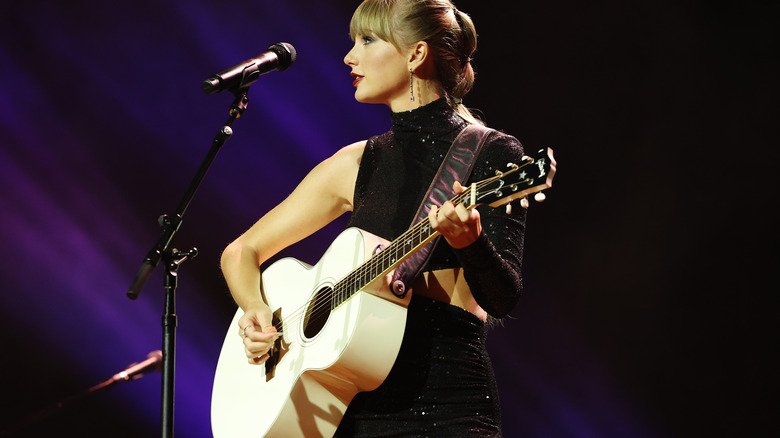 Terry Wyatt/Getty Images
Born on December 13, 1989, Taylor Swift is a Sagittarius sun and a Cancer moon. However, because her birth time is a mystery, whether she's a Scorpio or Capricorn rising is still a hot topic of debate. On the surface, her Sagittarius sun sign is most obvious in the flashy, creative, and forward-thinking way that she continually redefines herself and her music. And her Cancer moon is what makes her the emotional powerhouse she is. These placements are key for understanding how Swift understands the world around her and shares her experience with her fans through her music. However, we're more than our big three placements, and there's some serious earth and water influence hiding deeper in her birth chart.
Advertisement
One of the most influential energies in her birth chart is her Capricorn stellium, consisting of her Mercury, Uranus, Neptune, and Saturn placements. Creating strong oppositional energy with her Cancer moon, this stellium explains how the "Willow" singer is able to turn her emotional struggles and feelings into art to which millions of people relate. As astrologer Kyle Thomas tells PopSugar, Capricorn's energy influences how she communicates (and writes lyrics). "When it comes to her communication style, Swift prefers structure, logic, and rhythm. She likes to be productive in her communications and methodical in what she applies herself to." So, not only do these Capricorn influences speak to her incredible work ethic and desire to succeed but it also explains why she can't stop talking about karma, including having a song on "Midnights" named "Karma."
Advertisement
How the astrology of the week aligns with Midnights' release
Taylor Swift is known for theming each of her new albums with its own unique era, and the release of "Midnights" marks another chapter in the singer's rich and varied discography. What's more, if the astrology of its release week is any indicator of what's in store for the rest of the album roll–out, it's time to buckle up. "Midnights" released ahead of the illustrious Venus Star Point in Libra on October 22. This transit is known as a "cazimi" and is famous for heightening your creative and romantic senses, per Today. The timing of this album release ensures that people will be excited to embrace a new era and sound from her, and it put her lyrical and creative genius at the center of the conversation.
Advertisement
"Midnights" also comes just ahead of the new moon partial solar eclipse in Scorpio on October 25, which is the same day that Swift has scheduled to release the next music video from "Midnights." Eclipses are super-charged celestial events that symbolize unpredictable change and new beginnings, which makes sense considering the album's themes of love, loss, childhood, and fame, as well as change, confrontation, and redemption all set to a moody modern pop soundtrack fit for a coming-of-age tale (via Slate). It seems Swift is not only inviting herself to let go of all that's weighing her down from the past but also inviting her fans to join her on the journey as well.