How To Use A Chic French Hair Pin For Your Next Updo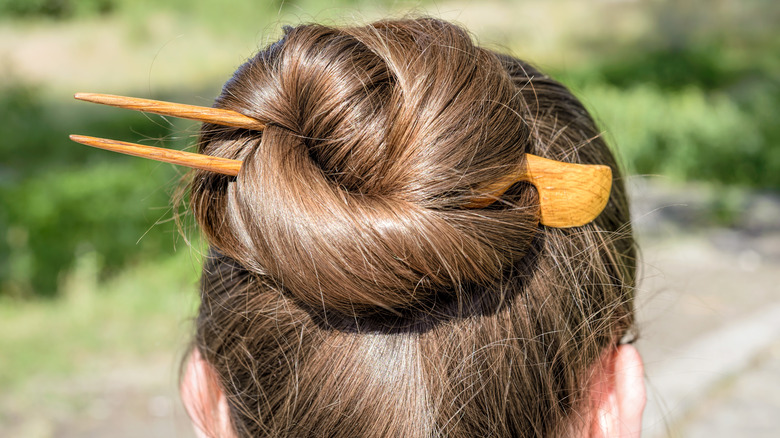 Maxal Tamor/Shutterstock
We may receive a commission on purchases made from links.
If you've seen any recent hair trends, they've all leaned toward the Y2K era, from claw clips to hair scarves. However, if there is one thing '90s trends aren't known for, it's being dressed up and elevated. While these trends are the perfect way to style a casual look, what do you do when you need something for a fancy night out? That is where the French hairpin comes in.
The French hairpin, also known as the hair fork or hair stick, has become the newest must-have item to put your hair up in style. The accessory has gained traction thanks to TikTok creators, who have loved the simplicity and the different styles you can create with it. The French hairpin has become so popular that the tag 'French pin' currently has more than 18 million views on TikTok.
This U-shaped hair accessory adds a touch of elegance to any hairstyle, but how do you even use them and what looks can you create with them?
Create a braided bun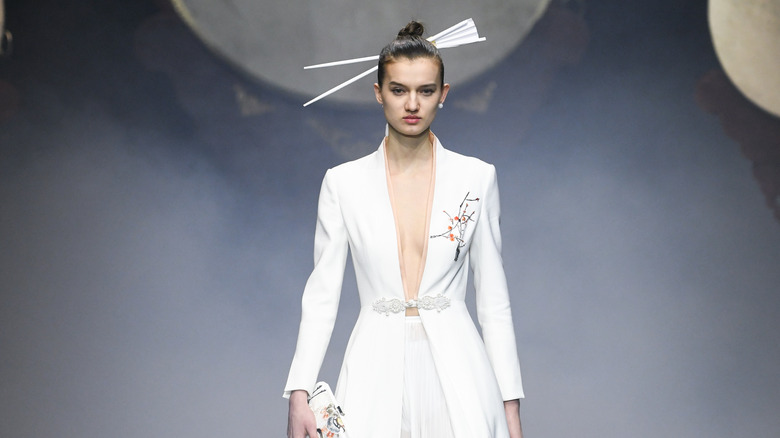 Yanshan Zhang/Getty Images
One of the easiest hairstyles you can create with a French hairpin is a classic bun, which is always a sleek way of pulling your hair up and out of your face. However, if you want to make even more of a statement with your look try a braided bun, which takes the classic to the next level and is an easy way to upgrade any look.
To pull off a braided bun, Upstyle Daily recommends starting by braiding your hair into a three-strand braid. Then simply twist your hair up and form a bun and insert your two-prong U-shaped hairpin. New Jersey stylist and owner Ona Diaz-Santin tells Byrdie, "Make sure to wrap the hair tight around into a bun to secure the French pin from east to west."
If your hair is more on the thin or fine side, you can cheat this hairstyle by adding a couple of bobby pins inside to ensure the bun stays in place.
Create a half updo hairstyle
While everyone automatically thinks of using a French hairpin with a complete updo, switch things up by leaving some of your hair down for a bohemian and relaxed look.
To get this half-up hairstyle, Saya recommends starting by separating the top of your hair into one section. Twist this smaller section around into a small bun, then use the French hairpin and stick it through the middle. If possible, ensure the pin goes through multiple hair layers to make sure it stays in place.
This half-up hairstyle can work for all hair textures but requires an extra strong pair of French hairpins to make it happen. The Kristen Ess French Pin Set is a popular set of French pins that can get this done. With almost a five-star rating at Target.com, it comes highly recommended by buyers. Available in gold, rose gold, and black, it's the perfect place to start your French hairpin journey.