How To Hem Those Too-Long Pants On Your Own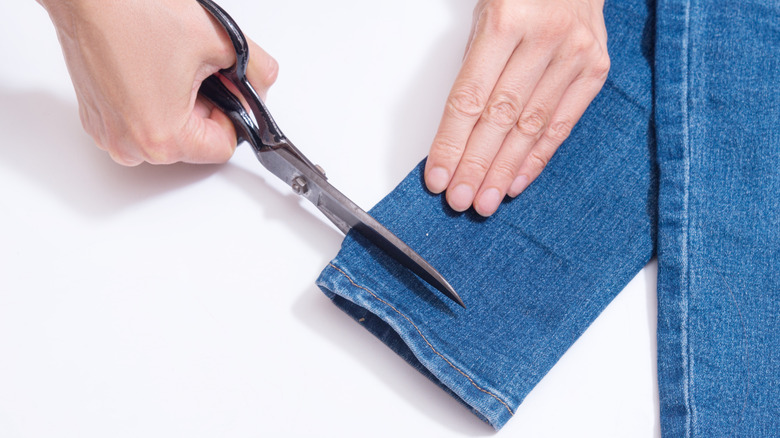 mdbildes/Shutterstock
We may receive a commission on purchases made from links.
Going to the tailor can be an absolute hassle: You have to make time to go, try on your clothing, remember to go pick it up, and, finally, pay a fee to get your clothes altered to fit. When it comes to clothing like blazers, dresses, and suits, it makes sense to want the garment to fit perfectly. Ultimately, these are items you tend to only need for special occasions that you want to look well-made on you. However, when everyday clothes like jeans constantly need a hem altered, it can get very costly.
According to Thumbtack, the national average of getting your jeans hemmed can set you back around $16 a pop. This number can vary depending on the type of hem and material of your pants. While the occasional pant may need some extra work, having to pay this fee every time you buy a pair of pants can start to add up. This can be exceptionally true if you are on the shorter side and constantly need to get a quick hem on most items.
Learning to fix your pants can be daunting and a bit tedious at first, however, there are plenty of quick tips that can save you money and time. Most hacks don't even include a sewing machine, meaning you can do the job at home during your free time. Taking just a few minutes can help turn that closet of clothes you can't wear yet into a wardrobe full of options.
Quick fixes for hemming your pants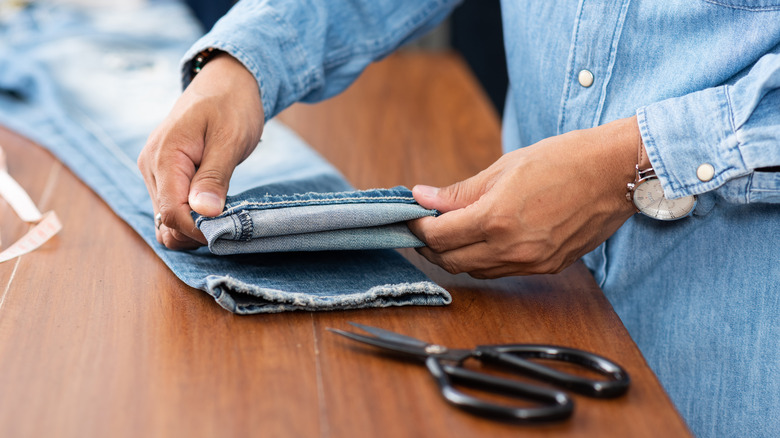 Nor Gal/Shutterstock
Everyone has had those instances where you have only a short notice of time before an important date, interview, or a simple catch-up with friends. You have the perfect pair of pants for the occasion, but they are too long for you. Thankfully, you only need to take a quick drive to the drugstore to solve this at a moment's notice.
One of the fastest ways to hem your pants is using a fashion hem tape that's available either on Amazon or from your local drugstore. Use this tape by placing it on your folded seam, dampening the surface part of your pant or jean, and ironing over the surface. The heat of the iron activates the bonding tape and keeps it in its place. With this tape only costing $6 as of October 2022, and with over four stars out of five on Amazon, it's a safe bet for a quick emergency.
If you don't have an iron, you can also find a double-sided sticky tape that you can use to shorten the hem of your pants without heat. From Amazon, you can grab this double-sided sticky tape with over four stars out of five and around 24,000 reviews. Although you can hem your pants in less than five minutes with this method, beware that placing the sticky tape on thin fabric may cause it to weigh down and unravel throughout the day.
Long-term solutions for your pants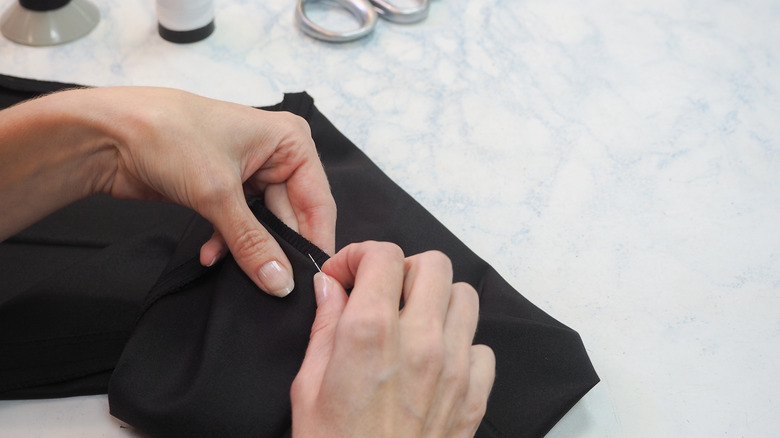 Stanislav71/Shutterstock
Perhaps you have a little more time to hem your pants. There are ways to fix your pants for the long term without a tailor. While it may seem like it takes too much time to learn how to sew, it's quite easy to master.
According to MasterClass, all you need is an iron, pins, a ruler, scissors, a needle, and thread. To begin, you want to remove the original hem with a seam ripper and iron it flat. Next, turn your pants inside out and fold to the length you want them. Use your pins to keep it all in place. Once again, iron the fabric to create a sharp crease. Afterward, using the ruler and scissors, cut an inch below the crease. Fold the new hem half an inch, iron, and then fold another half an inch and pin into place.
Lastly, thread your needle and knot the end of the thread. Push the needle so the knot lays inside the crease, and then push the needle through again. Pick up a few threads from the fabric and pull the thread through. Keep making these stitches around the hem until the end. Create another knot, and you're finished.
While it may take a slight learning curve, it's an easy task once you get the hang of it. You can make it slightly easier by picking up this beginner's sewing kit from Amazon that's less than $15, as of October 2022, and contains everything you need to start.