Here's How To Fully Remove Bright Red Lipstick For Good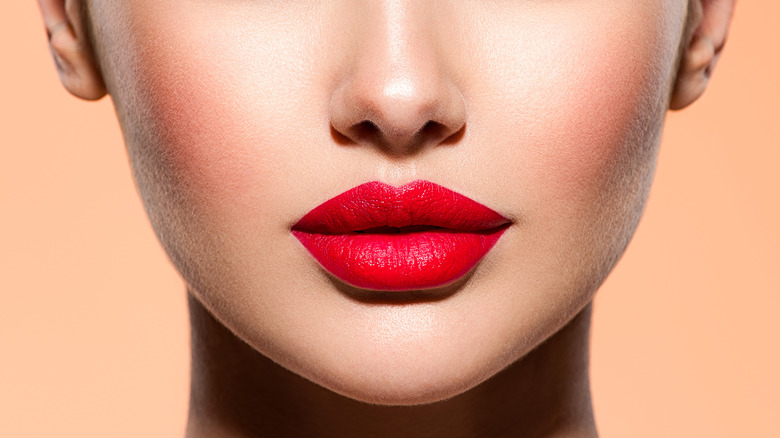 VALUA VITALY/Shutterstock
No one can deny that red lipstick is a beloved look. No matter what outfit you're wearing or how you're feeling, bright red lipstick can change everything for the better. The beauty behind wearing bright red lipstick is that it's a confidence booster that is as simple as a single swipe. While beauty trends come and go, the popularity of good lipstick hasn't changed. In fact, NPD beauty analyst Larissa Jensen tells CNBC that, as a whole, makeup sales were up for the first half of 2022. However, Jensen also explains that, specifically, lipsticks are up 20% for the same period. There's no denying that everyone loves good lipstick.
However, what do you do when your favorite red lipstick just doesn't budge from your lips at the end of the day? Despite everything, you're left with stained lips that suffer from all the cleansing you have to do to remove the lipstick's color. Nothing is worse than waking up the next morning and finding your lipstick all over your pillow, after all, even though you thought you had already removed it. Thankfully, removing your bright red lipstick is not as difficult as it may seem — and shouldn't keep you from sporting your red lip.
The correct way to remove bright red lipstick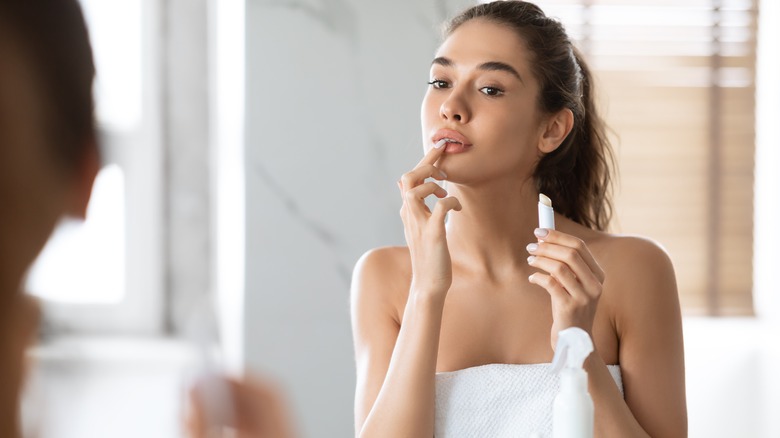 Prostock-studio/Shutterstock
Although red lipstick can be stubborn, there are ways to remove them easily from your lips without any staining. Emmy-winning makeup artist Andrew Sotomayor tells Makeup.com that the easiest way to remove stubborn lipstick is by using an oil-based makeup remover first and then following up with a makeup wipe. By going in with an oil-based remover and then splashing water to remove the makeup, you break up the ingredients in your lipstick, making them easier to rub off. If you don't want to use makeup wipes, you can also opt for micellar water to take off any residue.
If you don't want to remove all of your makeup but simply want to take off your lip color, there are alternatives. LiveGlam recommends using either a lip scrub or lip balm to break up your lipstick. Using lip scrubs is a great way to remove your red lipstick and all the dry and dead skin you may have. On the other hand, applying some lip balm onto your lips is similar to using oil or vaseline to remove your lipstick. The oil helps break up the pigments in the red lipstick without abrasions.
How to take care of your lips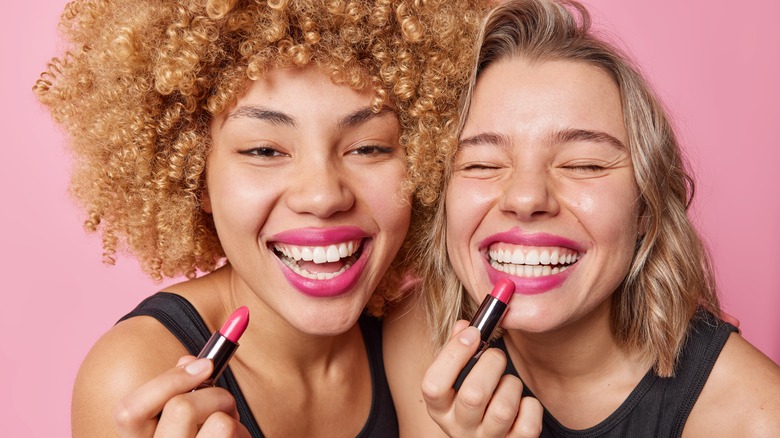 Cast Of Thousands/Shutterstock
If removing your red lipstick is too much of a struggle every time, you may want to take extra care of your lips before applying your red lipstick. Like anything, prevention is the best way to avoid the struggle of having to take off lipstick. According to Anastasia Beverly Hills, the best way to get a good base before putting on a bright lipstick is by using a good lip scrub. By using just a dime-sized amount of lip scrub, you can soften your lips by removing dead skin cells. Removing dead skin cells from the lips reveals softer skin on the lips, making it easier to apply.
Another essential part of your lip routine should be hydration and protection. Dose of Colors reveals that you need to ensure that you use lip balms throughout the day. Using the correct lip balm with vitamins and SPF protects your lips against environmental triggers of the day. Although sometimes deemed cliché, drinking water is vital for healthy lips. Dose of Colors explains that lips act as a sponge, and keeping yourself hydrated throughout the day ensures that your lips are ready for your favorite bright red lipstick.