What Do Ceramides In Skincare Actually Do For You?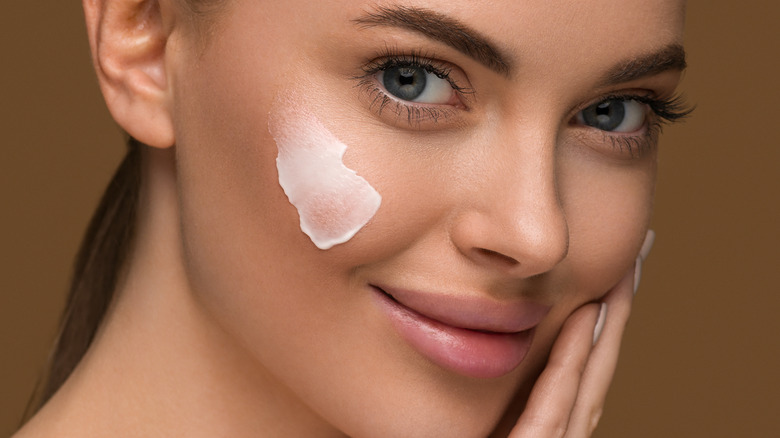 Irina Bg/Shutterstock
We may receive a commission on purchases made from links.
The skincare industry is booming with the latest and greatest ingredients that come with the promise of youthful-looking skin. Our desire to achieve that has us spending hundreds and thousands of dollars a year on innovative and tried-and-true ingredients and in-office procedures. As tempting as the promise of younger-looking skin might be, the truth is we cannot stop aging, and the best we can do is take care of our skin so that it's at its best at any given age.
Advertisement
While some skincare ingredients have proof they actually work, some are still iffy and need more research to back their claims. For instance, retinoids have proven time and again to combat the signs of aging. On this, John G. Zampella, M.D., an assistant professor in the Ronald O. Perelman department of dermatology at NYU Langone Health, tells Self, "Retinoids are the only thing clinically proven to reverse the signs of aging, full stop." Their ability to increase cell turnover and boost collagen production can give you more even-toned, smoother skin with fewer fine lines.
Beautiful skin starts with healthy skin, and if you're experiencing redness or irritation, your skin barrier is compromised. In fact, dermatologist Dana Stern tells Cosmopolitan, "The cells, also known as corneocytes, are the bricks in your skin barrier, while the mortar is made of various lipids, like cholesterol and ceramides." As such, here's what you need to know about ceramides and what they do for you.
Advertisement
How ceramides help the skin barrier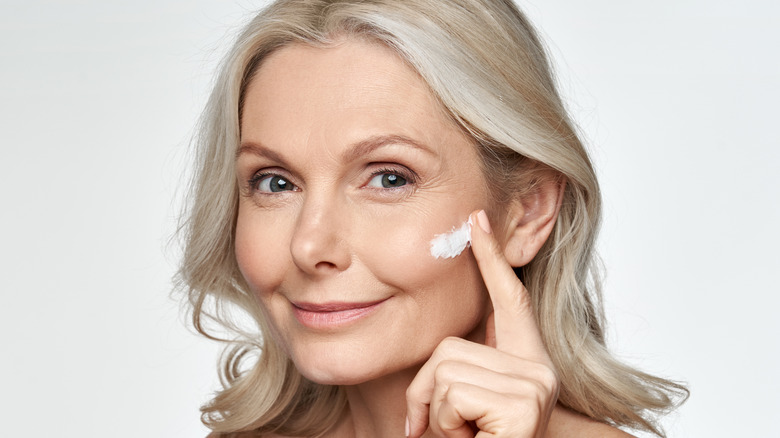 Ground Picture/Shutterstock
Not having a healthy skin barrier can lead to an array of skin issues. The skin barrier is the skin's outermost layer, with dermatologist Shari Marchbein telling Byrdie, "If the outermost layer of the epidermis (the stratum corneum) doesn't contain enough water, skin will lose elasticity and appear dry, rough, and flaky. Poorly hydrated skin is also unable to maintain an appropriate intact skin barrier, leaving the skin more vulnerable to damage from external/environmental sources." The skin barrier holds onto moisture and protects the skin from infections and inflammation, and that's where ceramides come into play.
Advertisement
"Ceramides are very important lipids that are naturally found within our body, [which] help to maintain the integrity of the skin barrier and hold hydration in the skin," board-certified dermatologist Dr. Alexis Stephens tells Vogue. Dr. Stephens added that ceramides hydrate and protect the skin to keep it "healthy [and] firm," which helps fine lines. Also, ceramides are a godsend for dry, itchy, and sensitive skin. Furthermore, according to board-certified dermatologist Morgan Rabach, "Putting on moisturizer with ceramides greatly helps restore the outer layer of the skin" (via Vogue). 
This magical ingredient benefits all ages and skin types, so if you want healthy, hydrated skin, you need to add ceramides to your skincare routine. You can use it any time of the day, but it's especially helpful to use it at night as our skin goes into repair and rejuvenate mode while we sleep.
Advertisement
Best ceramide products for your skin
Like collagen, age and sun damage can reduce the number of ceramides in our skin, leading to drier, irritated skin with more wrinkles and inflammation. Therefore, adding topical ceramides is a great way to hydrate and repair your skin, so it looks younger and healthier.
Advertisement
Elta MD Barrier Renewal Complex is an excellent pick because it has five ceramides to restore healthier skin by replenishing moisture loss and increasing water retention to reduce the appearance of fine lines and soothe dry skin. Infused with hyaluronic acid and enzymes, it promotes a youthful glow while increasing cell turnover. The product has an impressive 4.6 out of five stars on Amazon, with one reviewer saying, "This keeps my 43-year-old face wrinkle-free, hydrated but not oily, & works great as a makeup primer!"
What's more, the brand CeraVe is known for including ceramides in all its products, and one of its most popular products is the CeraVe Moisturizing Cream. Infused with hyaluronic acid, it's a hydration powerhouse. It has three essential ceramides that hydrate, protect and repair your skin for 24 hours and you can use this multitasker on your face, hands, and body for all skin types. It has over 19 thousand likes on Ulta, with reviewer saying, "I have psoriasis and in different seasons the skin itching is unavoidable and I needed helped with it, I was tired of prescription creams to help and decided to try CeraVe and really works very good and kind of restore my skin step by step."
Advertisement