The Out-There Shoe Trend Taking Over Right Now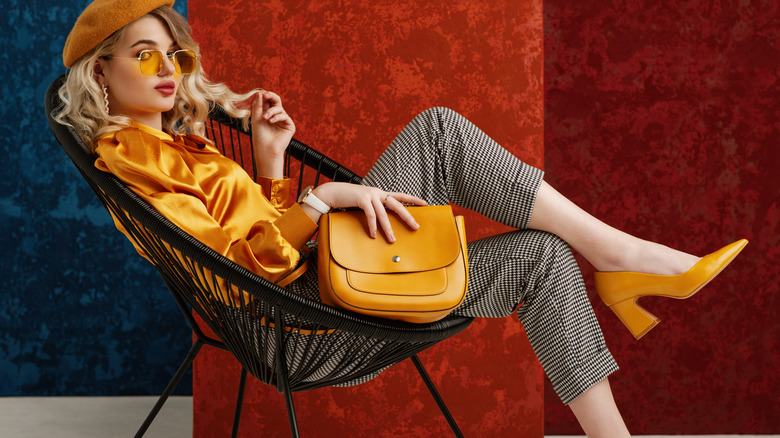 Victoria Chudinova/Shutterstock
While some may call it preppy and others call it breaking one of the rules of fashion, the latest shoe trend is bound to cause controversy and divided opinions. Although the newest shoe trend has slowly been on the rise in recent years, it gained most of its popularity thanks to brands like Miu Miu, who have bet on the rise of preppy fashion. From small details to over-the-top layering, the preppy, academic style has become one of the most significant fashion trends for the fall-winter seasons.
When looking at the preppy shoe trends, they usually gravitate towards loafers, Mary Jane, and platform shoes. Even though these shoes remain on trend for the season, the newest shoe trend will give them an extra pop. Whether you agree with this trend or not, there's no stopping it now. Especially with the upcoming fall season, we can expect to see more of this unexpected pairing in the future. However, if you are afraid of looking sloppy, be certain that there are a few tips to capture this preppy look with style and ease.
How to wear socks with heels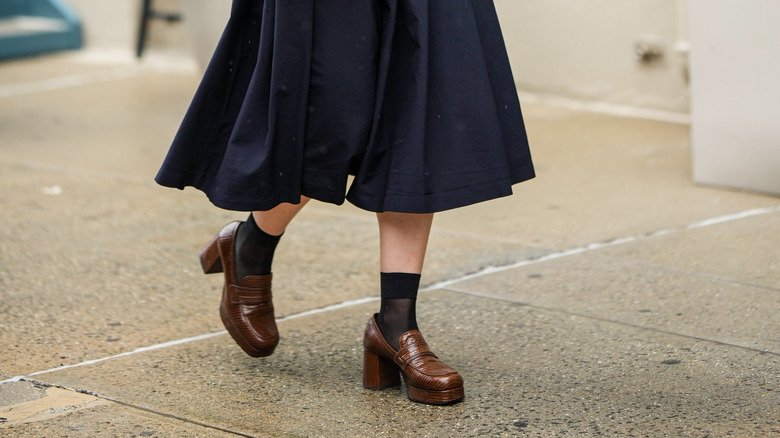 Edward Berthelot/Getty Images
Before you set off to pair any ordinary sock with your heels, there are a few ways you can utilize this look. While you can use any type of heels with this look, if you want a preppier vibe to your outfit, stick with mary jane heels or slingbacks. These shoes naturally are more preppy and are very easy to use with socks.
When choosing what socks to use, don't immediately reach for your everyday socks. For starters, you want to ensure your socks are slightly above your ankle. This way you can let them peek out but aren't overwhelming. Content creator Emili Sindlev showed off this trend on Instagram with white mid-calf socks paired with pink heels. One of the best ways you can show off this trend in a more traditional manner is by using neutral socks with a vibrant color of heels. This way, you can let your heels shine and steal the show.
Another way you can fully take advantage of this trend is by going in the opposite direction and doing something fun with your socks and heels. Merrick's Art shows how adding some color can be a unique twist to this shoe trend. Instead of going with a plain neutral, go for socks that either have color or decorative embellishments on them. This little something extra can help take your outfit to the next level from head to toe.
What to wear along your socks with heels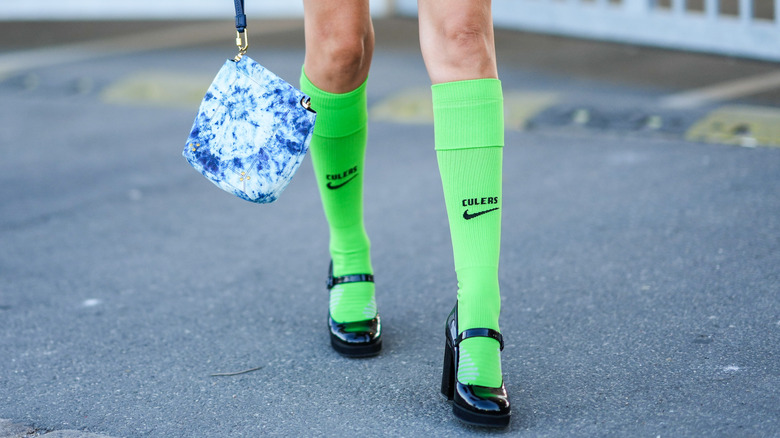 Edward Berthelot/Getty Images
Now that you know how to pull off this trend, it's time to style your outfit around it. Trying to style this trend might be difficult, as it can be hard to not feel overwhelmed by wearing your socks with heels. However, with this trend, it would be best to embrace the trend and go head first. For instance, Lizzie in Lace styled this trend by going full preppy fashion with a ruffled pink dress, pink coat, pink heels, and white socks. This feminine and fun look is the perfect base for this sock-with-heels trend, as they all play off of each and exude the same playful vibe.
If you want to bring this trend in a more chic or subtle manner, you can go the same route as Katie Holmes. Back in 2019, Katie Holmes opted to wear this trend with sheer embellished socks, pink heels, a red polka dot skirt, and a red blazer (via Star Style). By going with a sheer pair of socks, Holmes adds a little unique twist to her monochrome outfit without distracting from the overall look. Regardless of the route, you decide to go with, the socks-with-heels trend is one you don't want to miss out on this fall.