Highlighter Is The Secret Key To A Defined Jaw. Here's How To Use It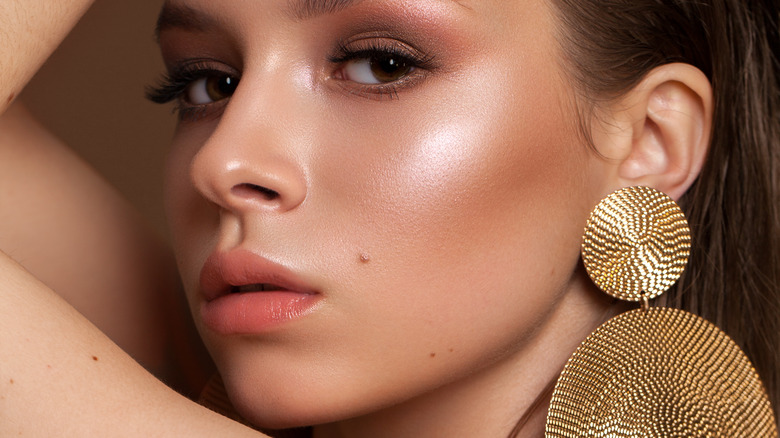 Tata Mamai/Shutterstock
We may receive a commission on purchases made from links.
Who says going to a cosmetic surgeon is the only way to get a defined jaw? With most celebrities gatekeeping the secret to their snatched jawline, it can be tempting to run to the aesthetician for an injection of filler. Supermodels like Bella Hadid have blessed the internet with their carved visages, which, we are finally learning, are not entirely all-natural. In a surprisingly heartfelt and transparent interview with Vogue, Hadid revealed that she regrets getting a nose job at 14, but she has never had fillers or any work done on her jaw. So other than amazing genetics, what is Hollywood's secret behind flawless jawline definition?
Advertisement
Let's be clear: We are not shaming any cosmetic enhancements and have done our fair share of research around hyaluronic fillers and how long botox injections take to work. We just don't want you to rush to the aesthetician's office when you can achieve similar temporary results with your makeup bag. As it turns out, highlighter isn't just for covering up those dark spots; read on to learn how it can make your jawline snatched for the gods.
Use a cream or liquid highlighter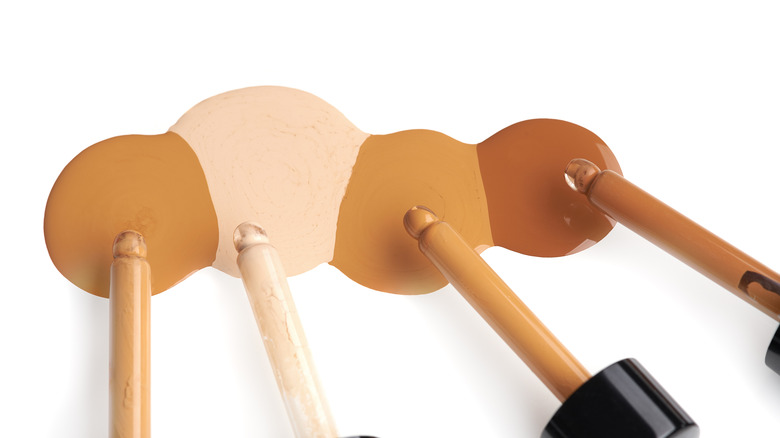 artcasta/Shutterstock
Because you want to accentuate the jawbone, beauty experts at L'Oréal's beauty blog Makeup.com recommend using a liquid highlighter to illuminate the area. Opt for a highlighter with a glow or slight shimmer to play off the light that will bounce off the skin, creating a more snatched appearance. Selena Gomez's Rare Beauty Positive Light Liquid Luminizer Highlighter incorporates light-reflecting pearl particles in eight shades, providing long wear yet light coverage. If you're not a fan of the shimmery highlighter look but still want the dewy carved appearance, try a water-based product like Saie's Glowy Super Gel Lightweight Dewy Highlighter, which reviewers have given a 4.5 out of 5 stars for its natural radiant finish.
Advertisement
If you're not a fan of liquid highlighters and have sensitive or oily skin, you can still use a powder or cream stick. What's most important is that the highlighter is a shade or two lighter than your natural skin tone or the color that you see at the high points of your face. By picking a slightly lighter shade, you'll create the appearance of a more defined jaw.
Place upon the high points of the jaw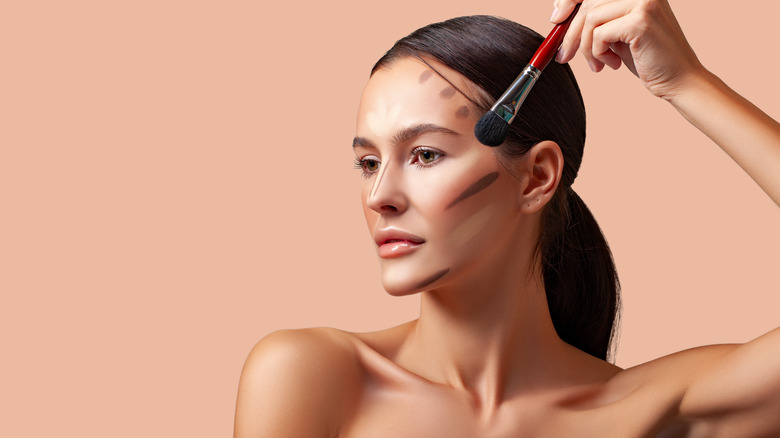 L Julia/Shutterstock
If your goal is to emphasize certain areas of your face, makeup gurus at L'Oréal say to use your highlighter after you've applied foundation. This goes for under the eyes, the bridge of the nose, and even the high points of the cheeks to create that sweetheart face we all love. Now to really carve your face out, take your highlighter and apply it gently right above your jawline, going from the base of your ear down to your chin. Use just enough to create the illusion of a more defined jawline. You should already see the difference after the first application or so.
Advertisement
If you want to take your jawline a step further, grab your contour and place it under the jawline. Be sure to buff this area out and blend it well with the highlighter you so immaculately placed. Next, lock in the beautiful work you've done with a setting powder, and voilà. Say hello to your new jawline.