The Chic Updo Every Girl With Short Hair Will Want To Master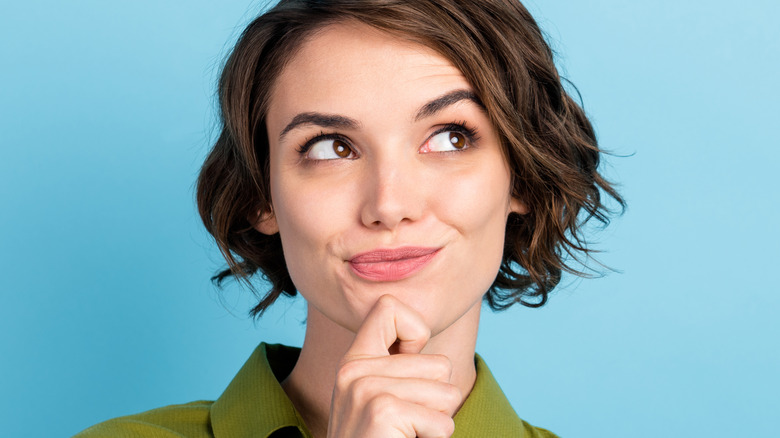 Roman Samborskyi/Shutterstock
When it comes to hairstyles that are ever-classic, the bob is usually front and center. Not officially super short, but definitely not long, the bluntness of a bob has plenty of variations (via Mane Addicts). This makes it a style that can work for everyone, no matter their hair texture or face shape. The bob is essentially the hairstyle equivalent to the little black dress — meaning it never goes out of style.
Advertisement
Although the bob is fantastic, those who are new to the look can sometimes find themselves trying to figure out what to do with it — especially if they've gone from very long to short. It's certainly not long enough to do elaborate updos, but there's still enough there to do at least something. Enter the only look you need to know about: the loaded topknot.
"The beauty of this look is in its effortlessness, as it's super easy to create yet still manages to look chic," Cliphair trends writer Brenda Lee Intignano tells Glamour. Plus, the loaded topknot is so darn easy-peasy that anyone who has short hair can pull it off.
The loaded topknot exudes easy charm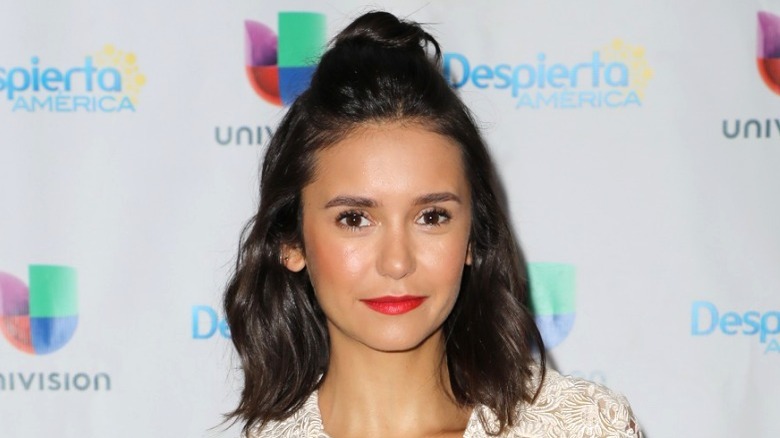 Alexander Tamargo/Getty Images
Rocking a bob that's too short to put up entirely? The loaded topknot has your back. Basically, the loaded topknot is a half-up, half-down hairstyle where the "up" part isn't the classic ponytail, but a knot instead (per Bangstyle). Because of this, it's also been called the half-up topknot. The fun thing about this look is that it can be broken down into sub-categories with only minor, easy changes. There's the funky half-up topknot, the boho half-up topknot, the grungy half-up topknot, the wispy half-up topknot, and, well, you get the point (via The Knot). There's pretty much a knot style for every hair type and personality.
Advertisement
The fact that the topknot can vary from such extremes makes it the perfect go-to trend. From sporting a sleek topknot for sophisticated events to throwing up a messy one because you haven't washed your hair all week, with a loaded topknot, you always look in style.
How to achieve a loaded topknot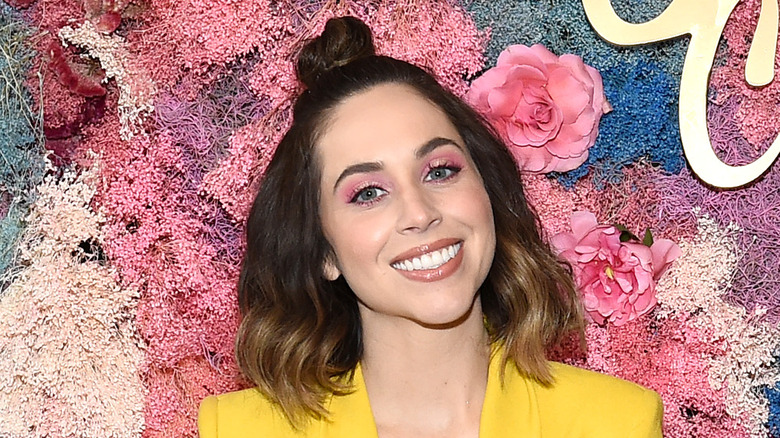 Ilya S. Savenok/Getty Images
For this style, you want to put up the loaded topknot when your hair is dry. You can also do it when your hair is just a bit damp, but avoid styling a topknot when it's fully wet. Trying to get the volume right when your hair is wet isn't going to give it the oomph it needs, because it's likely to appear flat as it dries. Instead, you want a knot with pizzazz. As hairstylist Ted Gibson tells Allure, "Day-old hair will add great texture to this look."
Advertisement
Gather the dry hair along the top of your head — about four fingers wide — and pull or brush it back into a half-pony (via Popsugar). At this point, some people choose the regular ol' hair elastics or those tiny clear elastics. The length of your hair will determine the thickness of your half-pony which will, in turn, determine what hair elastic will work best.
Once you have your half-pony in hand, how you style it from there is your choice. You could braid it to give it a nice textured look before looping it into a topknot or even tease it a bit if you're looking for an edgy, disheveled appearance that says, "Yes, it's Monday, I overslept, my hair is a disaster, and I've temporarily given up. Fight me." Ét voila! Now you have your loaded topknot and you're ready to take on the world with your oh-so-fashionable ways.
Advertisement