Why You'll Want To Add Beta Glucan To Your Skincare Routine ASAP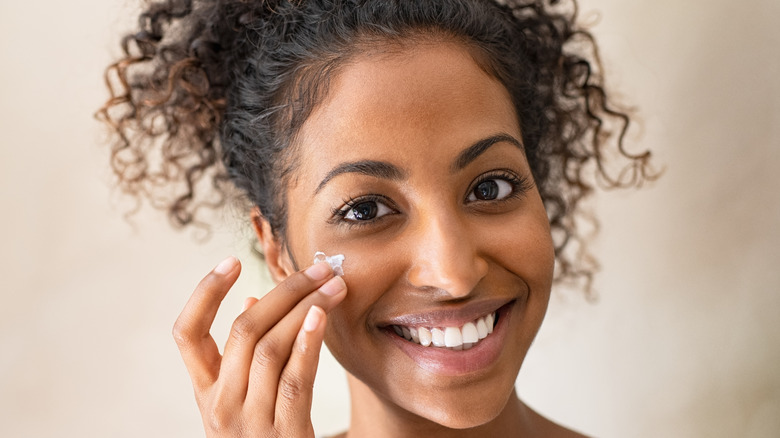 Rido/Shutterstock
We may receive a commission on purchases made from links.
Move over hyaluronic acid, there's a new hydrator in town. For years, hyaluronic acid has become beauty's "it girl" for delivering intense moisture and hydration. Now, there's a new ingredient that provides massive hydration, smoothes fine lines and wrinkles, and speeds up the acne-healing process (via Derm Refine). Found in mushrooms, yeast, barley, oats, rye, and other grains, beta glucans are making their way onto the beauty scene. However, they've been popular in places, such as Japan, since the 1980s for their immune-boosting properties (via Life Extension). 
According to WebMD, these soluble fibers are important because the human body cannot produce them, as they come from the cell walls of bacteria, yeasts, and fungi. Studies have suggested that consuming the compound may lead to a significant decrease in cholesterol and improve heart health. Now, researchers have found that when applied topically, its skin rejuvenating powers create younger, firmer, and clearer-looking skin.
Beta glucan's hydrating and protective properties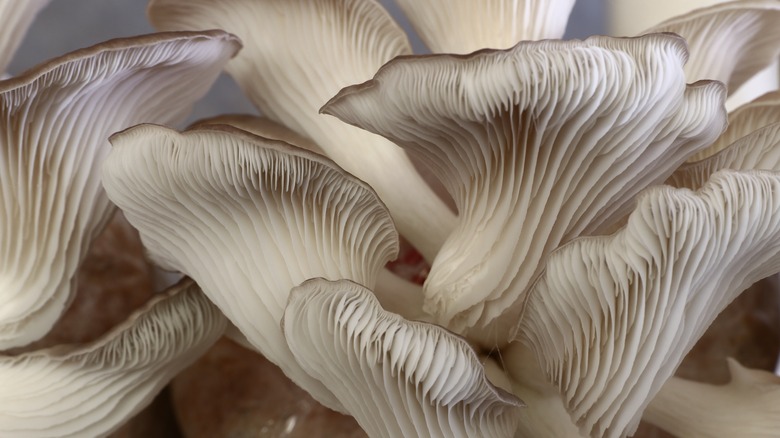 Various images/Shutterstock
According to Derm Refine, beta glucan is quickly becoming an industry fave because of its intense moisturizing properties. Research conducted by JKossmune suggests that beta glucan can deliver up to 20% more hydration than hyaluronic acid at the same concentration (via Preserv Skincare). 
Not only does it deliver hydration, but it also creates a skin-protecting barrier that continues to deliver moisture over time. It is a polysaccharide polymer, or long-chain carbohydrate, that creates bonds and locks in moisture (via the Journal of Arid Environments). This extended form of hydration is great for plumping up the skin and limiting wrinkles when used over time.
When applied topically, beta glucan can potentially increase collagen production by up to 32% (via Preserv Skincare). It's also suitable for all skin types, as its anti-inflammatory properties can help reduce redness and fight acne-causing bacteria. This is in addition to helping broken skin heal over time.
Sensitive skin can benefit from beta glucan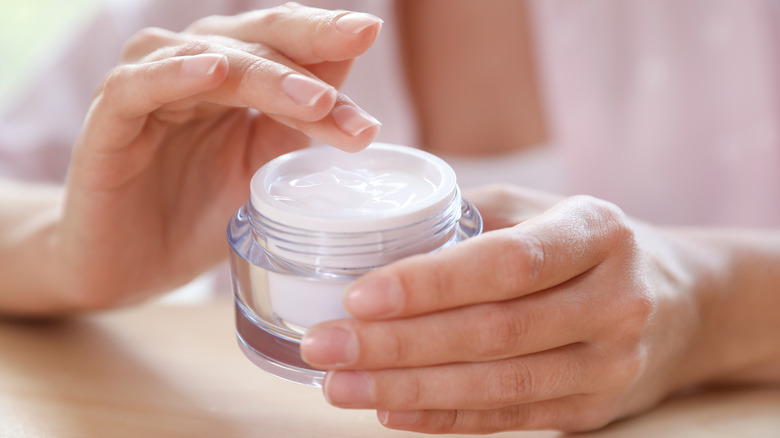 New Africa/Shutterstock
Celebrity aesthetician and skincare expert Cynthia Franco told Refinery29 that even though beta glucan works harder to deliver moisture than hyaluronic acid, it's not uncommon to see both used together in skincare formulas. She asserts that both are "great hydrators for the skin" and can "reduce fine lines and wrinkles" over time. A 2018 study published in Molecules also found that beta glucan is beneficial for wound healing, as it increases the infiltration of macrophages and stimulates collagen production. According to Franco, this makes it a great alternative for sensitive skin that doesn't respond well to retinol or other exfoliating acids that can cause skin irritability.
Korean skincare brand Dr. Jart incorporates beta glucan in its best-selling Ceramidin Moisturizer. Reviewers rave that it not only reduces acne, but it locks in moisture while calming the skin. The antioxidant-rich Repairing Serum by Paula's Choice also uses the compound to smooth wrinkles, prevent redness, and reduce skin sensitivity. Products that use this ingredient can help deliver supple skin, lock in hydration, and provide a skin-protecting barrier.