Tenniscore Is Going To Be The Go-To Trend This Fall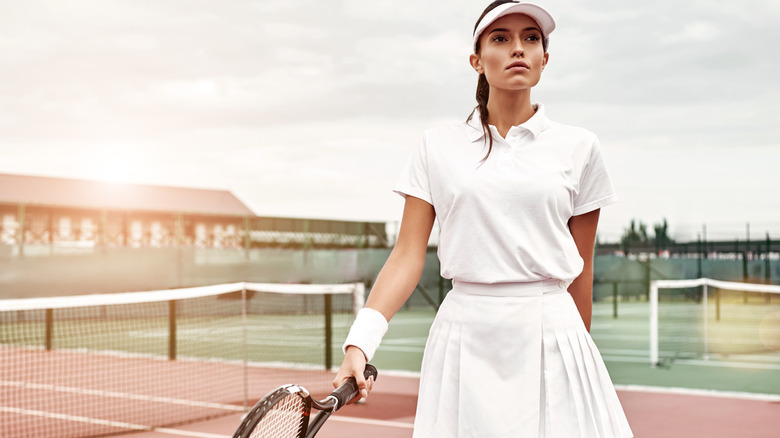 Friends Stock/Shutterstock
While many trends and styles have been on the rise recently, none are more luxurious or sporty than tenniscore. Even though athleisure isn't typically a fashionable statement, tennis fashion has long been regarded as a luxurious style. With tennis' long history as a sport favored by the wealthy, it's easy to see why the sport's fashion is often seen as elegant.
The idea behind tenniscore is inspired by the preppiness and chicness of the sport. Whether you are watching the sport or playing it, fashion is thoroughly integrated into tennis. This feeling is especially true when you realize the many strict rules players must adhere to in certain tournaments. All England Lawn Tennis Club's Communications & Marketing Director, Alexandra Willis, tells Marie Claire, "Some people come for the tennis, some come because they want to have a lovely day out, and some come because it's their chance to dress up really nicely."
Regardless if you find yourself on the court, in the stands, or neither, tenniscore is the newest trend to hit the fashion industry, and it has no plan to stop.
What you need to know about tenniscore
While you don't need to be a player to sport this trend, you do need to know what it entails. The best way to embody tenniscore is to go full-on with your outfit. It's not enough to simply incorporate aspects of tennis fashion but rather go out as if you were heading to the U.S. Open. Taking a cue from the collection by Sporty & Rich, who showed off a white cable knit tennis-inspired sweater with a matching white tennis skirt. This combination of knits and whites is a classic if you want to exude a tennis look.
Whenever it comes to sporting a tenniscore outfit, you want to adhere to the advice of those who know best. Preppy brand, Ralph Lauren, has long been a go-to brand in this area of dressing up your tennis gear. Looking at the collaboration of Wimbledon x Polo Ralph Lauren gives you everything you need for the perfect tennis look. This collection includes polos, visors, and mini skirts. The collaboration also includes the must-have colors of greens, blues, and, of course, whites. Any piece you decide to wear should typically fall within these categories if you truly want to embody the tenniscore style.
How you can style tenniscore
Even when you have all the must-have tennis pieces, you need to know how to style them in such a way that they will have you set for your next tennis match. Like any luxurious look, monochrome will be your friend. This is no different when it comes to tenniscore. An example of how to pull off a monochrome tenniscore outfit comes from the brand Tory Sport. Recently, Tory Sport shared a monochrome green tennis outfit that's a chic way off showing off your style. This matching ensemble is an easy way to get the tennis look, regardless of where you grab your pieces. Any matching tennis skirt and sweater vest or polo shirt combination will be the perfect outfit to achieve this look.
Another way you can get the tenniscore style is by going with strong contrast. While whites will always be welcomed in the tennis world, pairing them with another color is a subtle but luxurious way of standing out. Lacoste has also shared actress Natalie Portman sporting a green polo shirt with a contrasting cream tennis skirt for a pop of color. While this certainly isn't 'Wimbledon Whites,' it's the perfect tenniscore look for anyone looking to stand out from the crowd. Whether you go for a monochrome look or a stunning statement outfit, both are prime examples of how to get that tenniscore style you will see everywhere.