Drag Queen Nina West Proves That Reading Is Fundamental With New Kids' Book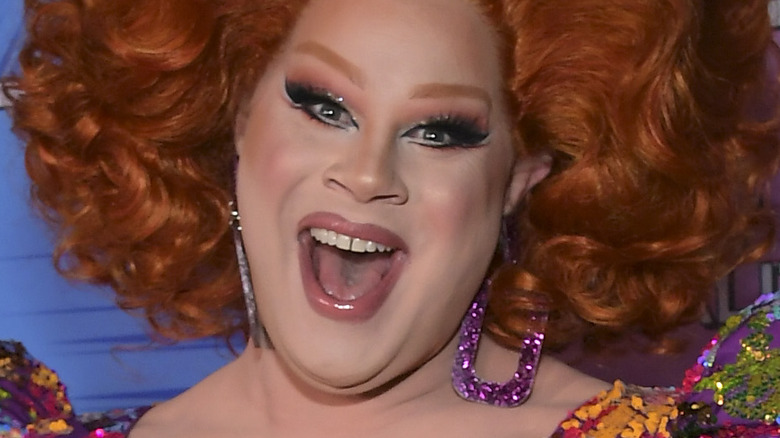 Charley Gallay/Getty Images
We may receive a commission on purchases made from links.
"Be kind" and "go west" were the lasting words drag queen Nina West left viewers with on the Emmy award-winning reality television series "RuPaul's Drag Race." Known for her exuberant kindness and comedic yet sweet demeanor, the Ohio-based queen won Miss Congeniality on Season 11 of the competition series, stealing the hearts of millions of viewers across the world. Since her season aired, Nina has continued to break into spaces that desperately need more queer artists and entertainers. She's even gotten to work with Disney, which she's represented since before her time on TV, per Entertainment Weekly.
Advertisement
In 2019, she made herstory as the first person to ever walk the Emmy's red carpet in drag (via 10 WBNS). Additionally, according to Ohio media outlet Columbus Underground, Nina has a nonprofit organization dedicated to enhancing the lives of LGBTQ+ youth in Ohio. After spreading the timeless and necessary message to "be kind," Nina has now released a children's book that, despite sharing poignant messages of joy and generosity, is part of a larger movement that sees drag queens under attack.
Nina West's book is part of a bigger movement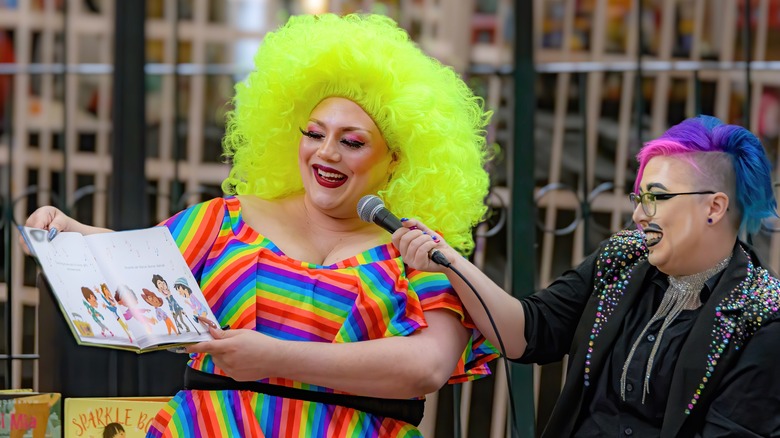 Doug McLean/Shutterstock
Reading is fundamental, and this is an undeniable truth — not just a popular saying from "RuPaul's Drag Race." In fact, some drag queens have taken to their communities to help children read and develop their brains. One such venue created under this mission is Drag Queen Story Hour, which began in 2015 when drag queen Michelle Tea went to the bookstore with her children and found mainly heteronormative stories and books made for heterosexual families. In an attempt to create a more inclusive and accurate representation of America's diverse landscape, Michelle took it upon herself to begin inviting drag queens like herself to start reading to children in bookstores. The mission, however, has been met with harsh opposition, with dissenters attacking drag queens for disrupting and "sexualizing" neutral spaces like bookstores and libraries (via Baptist News). 
Advertisement
In the midst of such controversy, Nina West has courageously furthered the conversation by publishing a stunning children's book on goodwill and compassion. With stories around the power of authenticity, kindness, and joy, "The You Kind of Kind" is more than a cheeky and delightful kids' book. It's Nina's display surrounding the power of kindness when the world does not always deserve it. The illustrations in her book also showcase the diversity of the world we live in, letting children of all backgrounds be seen.
Don't miss the message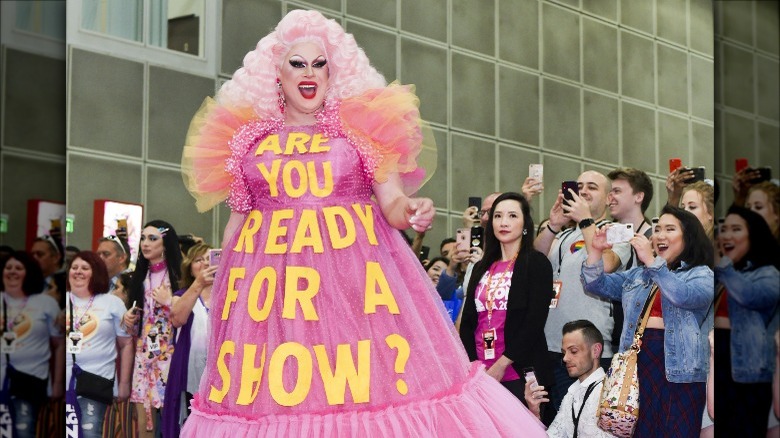 Rodin Eckenroth/Getty Images
Nina West's "The You Kind of Kind," which was released online and in bookstores on Tuesday, October 25, details the story of little Nina who sprinkles her kindness throughout the world, teaching readers the strength of altruism. Through each journey, she continues to greet different explorations and challenges with undying compassion and love for both herself and others. The book's core values are an extension of Nina's own belief systems that have guided her through life and also landed her on TV, Pepsi commercials, and red carpets. 
Advertisement
It's clear that other celebrities appreciate Nina's positivity, too. When asked her thoughts on "The You Kind of Kind," country music legend Dolly Parton told Variety that the children's book teaches the lesson to "just be yourself," the same idea the legendary singer-songwriter inspires with her own Imagination Library. What's more, Nina wants us all to feel one specific emotion when reading her book. In a press release for the book, Nina explains, "I want people to feel the power of their own magic and kindness in the world ... because when you give kindness, it does come back to you. ALWAYS!" In addition to the book, Nina has also released the song "The You Kind of Kind," which is now available on Spotify and Apple Music. If only Drag Queen Story Hour's dissenters could peruse the book, they might just find out why, in fact, reading is fundamental. 
Advertisement