Are The Trendy Telfar Bags Really Worth The Hype?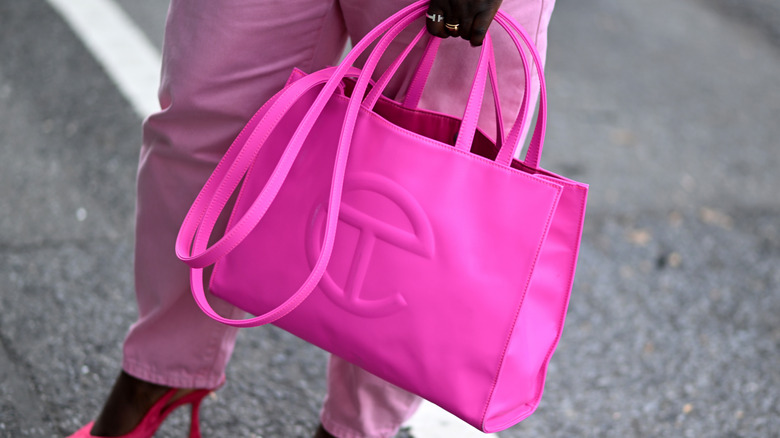 Alexi Rosenfeld/Getty Images
Designer handbags are a must-have for many fashion aficionados. Whether it's a timeless Chanel, the latest Dior Saddle Bag, or a classic Louis Vuitton logo bag, many of these styles are certainly a part of their collections. For many handbag collectors, it's important for the bags to be stylish, luxurious, and trendy.
Now, the latest and greatest Telfar handbag is joining the "it" group. However, the Telfar shopping bag offers luxury design at an accessible level, unlike many designer brands. It was created for everyone to wear and enjoy without societal limits. Because of the bags' roots — as well as that of its designer, Telfar Clemens — it's often called the Bushwick Birkin because of its popularity in Brooklyn, New York. This accessory has quickly become one of the most trending bags in the scene. It's cute, affordable, and hard to catch. Beyond that, it's about the heart of the design and the community that rallies behind it (via Today). But are they really worth the hype?
The history behind the bag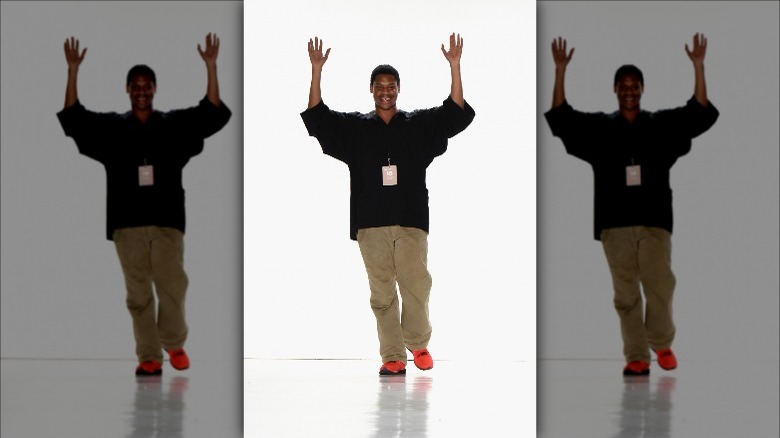 Albert Urso/Getty Images
While the bag itself has exploded in popularity over the last couple of years, Telfar Clemens, the bag's designer, has been in fashion design since 2005 when he began his business while still a student. After appointing Babak Radboy as the brand's creative director in 2013, it became more well-known and full-fledged. The Telfar logo shopping bag was first launched in 2014, but it really took off around 2020. After winning the CFDA Vogue Fashion Fund Awards in 2017, Clemens used his winnings to further improve the bag and make it what it is today. In fact, it has been spotted on high-profile people such as Selena Gomez, Solange, Bella Hadid, and more (via The Cut).
"The money from CFDA is how we were able to buy a ton of bags and actually make a program around selling them," Clemens tells The Guardian. "When we ordered 100 bags, it was the biggest order we had ever made for our website. They sold out overnight, so we bought 300, then 1,000." The bag, which mimics the shape of a rectangular shopping bag, offers a simple yet stylish design. It is made of vegan leather, offered in three sizes, and has a rainbow of color options. It features an embossed imprint of the TC logo right at the center of the bag. 
It's simple yet chic, but most of all, it's accessible. So much so that it's quite difficult to acquire one because of how quickly they sell out. The bag has certainly taken its fans by storm, giving them a fashionable accessory with a deeper impact that ultimately blends into the formation of a community (via Democratic Luxe).
Embracing the brand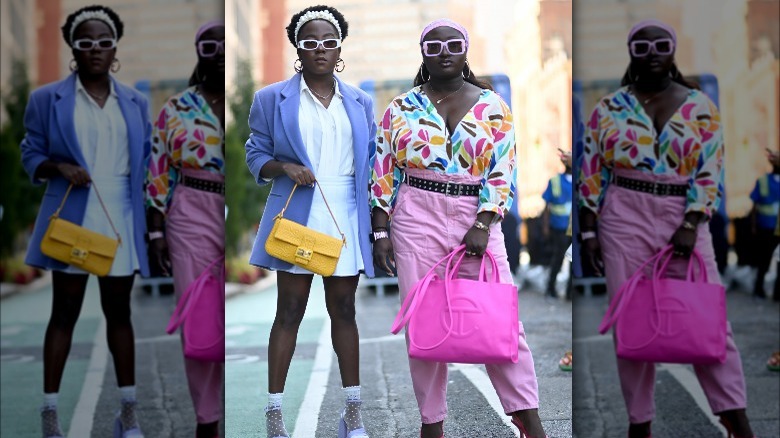 Alexi Rosenfeld/Getty Images
For many people, owning a Telfar bag is more than just an accessory. It carries the meaningfulness of who the bag represents: a Black, Liberian American, and queer designer that aims to make fashion accessible for everyone. "Time and time again, luxury brands have failed at their advertising and marketing because there's obviously few to no black or brown people on their team," Bronx-based curator Kiara Ventura tells The Cut. "When I look at ads for Telfar, I see Black and Brown people, I see queer people, I see how it's a genderless brand. I think it's about time the world supports a genuinely inclusive brand." Surely, that's what the brand aims to do as it describes itself through its tagline as "not for you, for everyone." Inclusivity is at the heart of the brand, and the people are loving and celebrating that as they purchase their own Telfar bags.
"The fact is, a few years ago there was no genderless, accessibly priced, Black-owned bag, period — and also there was no one to wear it," Telfar Clemens and creative director Babak Radboy tell Dazed. "The bag and the customer are meeting in real-time, and that customer was not a person you really saw pictures of a few years ago in fashion. That customer is actually us. If you look at how people post pictures with the bag and we repost them — it's cute but it's also a live struggle for visibility — and we are in it together. I think that's the power of the bag."
So, is the Telfar bag ultimately worth the hype? For representation, visibility, and downright fashion, it's worth the hype and so much more.