Cherub Lips Are The Talk Of Fall Beauty - Here's How To Do Them
Pouty lips, feathered eyebrows, and "doe eyes" are just a few of the trends raging on Tiktok as girls proclaim their #softera online. Pastels, pearl necklaces, and angelic faces are the newest lifestyle aesthetics to surface, motivating girls to relax into their femininity by settling into softness. The emotionally aware lifestyle trend is also creating a new wave in beauty with MUAs rocking an ethereal glam beauty presence that emphasizes radiant skin and a pouty smile. The sweet and innocent look is having a major moment with beauty influencers painting big bright eyes and tout cherub lips. 
Plump lips are not a recent trend, but beauty experts are constantly finding new ways to contour and enhance the shape of kissers. Spearheading the cherub lip trend is beauty influencer Ehlie Luna, whose TikTok tutorial on the doll-like look has garnered more than 800,000 plays. Unlike other lip-enhancing makeup trends, Luna's technique emphasizes a voluminous top lip anyone can try at home.
Emphasize a contoured pouty lip with lip liner
To try the look grab a good lip pencil that delivers a saturated pigment and good movement across the lips. In her TikTok tutorial, Ehlie Luna works with a warm brown lip liner, a shade that is becoming increasingly popular this fall with brownie glazed lips being one the most controversial yet trending looks of the year. She starts by emphasizing the cupid's bow by connecting its two high points. She says to "ignore any dip" you might have in the middle and fill in the area in order to create a rounder plump lip. She then continues to fill the outer edges of the top lip, bringing the pencil further in to create a contoured shape. 
When working with the bottom lip Ehlie advises starting on the inside corners and then bringing your pencil further out. The idea is to create the appearance of a rounder lip shape that extends at the top and bottom. Finish with a concealer to clean up any mistakes and to also highlight the new contoured dimension.
Other makeup aren't sure it's for everyone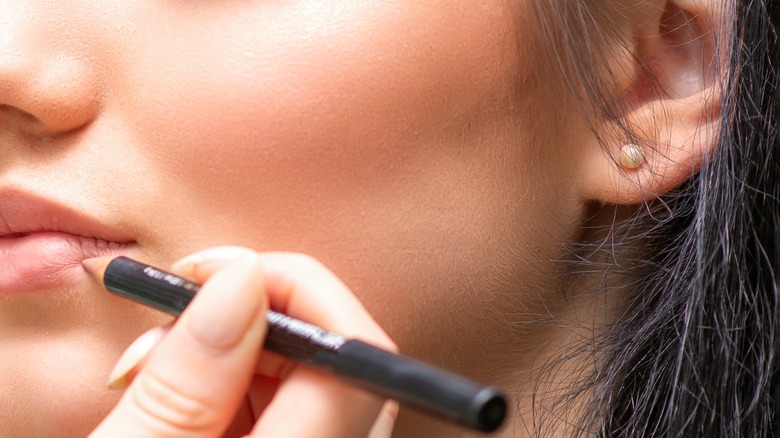 Michelle Aleksa/Shutterstock
As with every good beauty trend, other MUAs are weighing in on the new technique. Makeup mogul Huda Kattan took to Instagram to give her take on the trend and chose a warm brown similar to the same shade Ehlie Luna worked with in her tutorial. Initially, Huda didn't seem sold on the trend but wasn't knocking it completely. She starts by very openly saying the cherub lip may not be for those who have a substantial amount of filler in their top lip as she does. After cleaning up her look with concealer and Kylie Skin Lip Oil, she then waivers and says she actually likes it. 
Because the lip contour is made to emphasize a poutier lip, Kattan is right that it could be overkill if you already have plump lips or filler. But for those wanting an enhanced Bratz doll look, it's the perfect lip trend to try this fall.