Remove Dip Powder Nails At Home With This Easy Tip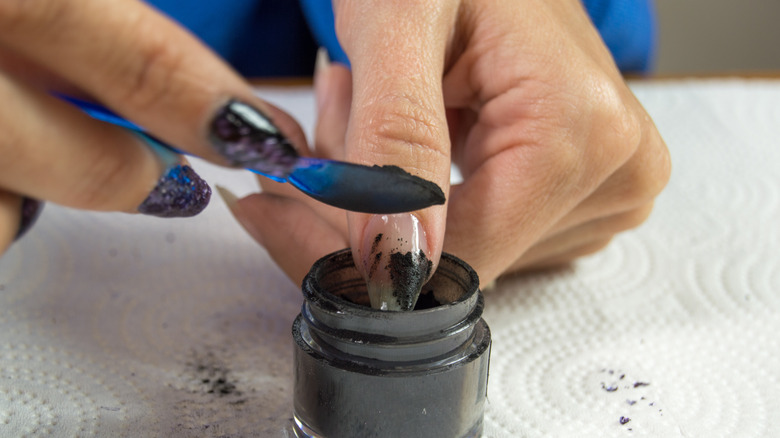 Neal Bryant/Shutterstock
Who doesn't love having polished and manicured nails? When it comes to manicures, it seems like more people are starting to gravitate towards getting dip powder nails. They are gaining popularity because they do not require UV and last longer than gels and acrylics. However, depending on where you go and the design, they can start to get pricey. ClassPass states that the average cost in 2022 is between $20 and $50. Nail designs and additional gems will usually cost you a bit extra. Apart from this initial price, account for a 20% tip. With this price slowly rising depending on your decisions, the last thing people want to do is pay to get them removed in a few weeks. 
Removing your dip powder nails will usually incur an additional charge on top of any new design you want. The best way to save a little money is by removing your dip nails and having them ready for your next nail appointment. However, like with gels and acrylics, you want to be careful about how you remove your nails. At this stage, your nails will be fragile, and you want to ensure you remove them carefully to avoid breaking or damaging them.
How to remove dip powder nails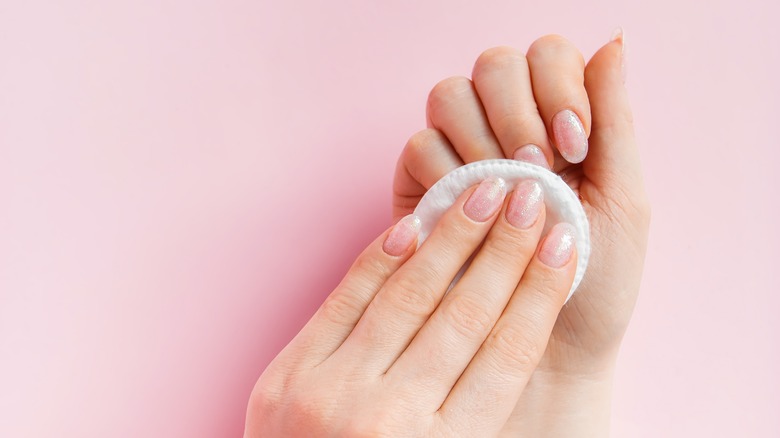 Pelagija/Shutterstock
If you want to save a bit of time and money, your best bet is to remove your dip powder nails. Thankfully, there are multiple ways you can remove them from the comfort of your own home. One way Ipsy recommends removing your dip powder nails is by using foils. You want to start by filing down your nail polish with a nail file. Once you've removed the top coat, soak a cotton ball with acetone and place it on top of each nail. Wrap each nail and cotton ball with a piece of aluminum foil to keep it from moving. Keep the nails soaked for 10 to 15 minutes before removing the foil. Once you've removed the foil, the powder should easily fall off. If it doesn't, take another acetone-soaked cotton ball and swipe it over the nail. At this point, the layer would be so thin that it'll easily fall with a swipe.
According to Beauty Stack, there's another easy method to remove your dip powder if you don't have foil. Start by filing down the top coat of your nail polish. Instead of using a cotton ball soaked with acetone, fill a bowl with acetone. Dip your nails into the bowl for 15 minutes. You can then remove your nails, as well as any leftover product.
Taking care of your nails after dip powder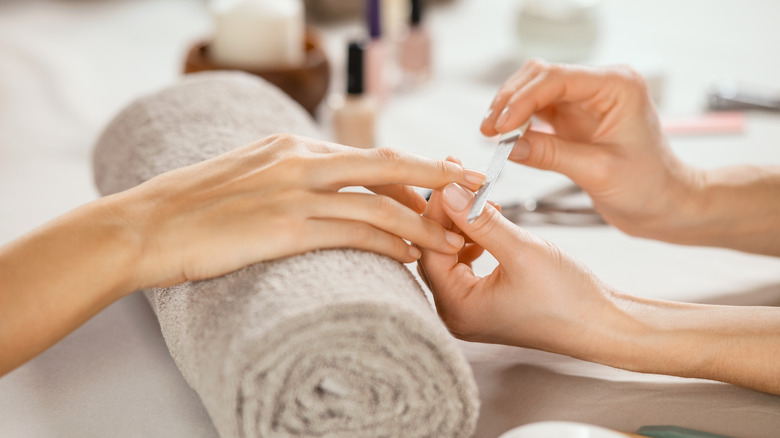 Rido/Shutterstock
As important as being careful when removing your nails is, you also want to ensure you are taking care of your nails afterward. Because acetone and other products can damage your nail, you want to take extra care of them once they are exposed.
Dipd Nails gives two simple products that can help repair your nails after a dip powder manicure. One tool you can use to repair your nails is nail strengthened, which you can apply once a week. This nail strengthener will protect your fragile nails while speeding up the process of repairing any damage the powder may have caused. After applying your nail strengthener, you should also put on cuticle oil. Applying cuticle oil will help soften the cuticle, which protects the new nail growth.
Once you've removed your dip powder, you may want to wait before making your next appointment. The American Academy of Dermatology Association recommends waiting a month before putting on dip powder nails again. Furthermore, Dermatologist Shari Lipner, M.D., explains, "It's not dangerous to apply a dip powder every month. However, to remove these manicures, you need to put 100% acetone on your nails, which can damage your nails. It peels off layers of the nail and thins the nails over time. The acetone can also irritate the surrounding skin." If you don't want bare nails, it's safe to use regular nail polish between visits.