What You Need To Know About Vivace RF Microneedling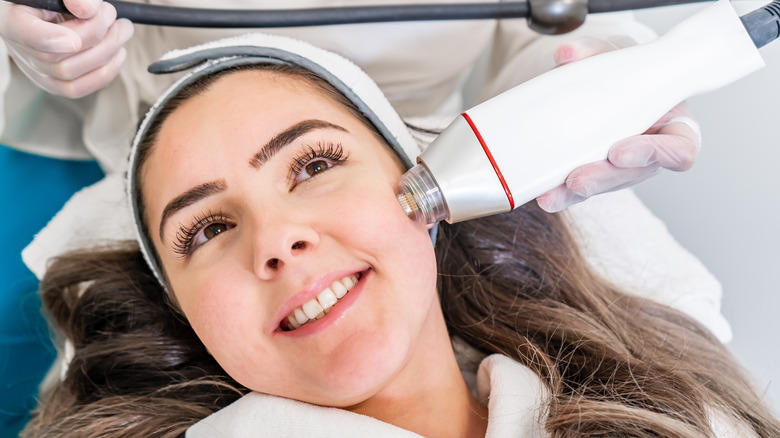 thoughtsofjoyce/Shutterstock
When Kim Kardashian announced on Instagram that she uses radiofrequency microneedling, everyone rushed to find out what exactly the illusive procedure entails. Microneedling has been known in the cosmetics world for some time with the first recorded medical procedure done in 1905. Later, it became popularized in 1995 by Dr. Desmond Fernandez (via MD Pen). According to medical professionals at the Cleveland Clinic, microneedling has been proven to improve the appearance of scars, wrinkles, stretch marks, and acne by using thin yet noninvasive needles. Now, radiofrequency microneedling is available as the next evolution of collagen induction therapy, per DermPhysicians of New England. 
U.S. Food & Drug Administration-approved and self-proclaimed as an industry-leading and top-trending procedure, Vivace RF Microneedling uses radiofrequency technology and a precision motor to tighten and rejuvenate skin virtually pain-free. What's more, it's gaining increasing popularity with more than just the Kardashians, including among actresses and influencers like Jennifer Aniston, Naomi Watts, and Gwyneth Paltrow, according to Serenity Medical Spa. So, what exactly does the treatment involve? 
The radiofrequency technology accelerates collagen production and tightens the skin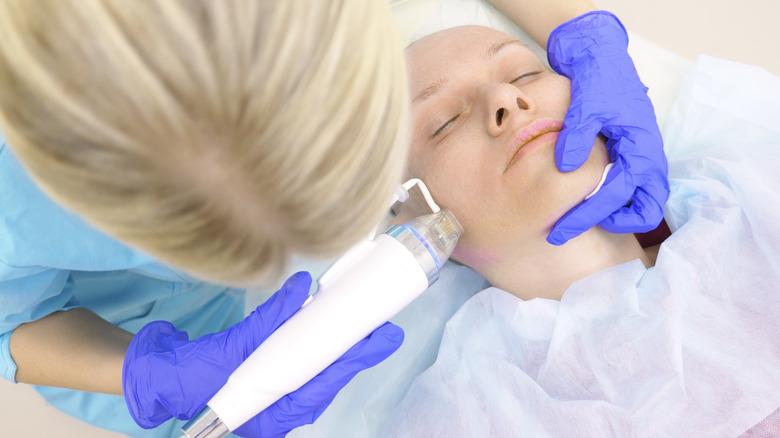 Kopytin Georgy/Shutterstock
Microneedling pens and rollers are now available for home use and are safe to use without professional supervision. Radiofrequency microneedling, however, must be conducted by a licensed technician who is trained to use a Vivace device (via Aesthetics Biomedical). The device uses tiny gold-plated needles to create minuscule punctures in the skin that trigger the body to produce collagen, per Lumenis Be. In addition to microneedling, Vivace incorporates radiofrequency technology that is channeled through the pins delivering heat to the layers underneath the skin's surface. The energy inducted through skin layers quickly causes the rapid generation of collagen and the tightening of the skin. 
Though the Vivace device uses needles that penetrate below the skin, the procedure begins with the application of a topical numbing cream to prevent any pain or discomfort. Yet despite the need for a trained professional, the treatment is completely non-invasive with little downtime. The added radiofrequency also accelerates collagen production delivering faster more enhanced results. 
It's proven to reduce acne scars, pore size, and reduce wrinkles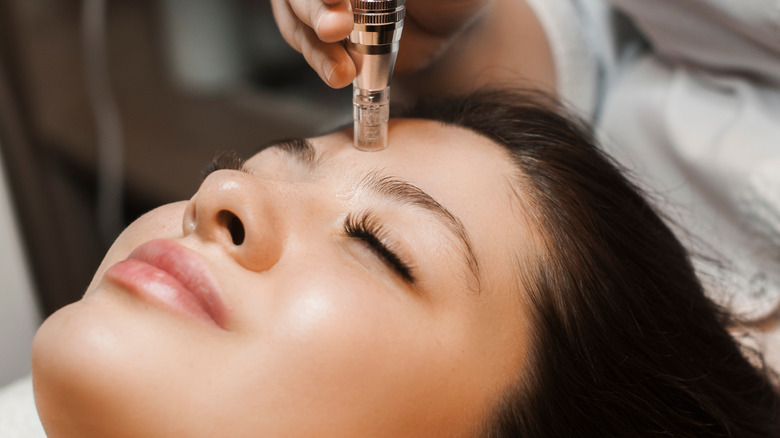 dekazigzag/Shutterstock
Dr. Christine Petti, who has been voted one of the best in plastic and cosmetic surgery, performs Vivace RF Microneedling to resolve a variety of issues, including fine lines and wrinkles, sun damage, acne scars, large pores, stretch marks, and more. Furthermore, a 2014 study showed that when treating 31 patients for acne scars over a six-month period in six-week intervals, 80% showed improvement in two grades and 58% showed at least moderate improvement (via research published in the Journal of Cutaneous and Aesthetic Surgery). 
Another study, this one published in the Journal of Clinical and Aesthetic Dermatology, exhibited substantial improvement in skin texture and pore reduction size, with patients rating the treatment a 1.5 out of 10. The patients reported a noticeable improvement and overall satisfaction after two to six treatments in one-month intervals. Because the Vivace device uses microneedles that disturb the skin and stimulate collagen, the skin is motivated to restore itself and create new elastin fibers, which set the foundation for younger, healthier-looking skin.