What To Know Before You Get Jawline Filler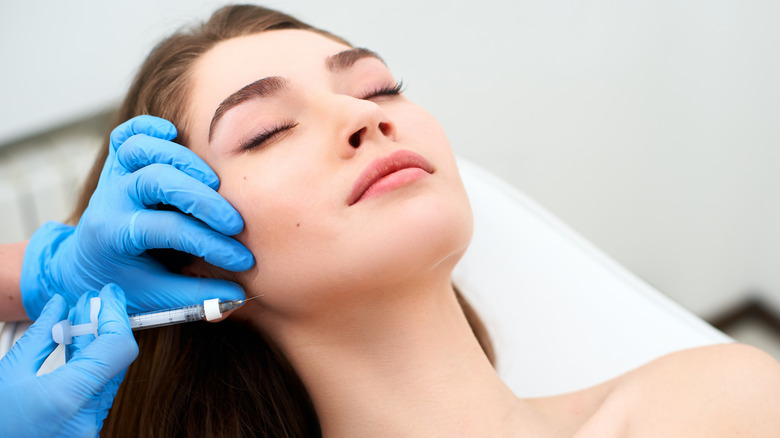 Artie Medvedev/Shutterstock
In the age of the "no makeup" makeup look, eyelash extensions, and lip filler, the picture-perfect flawless face is clearly the trendy aesthetic. Injectables and fillers are becoming more and more popular, as they are more affordable and accessible than surgery, per ABC News. How many of us have slowly watched our favorite influencers' lips grow more in each Youtube video, even if they deny accusations of injectables?
Some beauty influencers like James Charles, who as of October 2022 has a whopping 22.4 million followers on Instagram, are very transparent about their procedures, admitting to going both under the needle and the knife. However, other celebrities have kept the methods behind their snatched jawline completely secret. Since so many influencers are deciding to gate-keep the way to a chiseled jaw, we are revealing all. There's nothing wrong with wanting a sharpened profile, but here is what you need to know before getting injected.
How does jawline filler work?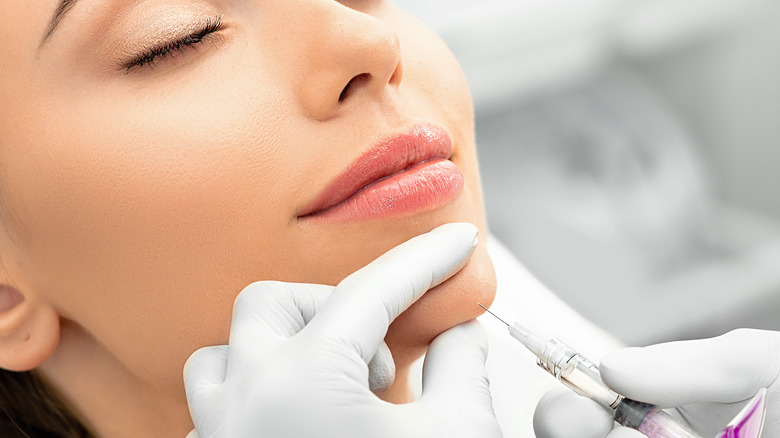 Peakstock/Shutterstock
Just like the name implies, fillers are intended to plump up or create added definition to the desired area. A jaw filler, specifically, is a nonsurgical procedure that includes injecting the jaw or chin area with a dermal solution that adds volume to the site, resulting in a more defined and sharper appearance (via Cleveland Clinic). By plumping the region with injections, the jawline becomes stronger and also loses any sagging or wrinkles, creating a more chiseled profile.
This sort of injectable contouring uses a thick type of filler made to mimic the appearance of your ideal bone structure (via Blush by Beverly Hills). Experts recommend dermal fillers Voluma and Radiesse for the jawline area since they feature hyaluronic acid and calcium hydroxylapatite. These ingredients promote collagen growth and create a firmer plump appearance. Doctors additionally recommend Restylane, which is also made with hyaluronic gels.
There are possible side effects you shouldn't ignore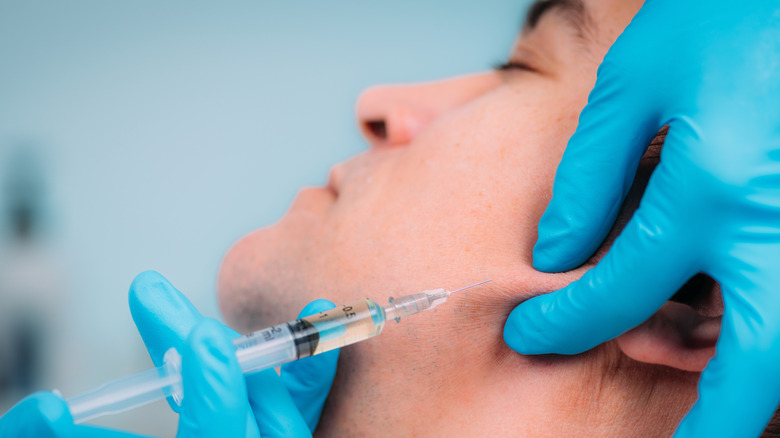 Microgen/Shutterstock
Though jaw filler is an overall safe and painless procedure, it still comes with its dangers and possible side effects. Doctors at Cleveland Clinic advise anyone with skin infections, cold sores, connective tissue diseases, and uncontrolled diabetes to avoid getting dermal fillers. It's also recommended to stay clear from any alcoholic beverages 24 hours before your appointment, as it can increase the risk of bruising, swelling, and fluid retention (via B Clíníc).
Perhaps the most concerning are the recent studies regarding bone loss after dermal filler injections. An August 2020 study conducted by researchers at Peking Union Medical College in China found that patients that received hyaluronic acid fillers experienced quantifiable amounts of bone erosion. The study also found that large injection amounts of more than one milliliter had the potential to weaken the bone. 
Talk with your aesthetician about your concerns when treating the jaw or chin area. Despite the instantaneous beautification, dermal fillers could have harmful long-term effects, particularly when administered in large volumes.