How To Master Fall's Most Seductive Smoky Makeup Look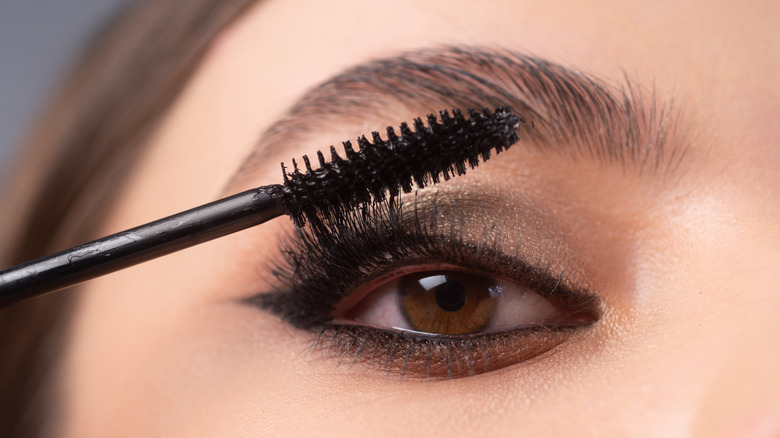 Volodymyr TVERDOKHLIB/Shutterstock
We may receive a commission on purchases made from links.
Fall weather is here, and it's the perfect time to experiment with sultrier makeup. Full-on glam can sometimes take a backseat during the muggy summer months, but crisp autumn air is like nature's setting spray. And while minimalist, clean aesthetics still have a place in our hearts, there's no match for a smoldering smoky eye on a night out. "There's a chicness to the simplicity of a dark eyelid and a transition shade through the socket — it's classic, so [it] will always work," MAC artist Dominic Skinner tells Harper's Bazaar.
Advertisement
Smoked-out makeup was everywhere in the '90s and '00s, and with the current focus on all things aughts, it's no surprise it's made a comeback. Though the trend has come full circle, there are some subtle twists this time around. However, the current trending look is a breeze to pull off, so let's take a dive into the look that everyone is pursuing this fall — and the look you'll want to master ASAP.
Easy reverse cat eye makeup tips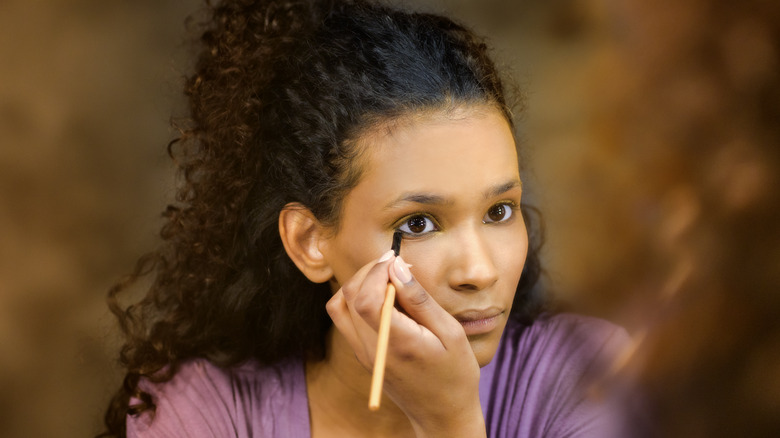 Photology1971/Shutterstock
One of the most popular smoky looks is the reverse cat eye, which has hooked its claws across social media feeds. It may sound a bit complex, but this feline-inspired style is a cinch to pull off. The reverse cat eye involves eyeliner applied to the lower waterline and lash line instead of its usual placement on your upper eyelid, with a lifted wing. The main difference between a reverse cat eye and a regular cat eye is that most of the "smoke" is along the bottom of the eye.
Advertisement
The most critical step to any good look is a strong foundation. Whether you have dry, oily, or combination skin, you'll want to prep your eyelid area to ensure your makeup goes nowhere. Before jumping in, prime the skin around your eyes with a light moisturizer, and follow up with a trusted eye makeup primer (via L'Oréal Paris).
Next, apply your desired shadow shade using a small tapered brush. For the cleanest lines, try holding an angled makeup sponge under your eye to catch any fallout and create a defined wing. Clean up any stray pigment with a cotton swab. Use a fluffy brush to blend if using a transition shade on the upper lid. With pencil eyeliner, line the lower waterline and use your tapered brush to blend any smudges evenly into your lower lash line. Apply mascara, and use a cotton swab and a touch of concealer to sharpen the wing if necessary. To extend the life of the look, gently apply a setting powder, like Laura Mercier's Translucent Loose Setting Powder, under both eyes. And there you have it: you've mastered the reverse cat eye. But there are still ways to get creative with it.
Advertisement
Variations on the reverse cat eye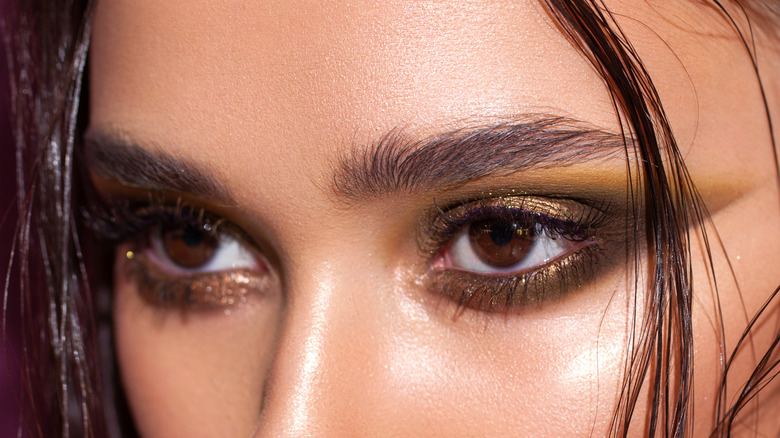 Tata Mamai/Shutterstock
Of course, you may want to rock a bolder reverse cat eye during the holidays or special occasions. "There's nothing quite like the power of sparkle and a little glamour to put a smile on your face," model Twiggy tells Marie Claire. Fortunately, the reverse cat eye is the type of look that's easy to embellish.
Advertisement
Instead of your standard neutral color scheme, try starting things off with an unexpected hue. For instance, a jewel-toned green, like Make Up For Ever's Artist Color Eye Shadow in Peacock, is a festive complement to any eye color. You can offset the emerald tones with black or choose to coordinate with a matching liner, such as Lancôme's Drama Liqui-Pencil in Green Metropolitan.
For another easy way to amplify your reverse cat eye, add a dusting of glitter for a finishing touch. Whether you prefer streamlined neutrals or more avant-garde shades for the eyes, a hint of sparkle can make all the difference. Black eyeshadows pair well with bold silver or gold glitters, and colored shadows play well with iridescent formulas. Experiment with a dab of liquid glitter, like Stila's Glitter & Glow Liquid Eye Shadow in Kitten, or use a shadow brush to apply a pinch of loose glitter pigment. If you spot any stray sparkles on your face, use a piece of clean medical tape to lift them away gently.
Advertisement