What You Need To Know About A Hair 'Metal Detox'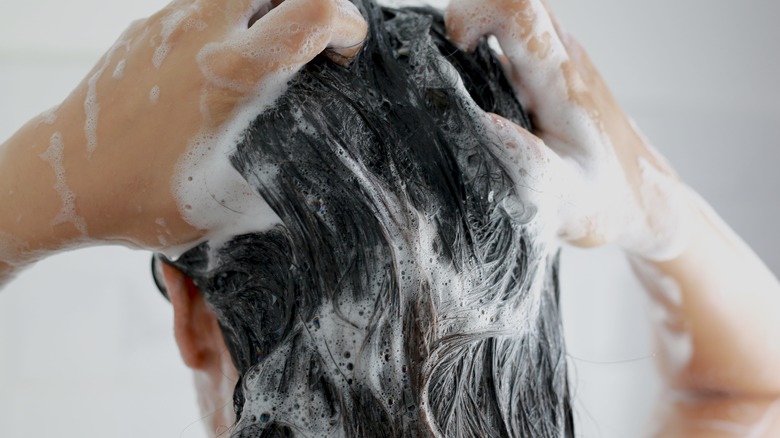 fongbeerredhot/Shutterstock
From excessive heat to water quality, your hair gets exposed to many things that can affect its form. Oliva Skin & Hair Clinic reports that exposing your hair to hard water for a long time can lead to breakage. With so many potential factors potentially hurting your hair, it's easy to wonder what you can do to stop it. While most of us are familiar with everyday tools like hair products and masks, there are further steps you can take to protect the integrity of your hair. One of the recent ways that have arisen to protect your hair is a hair metal detox. While relatively simple, the concept of a hair metal detox is new and fascinating for those obsessed with finding ways to get healthier hair.
Although new to the haircare world, hair metal detox has already started catching a following. On TikTok, #metaldetox is already popular, with more than 253 million views. With so many jumping on board with this new trend, it's only correct to examine whether you, too, are in need of a hair metal detox.
What is a metal detox?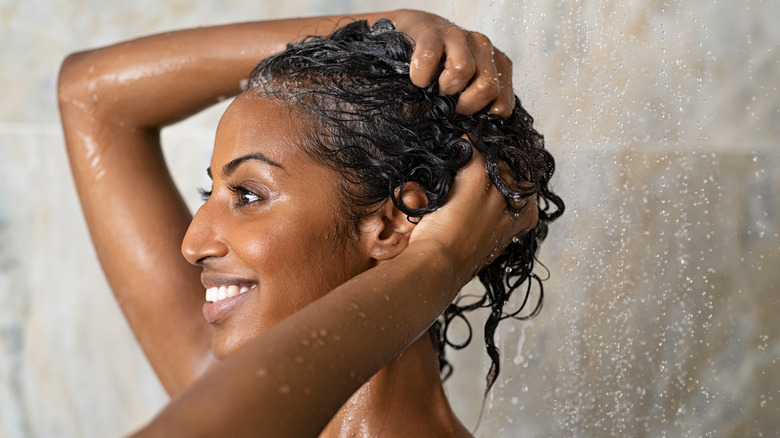 Rido/Shutterstock
Before knowing if you need a metal detox or not, you need to know what this new haircare method is. According to L'Oréal Professionnel, your hair contains metals simply from existing in our world. Whether it's from your water, environment, or pollution, your hair accumulates different metals. These metals cause breakage and color shifts. While not harmful to your health, it can cause issues for your hair health. To solve this solution, L'Oréal has created a system to try and neutralize the impact the metals have on your hair. On this, the head of L'Oreal Haircare Laboratories, Charlotte Feltin, explains, "Thanks to our collaboration with the worldwide authority on metal, Ioannina University, we identified a perfect molecule: Glicoamine. It is the only active agent small enough to trap and neutralize metal inside the fiber. Fiber integrity is preserved, color is mastered, and the oxidant gets to fully do its job."
Bonne Vie Salon further explains that this treatment is a three-product process. The first product is a pre-treatment solution only applied in a salon before getting a color, bleach, or balayage service. This product neutralizes the metals already in your hair. The second step is the shampoo product. After your service, the shampoo will get rid of the metals in your hair fibers. The final product is a mask that will help protect your hair by not allowing any more metals to attach to your hair fibers.
What does the metal detox do?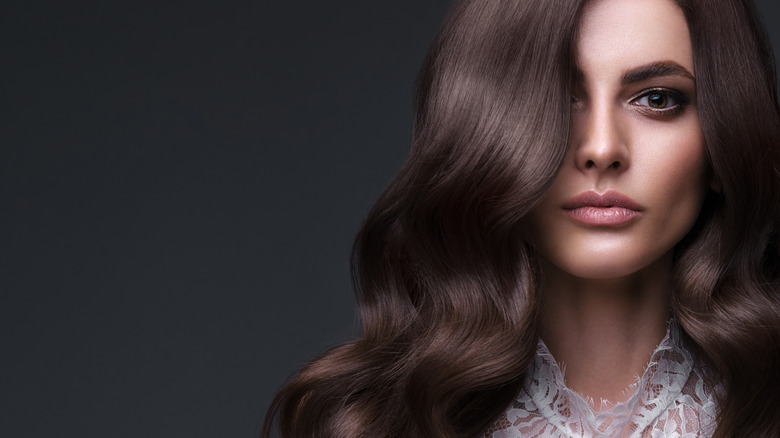 KOBRIN PHOTO/Shutterstock
Although the first product of this three-step process is available only in salons, the shampoo and masks are available in-store or online. Using these two steps is enough to help your hair reach new healthiness levels. But what exactly should you expect from a metal detox treatment? According to Hiji, the bottom line of this process is that it can help result in 87% less breakage in the hair and maintains your color service with 100% reliability. This statistic means you can enjoy your salon color for a longer time without fading or breakage. This metal detox process can help the shine of your hair remain for longer and leaves your hair feeling softer.
This process is so simple to add to your daily routine, making it simple to get luxurious salon hair in your own home. One Hair.com reviewer states, "This is one of my absolute favorite shampoos. I have cool ash brown hair naturally. I have some blonde highlights. This product really keeps the brassy tones away, and does not weigh down my fine hair. I cannot recommend this shampoo enough. Honestly it works as good as a purple shampoo at fighting my brassy tones. Game changer!"
Getting rid of metals in your water is near impossible; however, with a metal detox, you can take steps to protect your hair from their harmful effects.