How To Style Your Hair If You Have Big Hair, Don't Care Energy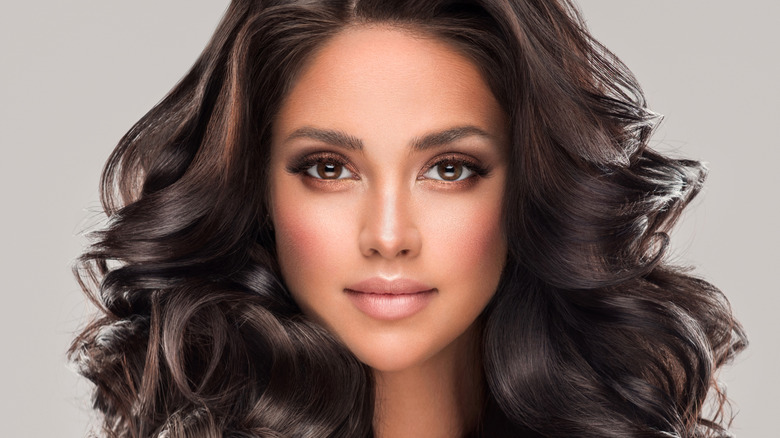 Sofia Zhuravetc/Shutterstock
If you're lucky enough to have luscious locks, you likely try to take advantage of that "big hair, don't care" energy as frequently as possible. That being said, there's a time and place for everything. Whether you're headed to the office for a long workday or out for a night on the town, it's important to know the dos and don'ts of sporting the vibe.
There is an abundance of hair products on the market these days to tackle your biggest concerns, ranging from volume to dryness. Those who have big hair know that while it can be beneficial to have more to style, it can take a lot of effort, too. If you happen to have thick hair, humidity and frizz can quickly become the enemy, per Good Housekeeping. This is on top of the fact that your hair may take longer to wrangle and style on a daily basis. If you have big, curly hair, your common problems might include breakage, flyaways, and excessive volume (via Naturally Curly). Here is how to rock that "big hair, don't care" attitude confidently on any day of the week, regardless of your specific hair type.
Taming curly or wavy hair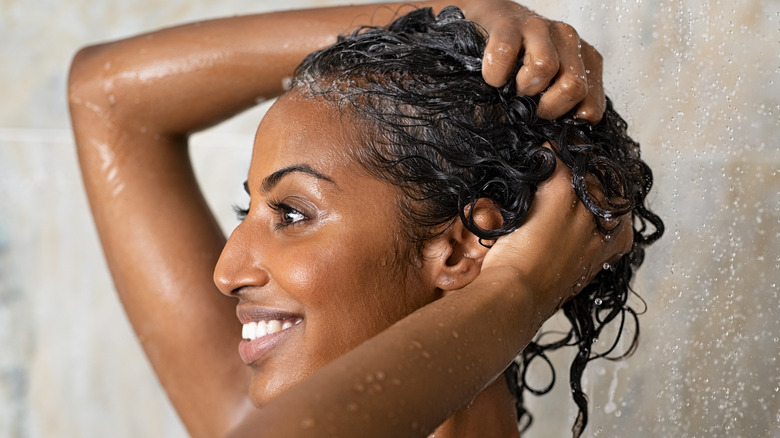 Rido/Shutterstock
If you love the "big hair, don't care" look but struggle to tame curly or wavy hair, don't rule out the style. Changing the way you manage and maintain your hair can revolutionize your styling process. Good Housekeeping notes that it's important to avoid weighing down your waves or curls with styling oils and creams. Less is more if this is your hair type, and it will help you sport that "big hair, don't care" vibe. Rather than reaching for creams or oils, try a leave-in conditioner spray for hydration and less frizz.
If you have softer waves, Shape encourages you to rethink your hair-washing routine. Reducing your hair washing to twice per week can keep it clean as well as hydrated. Opting to air dry your hair, rather than blow dry it, can also help if you intend to style it. This gives you a better idea of your waves and hair texture before you apply any product.
Simplifying thick hair styling
Beauty Agent Studio/Shutterstock
Having thick hair might seem like the best possible scenario if you want to show off your "big hair, don't care" energy. However, many people with thick hair will tell you that styling it can be a challenge on its own. 
To make styling a bit easier, Hair.com recommends a tactic called double-shampooing. Start by shampooing your root area and massaging your scalp before rinsing — this will remove natural oil build-up. Next, add a bit more shampoo to your scalp, but avoid over-lathering. Finally, apply your conditioner to the ends of your hair, and allow it to work its magic for a few minutes before rinsing. The ultimate goal is to cleanse the hair, but keep in mind that daily washing is often unnecessary when it comes to thick manes.
Whether you have curly locks or volume for days, "big hair, don't care" energy is here to stay. By taking these tips into account, you can confidently rock the look with little effort.