What Does Setting Spray Really Do For Your Makeup?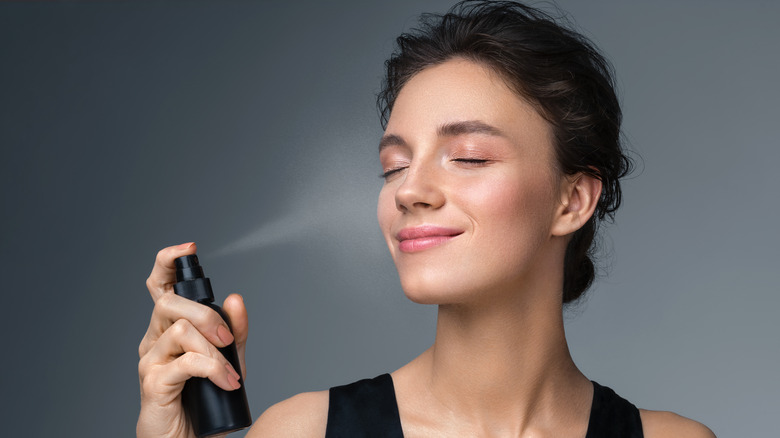 RomarioIen/Shutterstock
We may receive a commission on purchases made from links.
Perhaps due to its sheer finish or faint traceability, setting spray is one of those products you pray works but aren't really sure it does. The makeup process is becoming increasingly complex with moisturizers, primers, concealers, and foundation all necessary in a full glam routine. According to the makeup lovers at online beauty portal Fustany.com, your face always needs to be fully primed and finished with a proper setting, whether that's a powder or spray. If you watch any good makeup tutorials, the influencers all seem to complete their hard work with a gratifying final mist. But is the spritz just for the cameras, or does it actually make a difference? 
Unlike setting powder, which works by pressing formulated powder into the skin, setting spray comes in bottle form as the last step in a beauty routine. With so many blends and formulas on the market, it's hard to distinguish what it actually does for the skin. Keep reading to find out what setting spray actually does for your makeup.
Setting spray holds and locks in makeup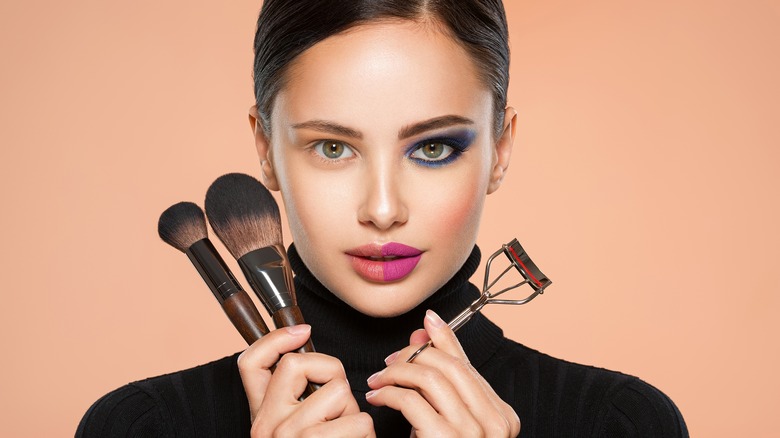 Valua Vitaly/Shutterstock
Doing makeup is like baking a cake or cooking a steak. You need to let it set. What does that mean? You want to ensure that your makeup holds up to the test of time. Suppose you're planning for a night out on the town or are a performer who will be under hot lights all night; how your makeup sets is of utmost importance. Setting your makeup is the final step of your face painting process, and it can have an effect on how your makeup lasts for the rest of the night. 
Celebrity makeup artist Ana Marie Rizzieri tells People that "setting sprays work to help keep makeup from separating," and that it can also make the skin appear "luminous" as an added finish. Their glycerin formulas not only work to lock and set makeup, but the botanicals also help to enhance skin texture and brilliance.
The primary purpose of setting spray is to hold. According to the makeup experts at Maybelline, setting spray, just like setting powder, is meant to lock in the makeup look you put so much effort into creating. Typically made from water, glycerin, and alcohol, a good setting spray only needs a few spritzes to enhance the longevity and wear of your makeup (via Lab Muffin Beauty Science). Depending on your skin type and the final finish you are looking to achieve, there are hundreds of different setting sprays available on the market.
It creates different kinds of skin finishes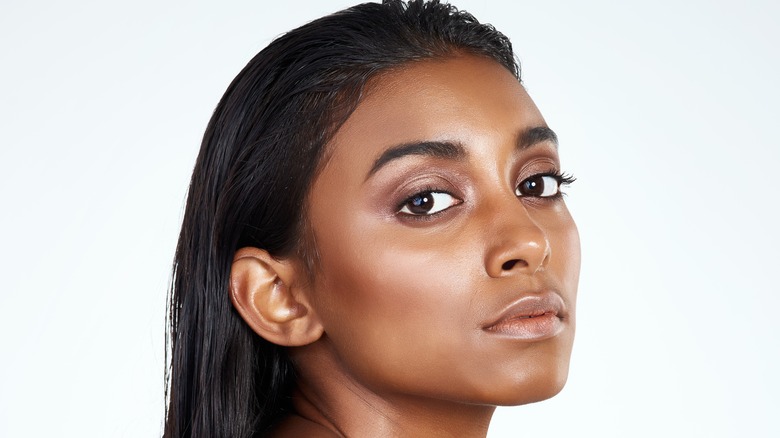 PeopleImages.com - Yuri A/Shutterstock
Your choice of setting spray can add incredible layers of definition to a makeup look. With the "no-makeup" makeup look on the rise, dewier natural skin-focused aesthetics are becoming more popular and can be achieved with a setting spray. A highly rated option at Sephora, Anastasia Beverly Hills' Dewy Set Setting Spray gives a sheer, radiant finish that looks glossy and glistening.
If your skin is on the oilier side, opt for a more matte finish that will block shine. Make Up For Ever's Light Velvet Air Shine-Control Refreshing Spray, for example, is made with mattifying powders and green lentil extracts that blur imperfections and minimize the appearance of pores. Also making huge waves in the beauty world is the new kid on the block, gender-inclusive brand Milk's Hydro Grip Setting + Refreshing Spray that holds makeup for up to 12 hours with its magical blend of blue agave, hemp-derived cannabis, and moringa seeds. 
Your choice of setting spray can take your makeup from two hours of wear to lasting all the way until the next morning. So finding the perfect spritz really can be the key to elevating your beauty routine.