Why An Unsuspecting Cocktail Took TikTok By Storm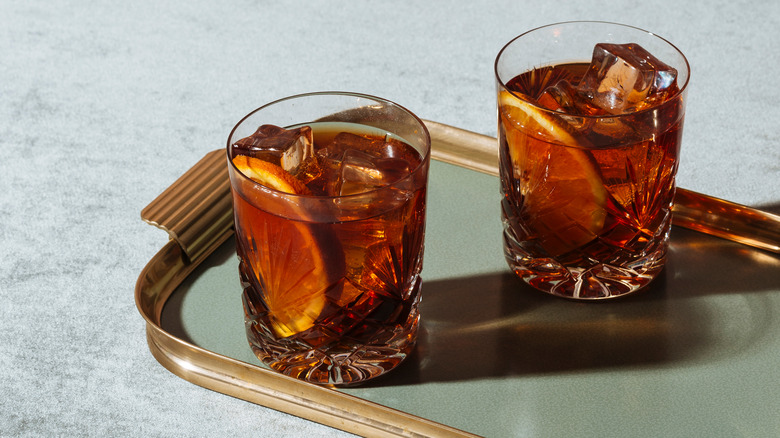 Maurese/Shutterstock
TikTok virality is one of the most sought-after and mystical mechanisms on the internet. From dance challenges and life hacks to bleached eyebrows, it's quickly becoming a culture-generating machine, having users experiment with online trends IRL. TikTok has a unique ability unlike other social media apps to group those with like-minded interests into a digital community that's fueled with insider lingo, trending audios, and recognizable cultural cues. Simultaneously, it also has the ability virtually create a niche trend that has never existed before thanks to hilarious and uniquely talented people on the internet. 
Advertisement
Sometimes though, a moment in time happens that just has that thing that everyone needs to see and you can certainly expect the algorithm to serve it up to everyone. When "House of Dragon" stars Emma D'Arcy and Olivia Cooke met on the HBO Max YouTube channel, they probably had no idea they were about to spark a cultural reset.
We never knew a negroni sounded so good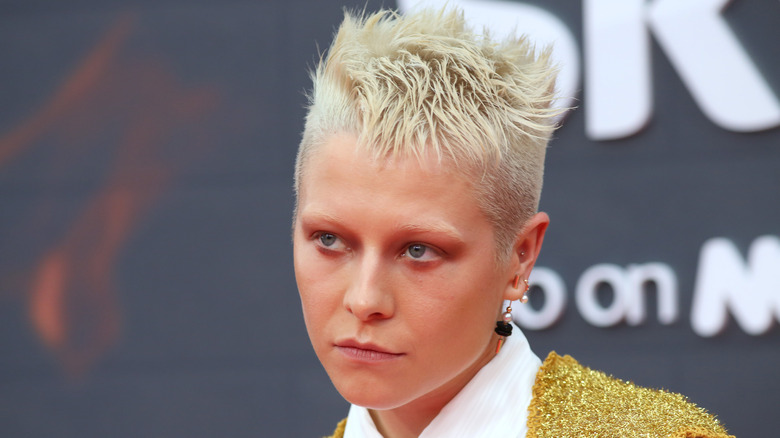 Lia Toby/Getty Images
Before TikTok, the Negroni was an exclusive and sophisticated cocktail created in the 1860s in Milan, Italy (via Spirit of York Distillery Co.). Known for its dark color, Campari liquor, and elegant floral notes, it's a drink on the menu your average Joe probably wouldn't know too much about. Now, bartenders everywhere are experiencing an uptick in their Negroni orders thanks to a magical digital moment that TikTok turned viral. 
Advertisement
British actor Olivia Cooke, who plays Queen Alicent on "House of Dragons," and co-star Emma D'Arcy, who plays Rhaenyra Targaryen, sat down together for a "Get To Know Me" episode on the HBO Max YouTube channel. The two took turns pulling questions out of a bowl and continued to ask a series of personal and show-related questions. When asked "What's your drink of choice?" Emma replied, in what can only be described as the sultriest climax-building voice, "A negroni...Sbagliatto...with Prosecco in it." Olivia Cooke's reaction was the perfect finish as her English accent rolled out a "Stunnin'."
The audio clip has nearly two million views on TikTok and over 60,000 users have reused the audio sample to recreate their own posts. It's nearly impossible to watch the clip only once.
Advertisement
Sbagliatto means mistaken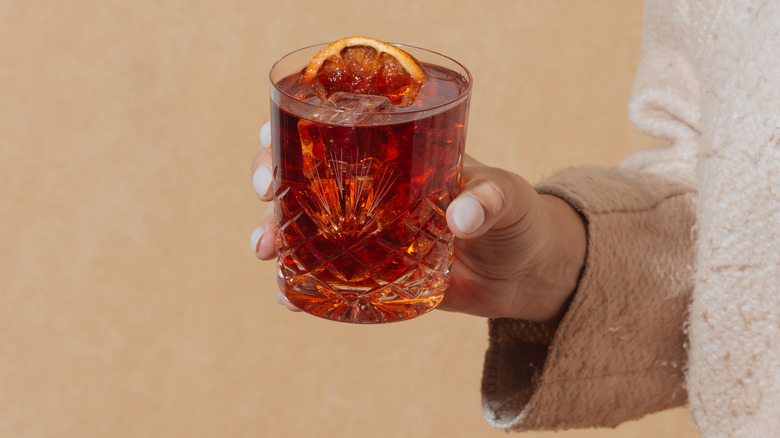 Maurese/Shutterstock
According to mixology experts at Liquor.com, a basic Negroni was made as a riff off an Americano which includes Campari, sweet Vermouth, and club soda. Camillo Negroni, an Italian count, requested the club soda be replaced with something stronger and thus gin was tossed in as a substitution, and the drink was named in his honor. The Italian liqueur Campari is an incredibly floral and complex spirit with over 60 herbs and is marked by its sophisticated bitterness and notes of rhubarb, orange, and wood (via Campari.com). When mixed with Vermouth it transforms into a velvety sweet drink that is then cut traditionally with gin.
Advertisement
Emma D'arcy, however, takes her drink a step further and prefers her Negroni as a Sbagliatto, which means "mistaken" in Italian and refers to the switch up from gin to Prosecco (via Serious Eats). With this change, the drink now features a sparkling foamy pop. For those who prefer a much boozier option, mixologists at Punch also want you to know that you can revert the drink back to its origins as an Americano and swap the Prosecco for sparkling water by ordering it as an Americano.
The seemingly innocent cocktail apparently has endless forms, making us wonder how else we can riff off it. Regardless, we have Emma and Olivia to thank for its spike in popularity.