What Does 'Caught In 4k' Mean On TikTok?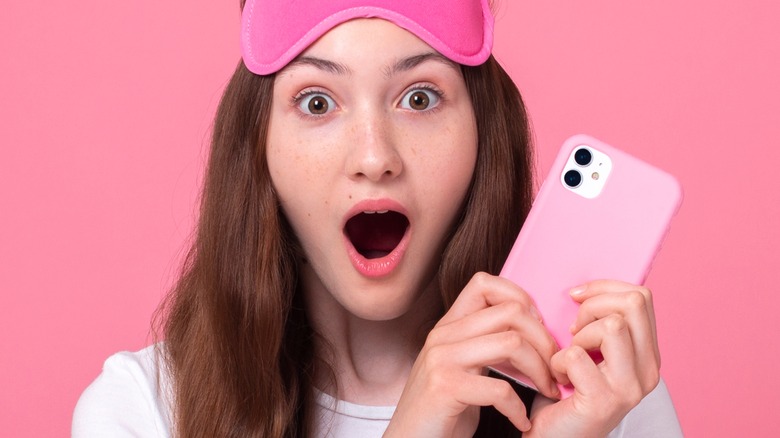 iso100production/Shutterstock
Social media site TikTok is arguably responsible for changing the landscape when it comes to internet culture influencing popular culture. Those who have mastered the art of harnessing TikTok's incredible reach have managed to leverage that reach into fame and fortune. We don't mean that figuratively; we're talking record deals and prestigious awards. In September, a Scottish TikToker by the name of Katie Gregson-MacLeod parlayed her original music composition that went viral on the platform into a full-blown record deal, according to NME. In 2021, the American Music Awards allowed fans to vote via TikTok (via AdWeek), and it also added the "favorite trending song" category to honor musicians who rocked the charts purely by going viral on the platform, per Billboard. 
Megan Thee Stallion, of course, nailed that category last year with her song "Body," but one of her fellow nominees was Erica Banks, who was nominated for her viral TikTok hit, "Buss It." However, it's not just a song; it's also a popular slang term and a dance challenge, per Metro U.K. The outlet reports that the popular slang can refer to knocking boots, but it can refer to suggestive dance moves. It's amazing that this little video platform that enraged the former POTUS can inspire so much! But "Buss it" isn't the only slang the platform has spawned. "Caught in 4k" is another that's taking off, and you're going to want to know what this means. (Hint: it's for your own protection.)
If you're caught in 4k, you're caught redhanded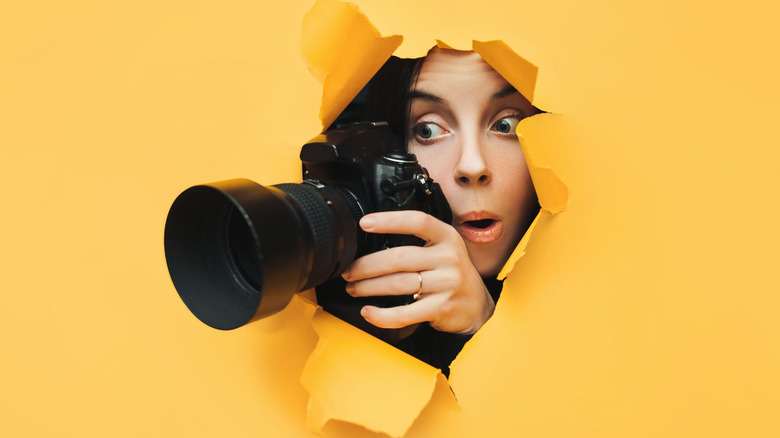 Shchus/Shutterstock
You might remember the show "Candid Camera" from back in the day where unsuspecting people were caught by a hidden camera in wildly funny scenarios. The TikTok generation has taken that idea to new heights with the phrase "caught in 4k," but sometimes the scenarios aren't so funny. The Sun reports that the TikTok phrase refers to people being called out online for their behavior, but instead of just accusations, they're bringing receipts. It could be camera footage, or it could be screenshots of text conversations. But as the outlet notes, the addition of "4k," which refers to the high-definition resolution of DSLR video cameras, makes this phrase extra Gen Z. You're not caught on candid camera; you're caught red-handed in high definition, and the internet is forever!
The prevalence of the term has definitely gone mainstream, with "WAP" rapper Cardi B even being made aware of it — and requesting clarification. In February 2021, Cardi tweeted out to her 25 million Twitter followers, "Please don't make fun of me guys or I will have a very depressing lonely night but what does 4K means?" Luckily, her fans filled her in. After all, she might need to post receipts on her official TikTok one day. 
Tristan Thompson is one such celeb who was 'caught in 4k'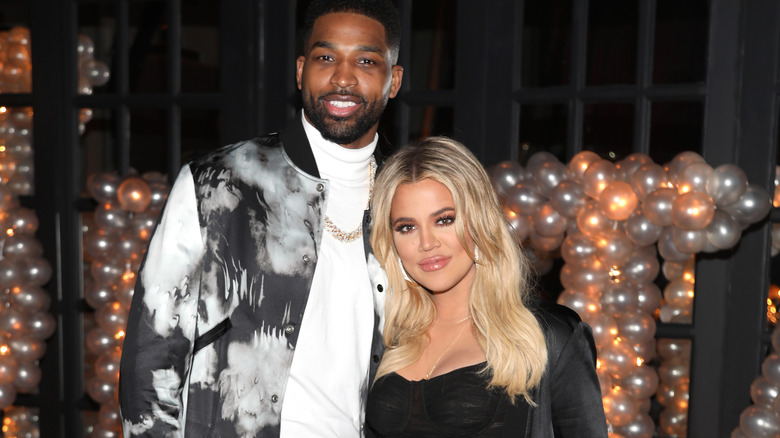 Jerritt Clark/Getty Images
You may think Gen Z are low-key obsessed with the phrase "caught in 4k," but they are not solely to blame. So many people in the public eye have had to admit to their bad behavior only because someone came at them with the receipts. Well, well, well, if it isn't the consequences of their own actions.
Earlier this year, Canadian basketballer Tristan Thompson was forced to admit that yes, he had not only cheated on Khloé Kardashian, the mother of his child, True, but he had also fathered a son with model Maralee Nichols. She came with the receipts, and in this case, it was a paternity test, per Us Weekly. Caught in 4k, Thompson admitted paternity and issued an apology to Kardashian in his Instagram Stories, per The Washington Post, writing in part, "Khloé, you don't deserve this. You don't deserve the heartache and humiliation I have caused you." 
Before that, in 2013, former Toronto mayor Rob Ford was forced to publicly admit he had smoked crack cocaine while in office, per The Guardian. As you can imagine, Ford only owned up to it (after months of denying it) because The Toronto Star caught him in 4k! The outlet obtained video footage of the mayor inhaling from a crack pipe. Ultimately, Gen Z may have coined it, but this type of behavior is as old as time.