Here's What We Know About The Latest Dry Shampoo Recalls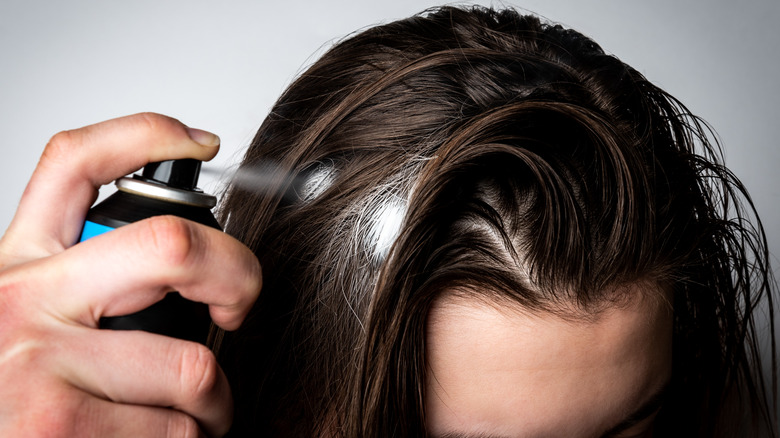 natali_ploskaya/Shutterstock
Beauty fans are on high alert this week regarding the latest disturbing news in a wave of dry shampoo recalls. In late October 2022, Unilever recalled several aerosol dry shampoos in a United States Food & Drug Administration announcement due to "potentially high levels" of the human carcinogen benzene. According to the American Cancer Society, the chemical can cause cancer, and people are typically exposed to it by breathing it in. The benzene-containing dry shampoos were sold in the United States prior to October 2021. They included several types of Dove dry shampoos, as well as Nexxus, Suave, TRESemmé, Bed Head, and Rockaholic products. "Consumers should stop using the affected aerosol dry shampoo products," stated Unilever. 
However, Valisure, an independent laboratory, is cautioning users to look closely at other brands of aerosol dry shampoos. This week, the research group issued a citizen petition to the FDA after uncovering high benzene content in dry shampoos across the board. Valisure tested 34 popular dry shampoo brands and examined nearly 150 separate batches. According to the lab's reports, up to 70% of the tested dry shampoos contained harmful amounts of the carcinogen. Among the dry shampoo samples, Valisure found that 11 products had more than ten times the safe limit of benzene proposed by the FDA. Even more unsettling, many of these hair products may still be on store shelves at the time of writing.
New tests indicate that other popular dry shampoos could pose risks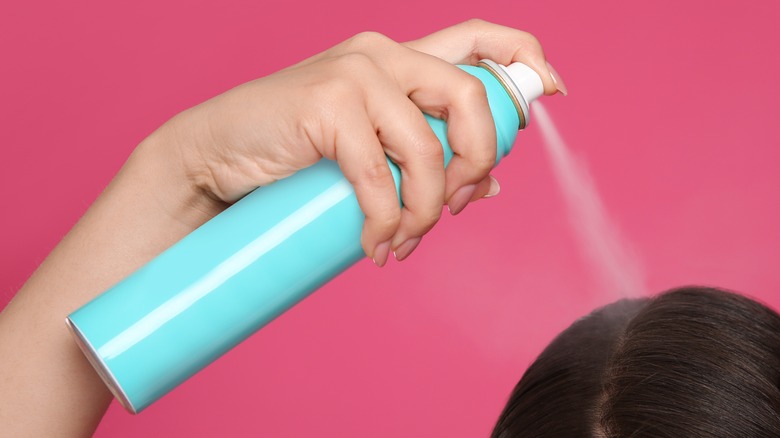 New Africa/Shutterstock
After Unilever voluntarily recalled several brands, many consumers breathed a sigh of relief that their dry shampoos weren't listed in the initial report. But according to Valisure's research, several other popular brands were not only identified as potentially hazardous; many of them contained an alarmingly high concentration of benzene that lingered in the air after spraying. "The presence of this known human carcinogen in dry shampoo products that are regularly used indoors and in large volumes makes this finding especially troubling," David Light, CFO of Valisure, wrote in the petition.
The United States Food & Drug Administration has established that the maximum amount of benzene exposure for adults is 2 parts per million (ppm) per day. In contrast, a sample of Not Your Mother's Beach Babe Texturizing Dry Shampoo in Toasted Coconut emitted 158 ppm of benzene during the first spray, per Valisure's findings. The initial spray of this particular Not Your Mother's sample contained the highest benzene content of any product tested by Valisure.
Not Your Mother's other dry shampoos contained similarly high amounts of benzene, ranging from 9 ppm to 148 ppm in spray tests. Based on Valisure's rankings, other dry shampoos with high benzene content upon initial sprays included Paul Mitchell's Invisiblewear at 35 ppm and Sun Bum's Beach Formula Dry Shampoo at 30 ppm. Slightly lower on the list was Batiste's Dry Shampoo Bare, which emitted nearly 15 ppm, and Sebastian's Dry Clean Only Shampoo at just under 8 ppm. In 10th place for the highest benzene content was Redken's Deep Clean Dry Shampoo, containing roughly 7 ppm.
How to move forward following the new information surrounding dry shampoos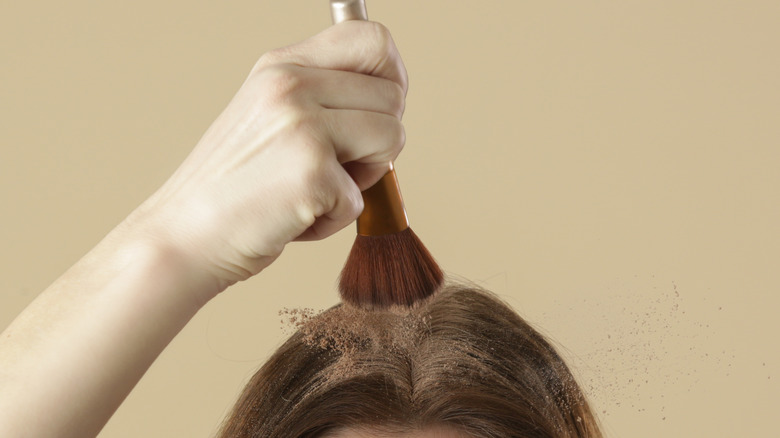 triocean/Shutterstock
First, don't panic –- information is still developing surrounding this story, and the FDA has yet to respond to Valisure's latest report. But whether your dry shampoo was recalled by Unilever or listed as unsafe by Valisure's testing, you should dispose of it. Benzene is a carcinogen, especially when used in contained environments, and your best bet is to minimize your contact with it due to recent findings. "For carcinogens, it's not like there's some safe level. Any additional exposure you have from consumer products is going to increase your risk," public health professor Deborah Bennett tells The Washington Post.
If you use an aerosol dry shampoo that's not on the list, it's worth reaching out to the manufacturer to obtain information regarding their product in the wake of these reports. Because Valisure only sampled 34 dry shampoo products spanning several batches, it's possible other aerosol dry shampoo products could contain benzene, even if they weren't listed. And in the meantime, there are many alternatives to aerosol dry shampoos, from pantry staples like cocoa powder and tapioca starch to powdered dry shampoo products.
If you're concerned that you purchased a dry shampoo recalled by Unilever, you can obtain information by visiting UnileverRecall.com. For additional questions surrounding Unilever's recall, call Unilever U.S. at (877) 270-7412, Monday through Friday, 8:30 a.m. to 9 p.m. EST.