Glam Uncovers Fall 2022's Most Popular Shoe Trend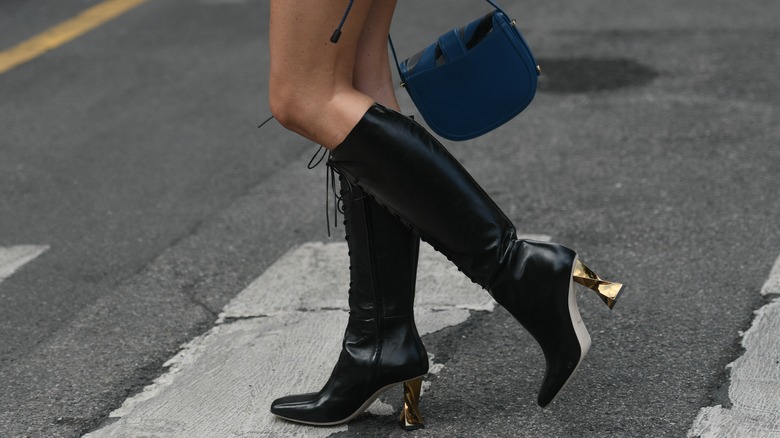 Creative Lab/Shutterstock
Nothing sets autumn's tone like pulling out your favorite boots and closed-toe shoes. After all, with every year bringing a new wave of fads, there are always distinguished fall-winter classics that never go out of style. For example, a black leather boot is timeless, per Livingly. We all have that one boot we can pull out from the closet or a closed-toe pump that never fails us. What's more, fall is arguably the best season for playing up textural statement shoes that go up the ankles and above the knees. 
Advertisement
This year, while we trade spaghetti straps and sandals for layers and sweaters, we're also seeing a new generation of shoe trends become the star of the season. Now that summer is done away with, fall trends are seeing an uptick in new styles, and our readers told us exactly which ones are your faves. Glam conducted a survey with over 600 voters around the country, and they told us exactly which fall trends are their favorite — and the answers might surprise you.
Ballet flats are the top choice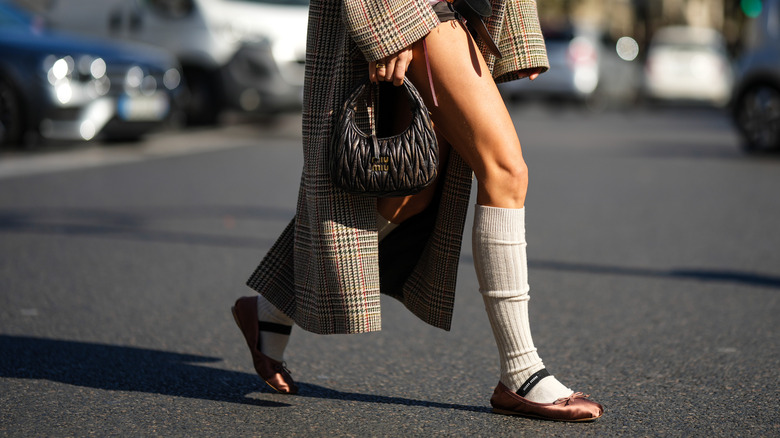 Edward Berthelot/Getty Images
Just when we thought all of the early aughts' trends had already resurfaced, the unexpected reappearance of ballet flats has become the most sought-after trend this fall. Out of 602 total votes in Glam's survey, 21.26% of voters chose ballerina flats as their favorite fall shoe trend. These innocent flats beat out motorcycle boots and over-the-knee boots in a shocking defeat. Popularized by Miu Miu, an Italian subsidiary of Prada, these stunning strapped shoes play off dance-class nostalgia and have taken TikTok by storm, with influencers everywhere unboxing the brand's iconic rose boxes. 
Advertisement
Trailing not far behind were motorcycle boots, which received 20.76% of the votes. Out of the 602 surveyors, 125 decided that the Y2K shoes are their favorite fall picks, a trend that is seen paired with sleek leather jackets and striped collars that feel both futuristic and sporty. The moto boot is iconic for its metal hardware buckles and sleek shiny rubber heels, both of which make for an easy pull-up-and-go style so that you're ready to hit the road any time. Our current favorites are the unisex Dr. Marten's Chelsea Boot or Ganni's Cleated Heeled Mid Chelsea Boots.
Chunky loafers and mary janes are still in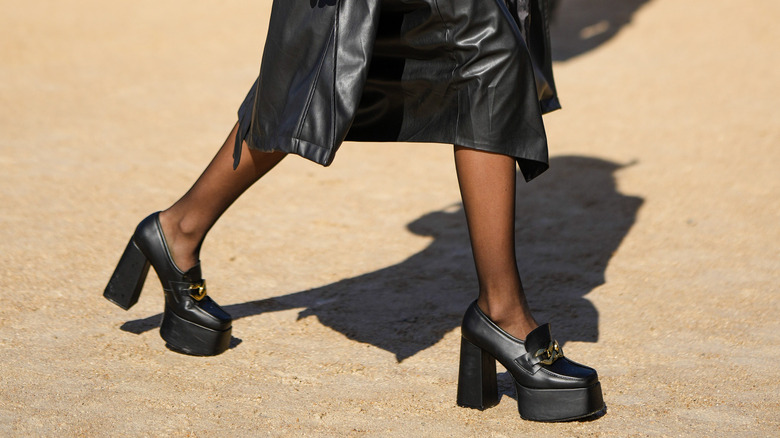 Edward Berthelot/Getty Images
Tied for third place with 16.28% of the votes were chunky loafers and over-the-knee boots. Thick-heeled loafers coming in at third isn't much of a surprise since interest in them has steadily increased, growing more than 133% since 2021, according to trend forecasters at Glimpse. Also receiving 101 votes are classic thigh-high boots, which are indisputably a must-have wardrobe staple. They're the main reason you can still wear skirts and dresses while it's cold out and always add a level of sultriness to any fit. Caught stepping out with boyfriend ASAP Rocky, billionaire cool mom Rihanna has been seen recently rocking the over-the-knee show stoppers in miniskirts and body cons in both suede and leather (via Instagram).
Advertisement
Trailing by less than 1% is the classic Mary Jane shoe, which received 98 votes. These strappy stompers are always the most professional shoe to strut in the office and only received three fewer votes than their look-alike sister, chunky loafers. That leaves Birkenstock Clogs as the least favorite fall trend, garnering only 8.14% of the votes and creating the greatest margin between all of the votes. Despite Business Insider reporting these boots as going viral on Tiktok and selling out nearly everywhere, they still ranked at the bottom of Glam's list with only 49 votes. Nevertheless, which fall trend will you be rocking this season?