Dermarolling Your Eyebrows Could Be The Key To Fluffy Brows
dimid_86/Shutterstock
Like beauty and fashion trends, eyebrow trends are always evolving. Sometimes, thin eyebrows are in style, and at other times, thick and fluffy brows are all the rage. Now, all signs currently point to everyone loving the look of fluffy brows. The look of untamed and natural eyebrows is everywhere on social media and is set to be the newest eyebrow trend of the moment. Unfortunately for many, this new trend is a bit more difficult than just waking up to naturally fluffy brows. If you've ever found yourself with eyebrows that you don't like or had an accident when waxing or threading your eyebrows, you know how much of a challenge it can be to reverse this. The Cleveland Clinic explains that eyebrow hairs will usually take around two to three months to start seeing hair growth. This wait time can be too long for those who want that look of fuller brows.
Thankfully, with the rise of social media, new hacks and tips have risen to help give everyone the chance of those fluffy brows. Even though procedures like dermarolling are still fairly new, they have created a stir among those who want this new eyebrow trend.
What does it mean to dermaroll your eyebrows?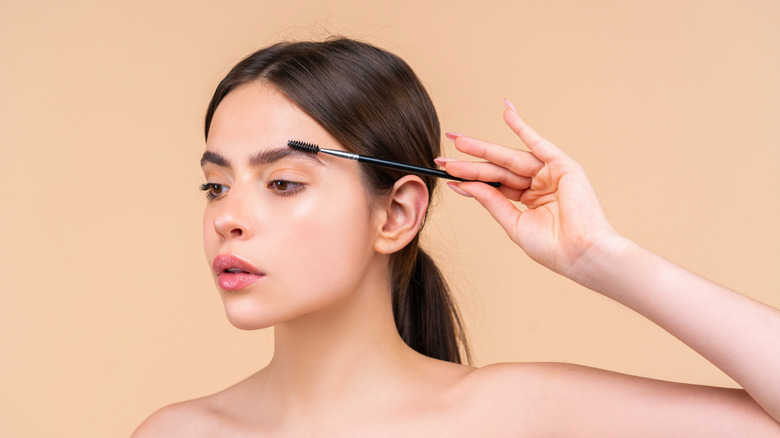 Puppy 9/Shutterstock
While dermarolling is typically a skincare procedure, it's now being used to stimulate your eyebrow growth to create that fluffy eyebrow look. On this, esthetician Heather Nicole explains, "Dermarolling is a treatment done with a beauty tool that has hundreds of tiny micro-needles to perforate the skin, stimulating collagen and elastin production. It also allows for 30 to 40 percent more penetration of products, plus many other benefits" (via Ipsy). Even though it seems unlikely that using microneedles would help with your eyebrow growth, this procedure can indeed be remixed to get you your dream brows. 
Rejuviss explains that dermarolling can help stimulate hair follicles to get them growing again. It's said that passing these microneedles over your brows will help stimulate the follicles by generating new and healthy hair cells, giving your follicles an extra push to grow. Furthermore, dermarolling can help by stimulating your hair follicles before applying oils that will also add extra hair growth. Products like castor oils and petroleum jelly are ideal to add to your brows after dermarolling as these oils are known for helping create thicker and darker brows. Before you start dermarolling your brows, ensure you have no products on or near your brows. This will help get you a cleaner and more direct dermal roll.
How to get fluffy eyebrows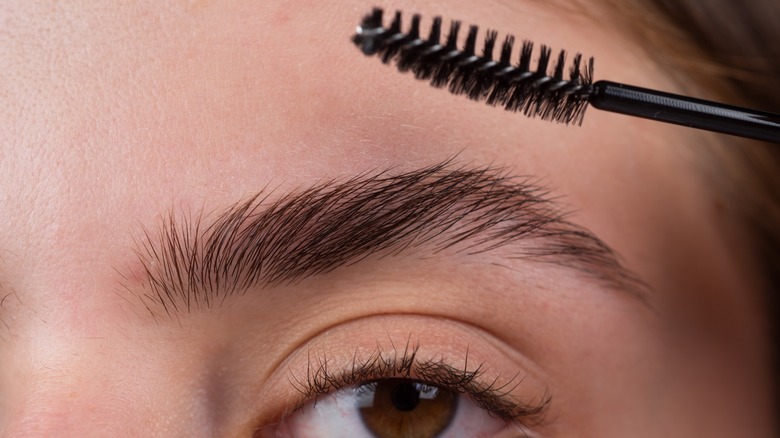 Volodymyr TVERDOKHLIB/Shutterstock
If using a bunch of microneedles to stimulate your eyebrow hair growth isn't up your alley, there are plenty of other ways you can get the fluffy brows you want. Beauty Bay explains that the easiest way to get fluffy brows is by using a spoolie and an eyebrow pencil. Simply brush your hair upwards to create the natural eyebrow shape and fill in your eyebrows with the lightest stroke. Be sure to use light strokes to fill in your brows, and go over them with an eyebrow gel in an upwards motion. The eyebrow gel is meant to keep your brows in place and give them more of a natural look.
While filling in your brows is the most ideal and simple way, it can still be challenging if you don't have sufficient eyebrow hair there. MasterClass recommends avoiding any tweezing, threading, or waxing if you want to grow out your brows. These procedures damage the hair follicles and can't stifle the hair growth process. Brushing out your brows will also help stimulate hair growth in your eyebrows. Brushing the area will help circulation in your hair follicles in a more subtle way.