The Classic French Manicure Has A Multi-Dimensional New Remix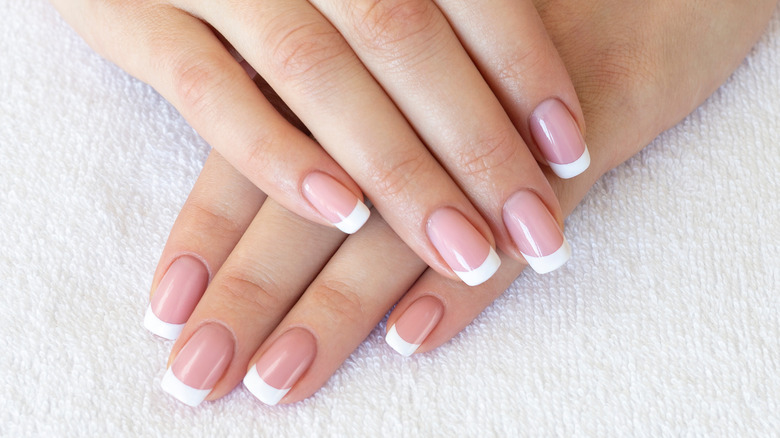 n.k.junky/Shutterstock
It's nearly 50 years old and shows absolutely no signs of aging. In fact, since the French manicure debuted in 1975, Americans have reveled in calling it one of their own — an American invention that promised to be ageless and complementary to a wardrobe of many colors and styles. Go ahead and pick anything you want from head-to-toe denim to a slinky black slip dress. The French manicure — known for its distinctive, white polish on nail tips and pinkish-nude polish on the base — looks ideally suited to styles on either end of the spectrum, as well as everything in between.
Advertisement
Such foresight belongs to inventor Jeff Pink, then a Hollywood beauty supplier, who heard the complaints of movie directors loud and clear: it was expensive and time-consuming to keep changing nail polish colors to match a model's every outfit change (per Who What Wear). Pink's solution: the Natural Look Nail Kit, which he touted as a classic and feminine look that would never upstage what a woman was wearing (via Orly Beauty).
Models on Paris runways helped spread the word of Pink's invention, which he dubbed "the French manicure" upon his return to the U.S. Two superstars of the era — Barbra Streisand and Cher — flaunted their French manicures on national TV and ignited a beauty trend that continues unabated to this day, and this means that it also continues to get remixed.
Advertisement
Manicure benefits from an update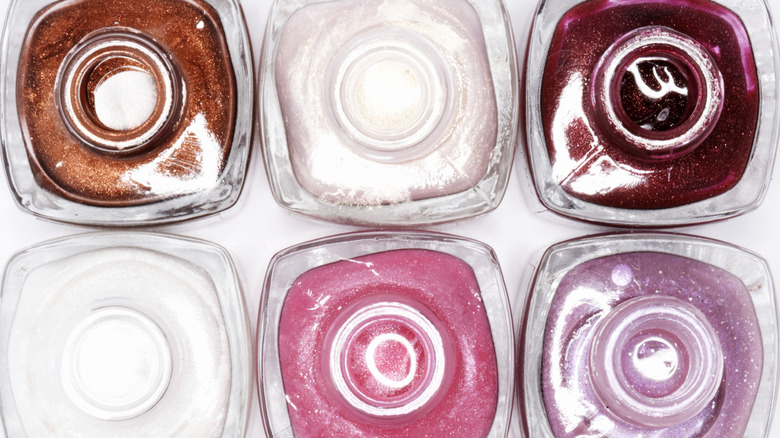 Martin Poole/Getty Images
Like any 50-year-old person itching for a refresh, a new iteration of the French manicure is generating as much attention as Cher and Barbra Streisand did back in the day. Fashionistas appear conflicted as to whether to call it the French ombré manicure or ombré French nails. But since Jeff Pink, president and CEO of Orly International, prefers French ombré, keep the two possibilities top of mind as you search for design ideas. (In fact, after a recent count, Google searches for "Ombré French nails" increased by a staggering 7,700%, per Hello! Magazine.) 
Advertisement
We can credit Instagram nail artist @reallyhotgirl for promoting the style as early as May 2021. It involves using two different shades of nail polish — one on each side of the nail, blurring the colors in the center, and then, as a final touch, reversing the division of colors at the tip. You don't have to be an artist to call the effect a gradient, which is an artistic effect that Adobe defines as a "gradual blending from one color to another." To you, the effect may be simply "cool" or downright mesmerizing.
What's more, The Trend Spotter says French ombré nails are similar to their spiritual inspiration; they are as suitable to a casual outing or day at the office as an intimate, after-hours martini with someone whose gaze you wish to hold.
Advertisement
Draw from inspiration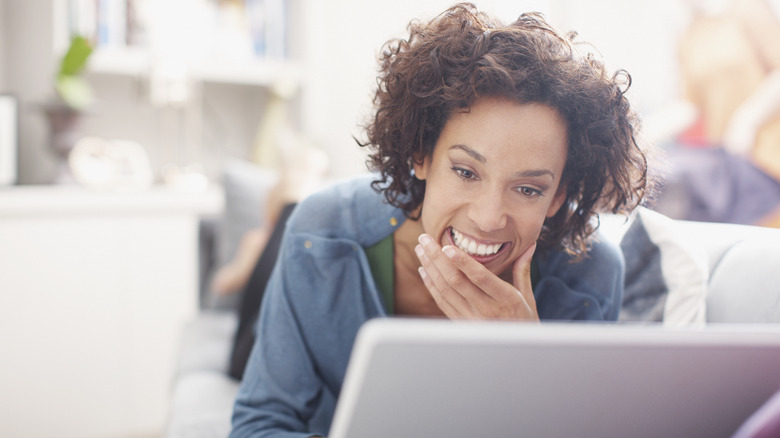 Paul Bradbury/Getty Images
The French ombré manicure may be similar to the French manicure in another key way: it may look so resplendent that it appears beyond the capability of mere mortals. If you're dazzled by the look but intimidated about trying it, it may help to remember that the French manicure came into vogue before the era of computer technology, let alone TikTok tutorials and YouTube videos. They exist to walk you through every step. But first, it may help to shore up your confidence by reading through Orly Beauty's guide on how to achieve this new remixed French mani at home.
Advertisement
In the meantime, Oprah.com recommends extending the best manicure practices you already engage in, such as painting your dominant hand first and minimizing smudges by working from your pinkie to your thumb (and not the other way around). But since smudges are bound to — we are mere mortals, after all — Self suggests fixing them as soon as possible. If you're truly unhappy with the way a color gradient is turning out, simply wipe off the polish and start again. Applying one polish takes a steady hand; applying two colors may require even more practice before the French stand up and take even greater notice of us trend-setting Americans.