Get Ready To Race To The Store To Shop The Motorcore Trend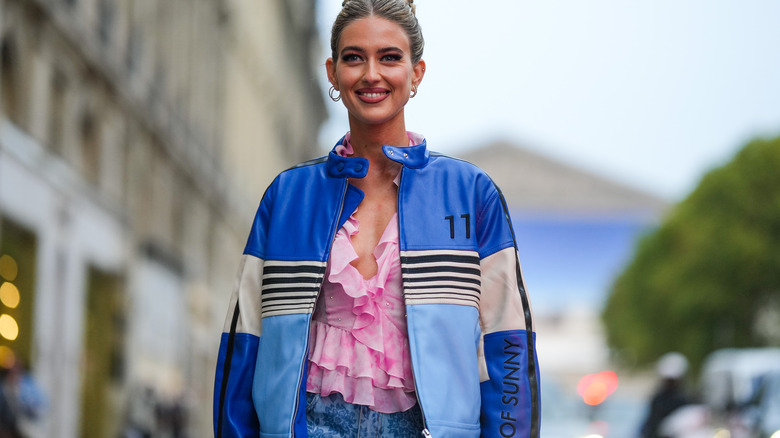 Edward Berthelot/Getty Images
If you've spent some time scrolling through the endless Netflix options, you've probably seen a little show called "Drive to Survive." Apart from showing the behind-the-scenes action of one of the most chaotic professional sports, the Netflix series has been credited with bringing enthusiasm from the race track to the United States. In fact, the series has created such a stir in the United States that 2023 will see the release of the third American race in Las Vegas, officially named the Formula 1 Heineken Silver Las Vegas Grand Prix. As well as bringing a new sport stateside, the excitement and grit of motorsports can now be reflected in our fashion. 
Whether you call it motorcore, bikercore, or racing revival, this new fashion trend is all about bringing the allure of the track to your closet. The idea of bringing motorsports to the runway is not new in the fashion industry. Much of the new popularity of this look can be also credited to the return of nostalgic fashion from the '90s and early 2000s. This grunge era of fashion saw many of the same concepts you see on the race track, and it's a revival all right, baby.
Everything you need to know about motorcore
Joining the motorcore fashion aesthetic isn't difficult and doesn't require any high-adrenaline driving. Before hopping onto your nearest racecar, there are a few items you need to have before completing this look. As we saw during the Dior Spring/Summer 2022 collection, leather and studs are crucial. Like Formula 1 drivers who are constantly wrapped up in protective gear, leather is the base of all motorcore looks. Nothing brings the motorcore vibes more to an outfit than the rich smell of a leather piece.
Perhaps the most iconic aspect of the motorcore trend is the racing jacket, however. The racing jacket is a symbolic item for drivers who are representing their constructors and sponsors and is a piece that you need to have in your wardrobe. Whether you go with a classic Ferrari racing jacket or a leather color-blocked biker jacket, like Zara's Faux Leather Jacket, this staple piece will bring an edge to any outfit. This piece will not only level up any look you throw together but can also be the perfect winter accessory for those chilly evenings.
How to pull off the motorcore trend
Pulling off the motorcore trend is simple and can easily fit into any wardrobe. Depending on how dedicated you are to the trend, you can easily incorporate aspects of this trend into your outfit. As we saw on model Bella Hadid (via Fashionista), pairing a staple racing jacket is one of the easiest ways you can pull off the motorcore trend. Embrace the look by styling your racing jacket with leather trousers or leggings for an edgier outfit. The racing jacket is also a fun way you can keep warm in cold weather.
If you want to add a little more personality to the motorcore trend, you can always add some moto pants to the mix. While you probably won't be racing motorcycles with these, they will have you winning the street-style game. Like Laquan Smith's teal moto pants (via Instagram), these bottoms are a great way to add something flashy to your style. Style these pants with a simple white tee or your favorite driver's racing tee for a chic off-duty model look. Add a pair of combat boots for a grunge look that will work on any circuit. No matter how you style the motorcore aesthetic to make it your own, you're guaranteed to look fierce.