The Gorgeous Gel Manicure Trend That's Going To Be Your Holiday Go-To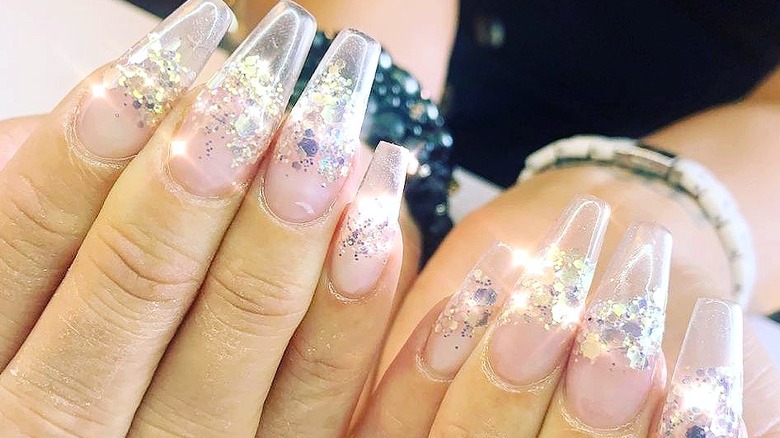 Instagram
With the holiday season approaching, you might already be thinking about all of the ways you can take your look to the next level. Whether you've already been invited to a dozen holiday parties or you just want to look your best, the easiest place to start is your nails. Gel manicures are a simple way to go glam without breaking the budget.
If you're looking to try something new this season, you may want to look into the glass manicure. Glass nails, as they are sometimes called, are as beautiful as they are eye-catching. As The Glow Edit explains, Instagram-famous nail artist Eun Kyung Park is often credited with creating this trend. Park has worked on the nails of stars like Bella Hadid and Blackpink, so it's safe to say she knows what she's doing when it comes to inspo-worthy manicures. "Nothing quite captures the light like [glass nails] and I believe it's evolved beyond a trend at this point," Park told The Glow Edit.
With glass nails, each nail mimics the characteristics of shattered or stained glass. Stars like Demi Lovato have brought them to the forefront of fashion on social media, per WMAR2 News. However, the look of glass nails alone might strike fear into you, especially if you prefer to do your nails at home. Are glass nails something you have to visit the salon for before the holidays?
Are glass gel manicures DIY-friendly?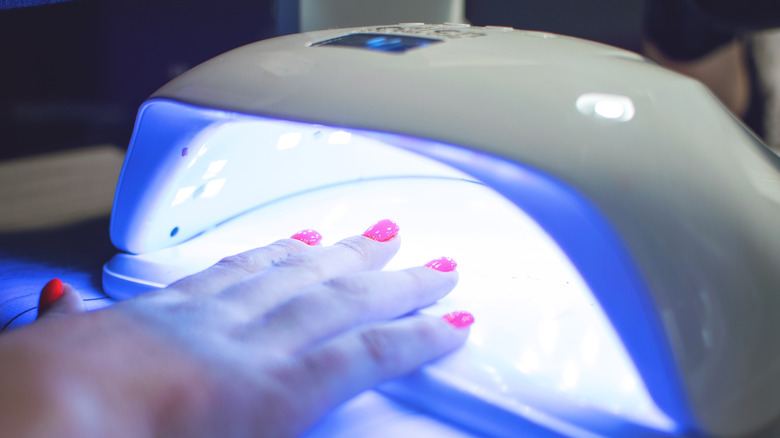 Iryna Imago/Getty Images
Although glass nails are definitely on-trend at the moment, they are not the easiest to recreate at home. However, Eun Kyung Park has partnered with Amorepacific to create nail art stickers to help you get as close as possible, per Marie Franceasia.
If you're willing to get a bit craftier, HUDA Beauty notes that you can also achieve the look with holographic paper or cellophane. First, apply your base coat, followed by the nail polish of your choosing. If you use gel, remember that you'll need to cure it with an ultraviolet lamp. Next, cut the holographic paper into small shards. Apply a top coat to your nails, and carefully place the pieces of paper onto them until you achieve the shattered look. After giving them a few minutes to set into place, buff any sharp edges. To finish, apply your top coat, and cure your nails to seal the deal.
If you don't feel confident enough to take on this new gel manicure trend on your own, there is likely a nail technician at a nearby salon who can help you achieve the look. Just keep in mind that it may be beneficial to bring a photo or two to show the technician exactly what you want. "We encourage clients to do some research or arrive early and use our Instagram, Google or come in with fabric," nail salon owner Nina Werman told the Observer.
Holiday nail trends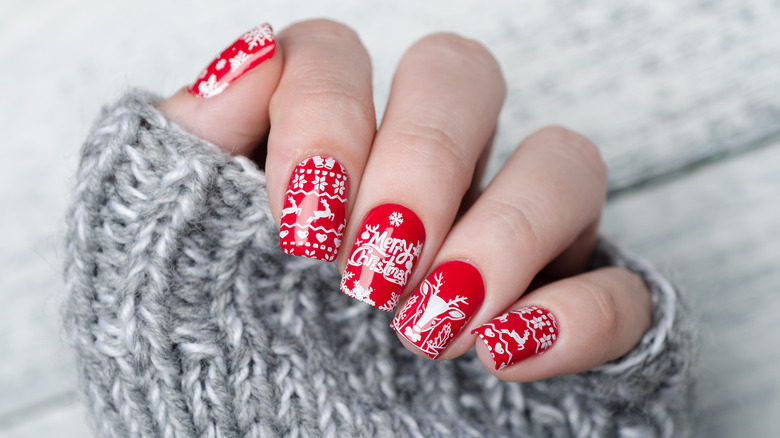 Marina Migukova/Getty Images
The glass gel manicure is one of the flashier nail trends heading into the holiday season, but what if going bold isn't your vibe? Whether you want a more subtle look or you want a more traditional manicure, there are a few trends you can take advantage of.
As Good Housekeeping explains, red is always in season as soon as fall arrives, and it pairs wonderfully as we transition into winter. Go for a soft, red velvet for a luxurious look, or a cherry red if you want to go bold. If you're venturing into the world of nail art, think snowflakes and gift wrap for a whimsical manicure. Patterns, such as plaid, can also create a cozy look, per Southern Living.
Keep in mind that regardless of the type of manicure you go with, you'll want to be mindful of a few factors, per PureWow. For example, your budget might play a role in whether you go DIY or have your manicure done at a salon. Also, think about how long you need your manicure to last — can you go with a flawless look for just a few days, or will you need your nails to be on point for weeks? This may determine whether you go with a gel manicure or acrylics, for example. Weighing the pros and cons will help you get the look you want without breaking the bank.