What's The Difference Between Classic Lash Extensions And Hybrid Extensions?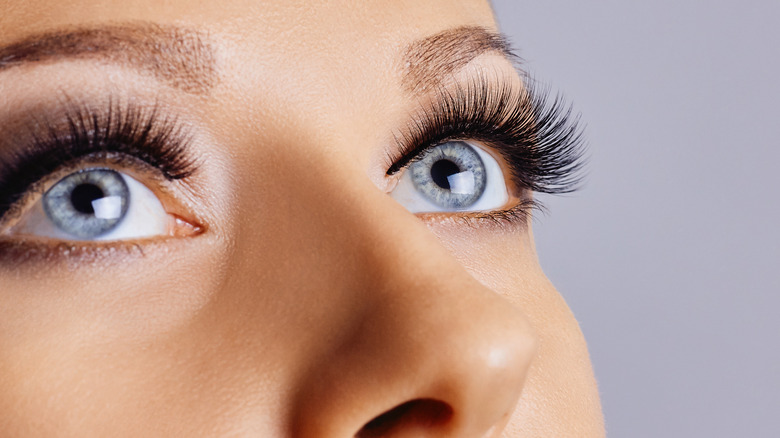 Olesia Bech/Shutterstock
If you've ever wondered how some people magically get long, luscious eyelashes, it's most likely the work of lash extensions. Lash extensions help to create more length and thickness in a place where it might not already exist. These extensions are helpful if you want to create dramatic beauty looks without struggling with mascara and eyelash curlers. Like hair extensions, lash extensions are ideal if you want to simplify your beauty routine and get closer to the look you want without constant effort. According to PMU Hub, the average cost of lash extensions can range from $150 to $230. This variation is because there are several types of extensions available.
Two of the options for lash extensions are classic and hybrid lash extensions. Both of these can help you create the looks you want with one simple procedure. However, as much as these two options seem the same, they are quite different, and knowing the difference could influence which you go for. They're both great choices, but one may be better suited to you than the other.
What are classic lash extensions?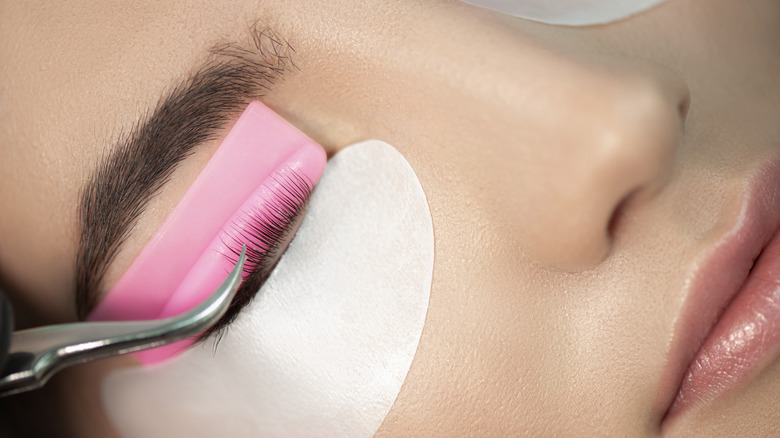 Juta/Shutterstock
One of these two extensions is the classic lash extension, which as the name would predict, is the most classic and common of the lash extensions. Divine Lashes explains that the classic lash extensions are applied at a 1:1 ratio, meaning that for every natural lash you have, one extension is put on. The average classic lash extension tends to be from 0.10mm to 0.15mm in size. These classic lashes have a more natural style and are ideal for those who want a fuller look without anything too dramatic. According to Her Lash Community, most lash extensions last between two and four weeks, after which they start to look less effective.
School of Glamology emphasizes that classic lash extensions will not add any type of volume to your lashes but will make them appear longer. This procedure will take anywhere between 1.5 to 2 hours to complete, depending on how many need to be added. Classic lash extensions not only give you a more natural look but can help accentuate the eyes, similar to a lash lift. This type of extension is also ideal if you've never had lash extensions before and you want to get used to the look and feel of them.
What are hybrid lash extensions?
Yurii Maslaky/Shutterstock
The other common lash extension option is the hybrid lash extension. Hybrid lash extensions are a combination of single and multiple extensions, the latter of which is more commonly known as volume extensions. This refers to the process of applying multiple extensions per natural lash, rather than following a 1:1 ratio. These are ideal for those who want a more significant change to their lashes than classic extensions can offer. This extension is more complex and intricate, but easier to tailor to your preferences. The hybrid lash extension is somewhere between a natural and a dramatic look, making it the best option for those who don't want to choose.
Jolynn Lashes confirms that hybrid lash extensions can be accommodated to suit whatever look you want, whether you prefer to have more definition or more volume. This ability to pick and choose your set comes at a more expensive price tag than that attached to classic lashes. While the cost is a bit higher with hybrid lash extensions, they will also last you around eight weeks, making them a worthwhile investment. If you want wispy but dramatic lashes, the hybrid lash extension is better suited for you.