Is Cornstarch An Effective Dry Shampoo Alternative Amid Recalls?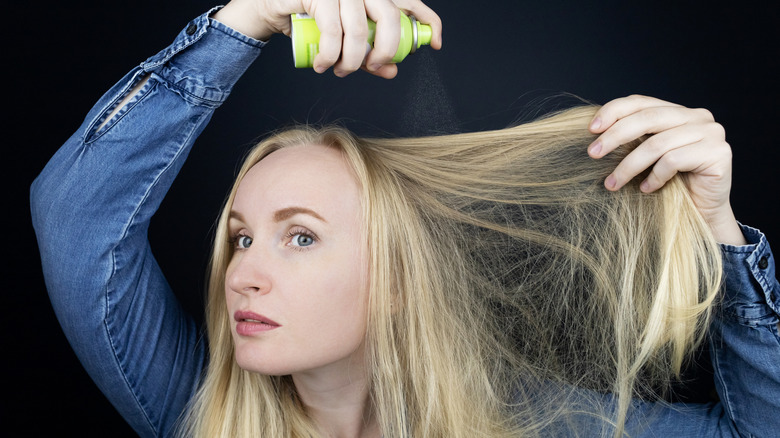 Alona Siniehina/Getty Images
Someone with a quirky sense of humor must have caused your double-take. They actually recommended that you start using a dry shampoo. You may have asked for a repeat: was that a dry shampoo – two words that seem to cancel each other out? Indeed it was, and Minipoo Dry Shampoo cornered the market on the beauty aid from the 1940s to the late 1960s, per the National Museum of American History. Targeted to women who were either sick and unable to shampoo or prepping for a last-minute date, the product's catchy slogan said it all: "When you can't shampoo, Minipoo."
Advertisement
These days, there is even a National Dry Shampoo Day, coming on March 10, 2023 (via National Day). It's meant to celebrate women's alleged "best friend" — the hair care product that usually comes in the form of a spray or powder that soaks up dirt and oil from the hair (via WebMD).
Now it may seem like a dry shampoo déjà vu is happening all over again. Unilever has recalled dry shampoo aerosol products marketed under a number of names: Dove, Nexxus, Suave, TIGI (Rockaholic and Bed Head), and TRESemmé because of the possible presence of benzene, according to the United States Food & Drug Administration. A human carcinogen, benzene can cause drowsiness and dizziness at high levels, the Occupational Safety and Health Administration explains. Rest assured that there may be a substitute for dry shampoo, and it's no further away than your kitchen pantry.
Advertisement
Cornstarch seems like a natural fill-in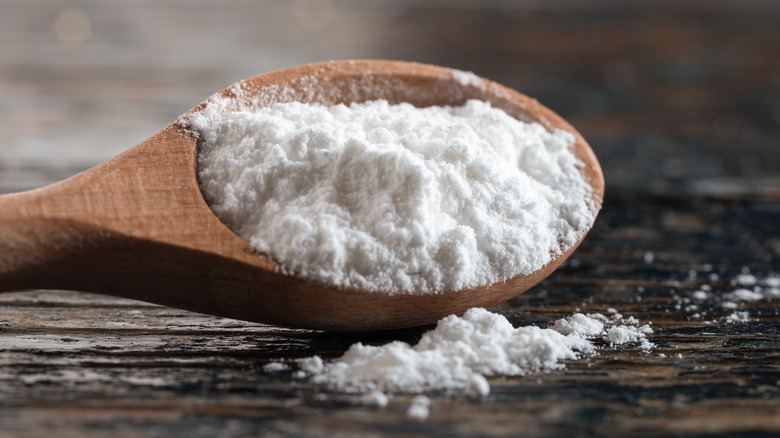 Michelle Lee Photography/Getty Images
If you've been using dry shampoo like a pro, then you can use the alternative: cornstarch — a white powder made from corn kernels often used as a thickening agent in cooking, per Serious Eats. As a natural moisture absorber, cornstarch appears to be a natural stand-in for dry shampoo. In fact, You Probably Need a Haircut puts cornstarch at the top of its list as a worthy dry shampoo substitute. It outranks other choices, like baby powder, setting powder, salt, and cornmeal.
Advertisement
Like your favorite dry shampoo, all you have to do is sprinkle some cornstarch onto the roots of your hair, gently rub it in to absorb excess oil, and then comb any remaining cornstarch through your hair with a comb or your fingers, according to Curl Centric. Like dry shampoo, the risk to be aware of is applying too much cornstarch too quickly, which would see you dousing your head in white powder. To control the flow, empty some cornstarch into a shaker bottle used for parmesan cheese. Remember that you can always apply more cornstarch; removing it could create a dusty mess.
While you're at it, you could derive some unexpected benefits from using cornstarch to freshen your hair. Cornstarch contains vitamins A, B, C, and E, not to mention calcium, magnesium, and potassium. All are good for promoting healthy hair, Medical News Today says. 
Advertisement
Use both substitutes sparingly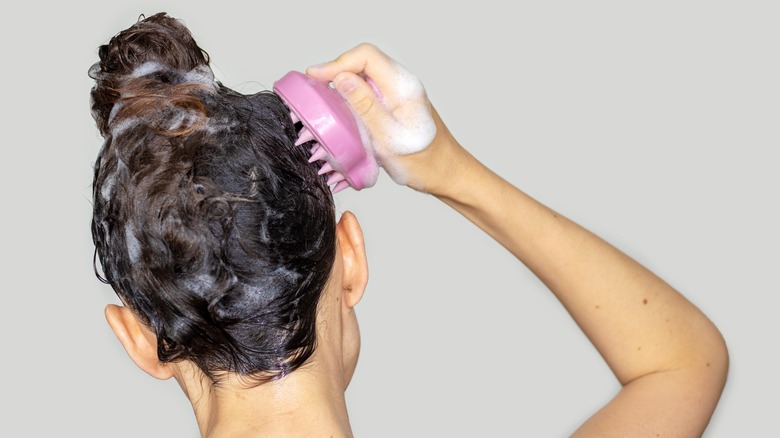 Alexandra Morosanu/Shutterstock
Using cornstarch as a dry shampoo is generally safe, but be aware of some potential pitfalls. Most importantly, avoid using cornstarch if you're allergic to it. If you're unsure, rub a small amount on the back of your hand to test for a reaction before applying it to your sensitive scalp area. A buildup of cornstarch may also trap bacteria, according to Curl Centric. What's more, trapped bacteria can cause hair follicles to become inflamed and even cause hair to fall out. And, just like dry shampoo that is used too often, cornstarch can accumulate and cause hair to look dull and lifeless.
Advertisement
The key, then, is not to overdo either dry shampoo or cornstarch. Both are temporary measures meant to save time and energy — not permanent substitutes for "wet" shampoo. WebMD explains that it may help to think of dry shampoo as a "hair freshener" rather than as a hair cleaner. Only a good cleansing shampoo is going to remove dirt and oil from the scalp. For most people, this means shampooing several times a week, though the weather and your activity level may alter any pre-set shampoo schedule, Medical News Today says. 
In the meantime, think of it as a score when you extend the usefulness of a product like cornstarch. It's gone from your kitchen to your bathroom, and maybe your car and office, too. That alone is worth a double-take.
Advertisement