Glam's Exclusive Survey Uncovers The Fall 2022 Hair Color Trend Fans Want To Try Most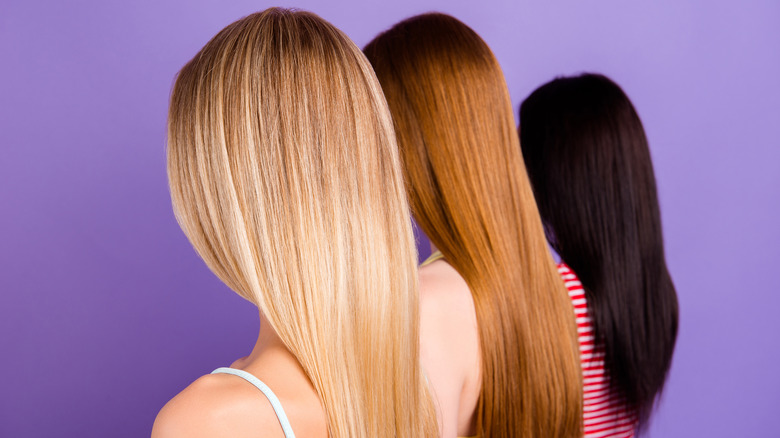 Deagreez/Getty Images
It's been said that the colors you wear, the colors that enliven your home, and even the color of your car say a lot about you and your personality. Colors are symbols, and each one means something different, says Jacob Olesen, a self-described color expert and founder of Color Meanings. Through color, we seize the chance to communicate a message, for "nothing in this world is coincidental," Olesen says.
As you might imagine, the color of your hair may send the strongest message of all. Namely, hair color is associated with certain personality traits, both in terms of the traits people may actually possess as well as how they are perceived by others. There are exceptions, but if you see a redhead coming, you may be forgiven for thinking that a fiery, confident, or mysterious person may be headed your way. Brunettes are assumed to be hard-working, honest, and reliable — traits that Power of Positivity echoes. Blonds are perceived to be youthful, fun, and earthy, though most people know that the "dumb blond" stereotype persists. On the other end of the color spectrum, people with black hair are assumed to be serious and reflective. 
You had no control over the hair color you were born with, but you hold the power to change people's perceptions of you by changing your hair color. What color would you choose? More than 600 Glam readers shared the fall 2002 hair color they want to try the most, and their choices may warm you.
Color so rich, you might be tempted to drink it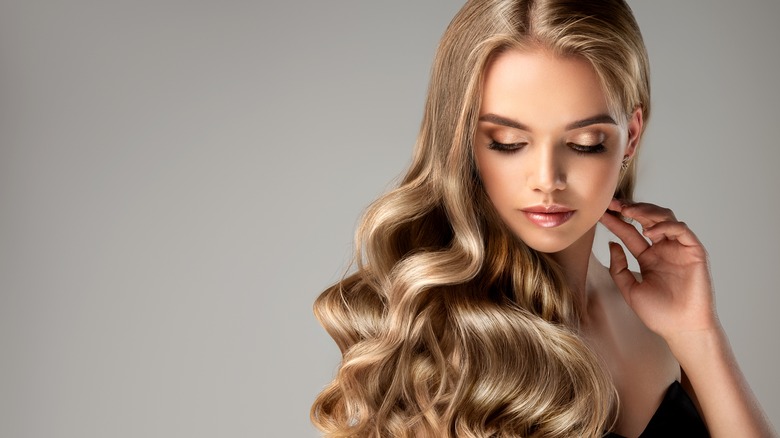 Sofia Zhuravetc/Shutterstock
Even if you've taken only a cursory look down a hair dye aisle, you know that hair colors are way beyond simple divisions like red, brunette, blond, and black. They may be good places to start a color search, but it's not where most people, including Glam readers, end up.
Of 602 respondents in Glam's survey, about 24%, or 145 people, chose "toasted caramel" as their color of choice. It's a creamy brunette color that accents fall's warmth, leaves, and hot cocoa perfectly. Readers' second favorite fall hair color was another that would sound just as tasty in a coffee mug: "smoked chestnut," a warmer color that My New Hairstyles shows as often containing red tones. It was the choice of 19.27%, or 116, readers.
Not to be outdone by those with brunette hair, readers who preferred "honey blond" represented 17.61% of the vote, casting a total of 106 ballots. A lot of pigment can go into honey blond — a warm blond shade that L'Oréal Paris says may also include amber, chestnut, light brown, and even streaks of red. In the end, the final color may be closer to a light, dark, or golden honey blond, perhaps proving that people with blond hair do have more fun after all.
Brunettes make themselves heard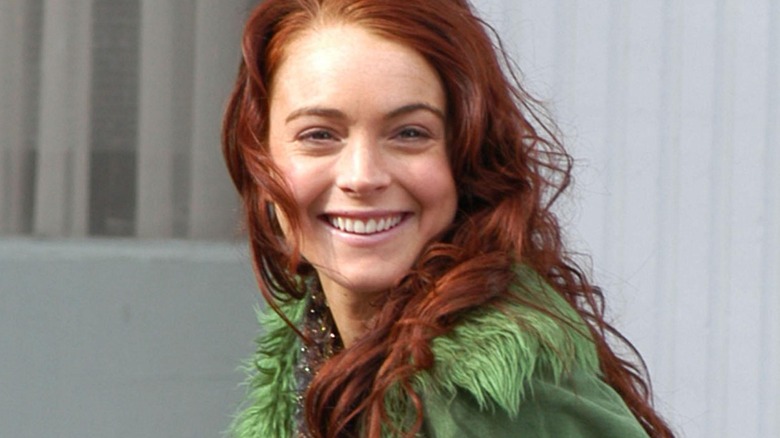 Everett Collection/Shutterstock
People with brunette hair reclaimed their stake to the rest of the Glam's exclusive readership survey. They made "warm red-brown" their strong, fourth-color choice. Ninety-nine people, or 16.45% of respondents, gravitated toward this straightforward color mix (red and brown) that can end up looking anything but ordinary. Depending on pigment and lighting conditions, one shade or another may become predominant: auburn, burgundy, chestnut, or mahogany, per All Things Hair.
"Bright copper" is less circumspect, though still a distinct mix of red and bronze, according to Love Hairstyles. It was the choice of 12.13%, or 73, readers. They may have been inspired by the triumphant return of the enchanting Lindsay Lohan, who seems to embody the best of the dynamic redhead. Of course, copper could pale (literally) next to "cherry cola," which 10.47%, or 63, Glam readers chose as their favorite fall hair color. It may be a darker shade than you think — a hue that may require fewer touch-ups than brighter shades of red, per Hair Style Camp. 
By changing your hair color, Jacob Olesen of Color Meanings would say that your behavior and that of the people around you may change, too. That may be incentive enough to give those mean girls something to talk about.